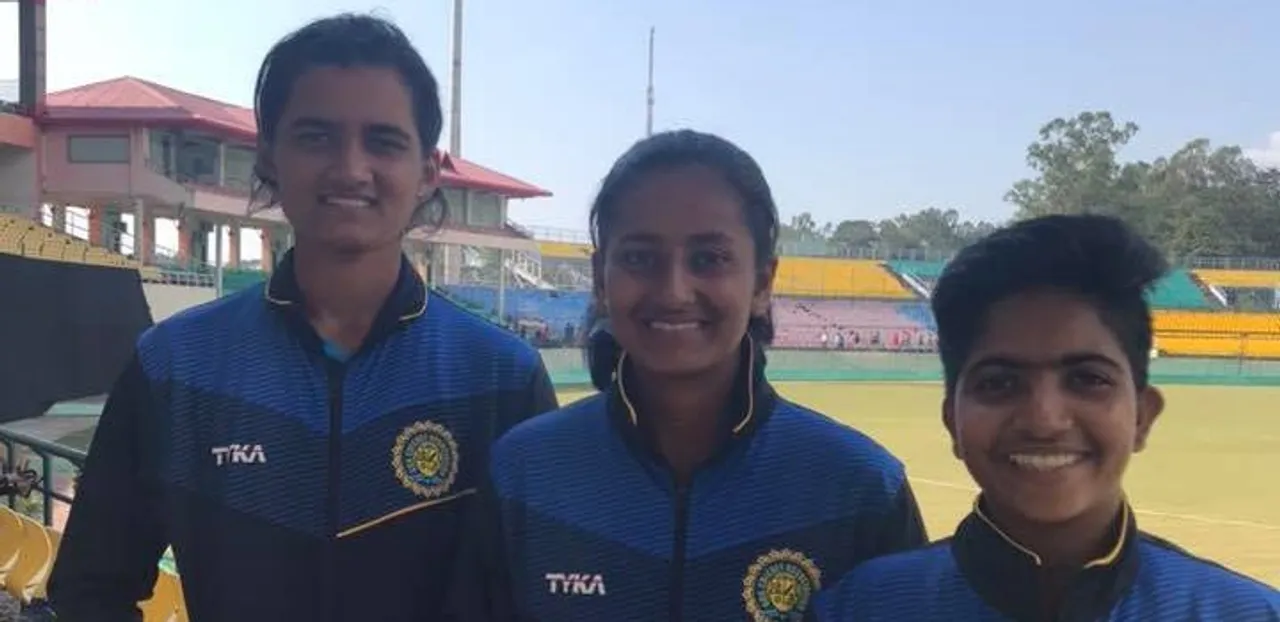 On the inaugural day of the BCCI Under-19 Twenty-20 League 2018-2019, 15 matches were played. Some of the matches were one-sided affairs, while others went down to the wire, making it an interesting opening day.
Punjab vs Hyderabad: Punjab record a narrow four-run victory over Hyderabad in the tournament opener
Punjab defeated Hyderabad by a narrow four-run margin in the first game of the tournament. Punjab's captain Kanika Ahuja top-scored with a 54-ball-43 to help her team post 95-8 on the board. Hyderabad fought valiantly in the second innings but were unable to fire. Two-down Trisha Poojitha scored 22 off 23 balls, the highest score for the team to bring them closer to victory, but it was not enough to get her team over the line.
Punjab 95-8 (K. Ahuja 43, L Prassana 2-16) beat Hyderabad 91-6 (T Poojitha 22, K Ahuja 2-14) by 4 runs.
Meghalaya vs Sikkim: Sikkim openers lead them to one run win by VJD method
The second match of the tournament was more closely contested than the first. In the first innings, Meghalaya posted 91-4 on the board. Captain Hajong top-scored with an unbeaten 28 of 58 balls while wickets tumbled around her. Three of Meghalaya's four wickets to fall were run outs. Sikkim's openers Pretika Chettri and Tshering Yangden Lepcha then put on a 30-run opening partnership to place the team in a winning position. However, a collapse ensued after the first wicket fell and Sikkim were reduced to 61-4. Their skipper Songkit Lhammoo Lepcha then steadied the ship with her unbeaten 17 as Sikkim won by a single run through the VJD method.
Sikkim 80-5 (P Chettri 21, Thymmei 1-15) beat Meghalaya 91-4 (Hajong 28, S Gurung 1-11) by 1 run (VJD Method).
Goa vs Haryana: Openers, bowlers help Goa over the line in a thrilling two-run victory over Haryana
Goa's openers Purvaja (36 off 47) and Tejashwini Duragad (28 off 15) set their team up to put a daunting total on the board with their 34-run opening stand. The team, however, did not capitalize on the start and finished the innings on 97-7, which was just enough for them to win. In reply, Haryana lost wickets regularly. Their batters got starts but did not build on them. Their captain Shafali Verma hammered her way to 29 off 15 balls, while the other batters struggled. In the end, Harayana fell agonizingly short of the total, losing by just two runs. Shindiya Naik was mostly responsible for the damage, finishing with figures of 3-9.
Goa 97-7 (Purvaja 36, P Kumari 1-7) beat Haryana 95-8 (S Verma 29, S Naik 3-9) by 2 runs.
Other results:
J&K; 116-4 (I Rasool 37, S Roy 2-10) beat Team Mizoram 52-10 (S Sengupta 28, R Bano 3-7) by 64 runs.
Madhya Pradesh 71-10 (A Patidar 18, S Choudhary 2-25) beat Team Rajasthan 46-10 (A Choudhary 21, S Jadhav 3-12) by 25 runs.
Bihar 140-6 (Harshita 44, A Halder 2-33) beat Team Puducherry 53-4 (S Dutta 21, Aaryaa 1-4) by 87 runs.
Jharkhand 78-2 (A Kumari 26, Sapna 1-14) beat Nagaland 77-4 (A Teotia 32, P Priya 2-21) by 8 wickets.
Odisha 23-0 (K Jena 9) beat Manipur 19-10 (L Rajkumari 4, T Pradhan 3-4) by 10 wickets.
Himachal 109-1 (S Singh 46) beat Kerala 108-5 (Drishya 53, N Sharma 2-26) by 9 wickets.
Karnataka 141-3 (S Gowda 52, T Dharana 1-24) beat Saurashtra 65-10 (T Rao 22, D Vrinda 2-15) by 76 runs.
Baroda 93-1 (Hrutvisha 54, D Sahu 1-6) beat Chhattisgarh 87-6 (M Kaur 34, R Mauriya 2-9) by 9 wickets.
Bengal 85-4 (A Chakraborty 47, R Dey 2-16) beat Assam 84-7 (G Gurung 32, P Choudary 1-6) by 6 wickets.
Mumbai 72-3 (A Valanju 20, I Pathare 1-5) beat Maharashtra 71-10 (S Kanadi 23, J Kate 3-12) by 7 wickets.
Delhi 24-1 (A Soni 19, M Khangarot 1-10) beat Arunachal Pradesh 23-10 (D Popi 4, A Soni 3-2) by 9 wickets.