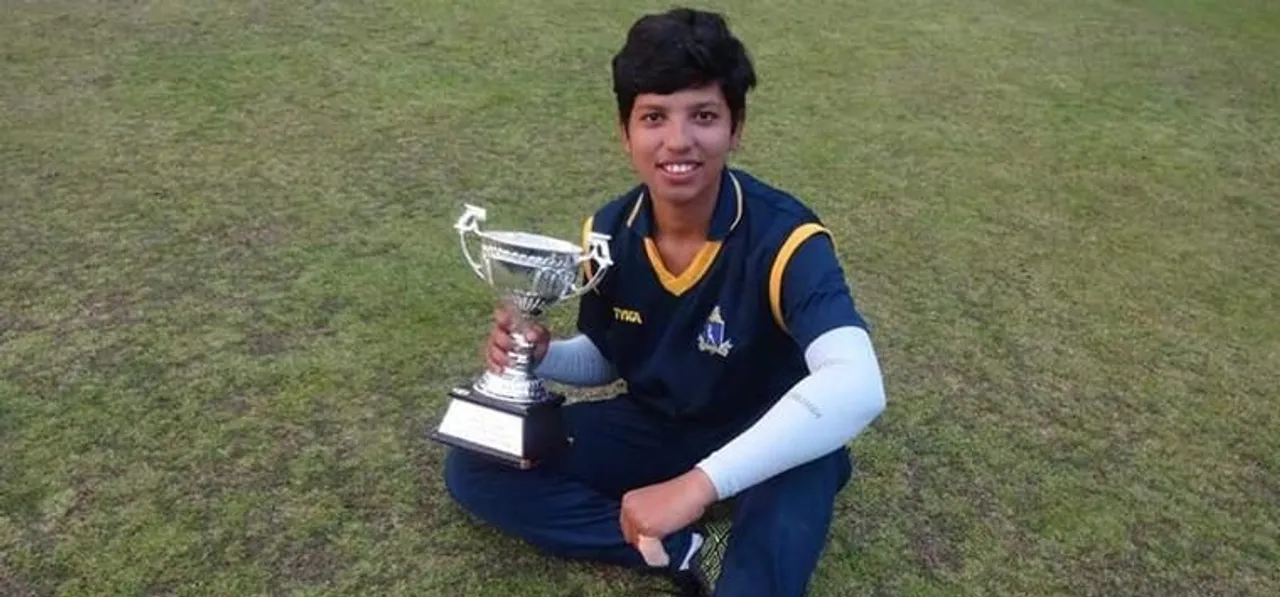 "I was surprised and have no words to say," an elated Richa Ghosh tells Women's CricZone on being selected in the Indian squad for the ICC Women's T20 World Cup 2020 in Australia that is to begin on February 21.
"I knew that the World Cup was this year and the selection was around the corner. So when I was selected for the Senior Women's T20 Challenger Trophy, I aimed to do well."
The rookie batter from Bengal is the only uncapped player named in the 15-member squad that was announced on Sunday (January 12). She scored 98 runs in four games in the Challenger Trophy, playing a pivotal role in India B's run to the final. Despite what look like relatively unflattering numbers, the 16-year-old showcased enough positive intent and versatility in her game to win the trust of the team management. Two of her knocks, in particular, stood out in that tournament.
In the second match of the series, the right-hander scored 25 off 26 balls on a slow track, where India B huffed and puffed their way to an eventually match-winning 94 for 8 against India C. Walking in at 20 for 2, Richa saw her side slip to 26 for 4, before leading the fightback with a perfectly paced knock.
The other side to her game was on show in the final league clash, where she made a quick 36 off just 26 balls, when India B were chasing 149 against India C. Again, with her team under the pump at 36 for 2 – both Smriti Mandhana and Jemimah Rodrigues back in the pavilion – Richa launched a counter attack that took the opposition by surprise. She creamed two boundaries off Arundhati Reddy before blasting Kshama Singh into the stands with a powerful straight hit to get her knock underway. Her attacking style seemed to completely upset the apple cart, taking India B from a precarious position into the driver's seat.
"Smriti and Jemi (Jemimah Rodrigues) helped me during batting and even while fielding. The atmosphere was family-like," she says about playing for India B.
Like many prodigies, Richa's ability was spotted at a very young age and then her skills were fine-tuned. Her father, Manabendra Ghosh, used to play cricket matches in Siliguri and a young Richa used to accompany him.
"She used to come with me and play with bat and ball there," says the senior Ghosh, who then enrolled his four year old daughter in the club he used to play for – Bagha Jatin Athletic Club. Impressing people with her performances at the club, Richa then progressed to the district level.
Since there wasn't a girls' team in Siliguri back then, Richa used to play with the boys. "We realised she played better than we thought. She didn't fear playing fast bowling," says Manabendra. "We saw that her name used to come up even in the under-14 and under-18 boys' teams."
Whenever a new talent comes up, it is exciting to know the person responsible for the growth and development of that player. In the case of Richa, though, there is no one person, says Manabendra. "(At the club,) Barun Banerjee was the head coach, while Gopal Saha and Bibek Sarkar used to assist him and keep an eye on the players," he states, before adding that the Cricket Association of Bengal (CAB) also played a huge role in grooming her.
Having played his fair share of cricket, Manabendra too is never short on advice, but he is also aware that too much of it will only confuse his young daughter. "I don't want to change whatever she is learning through CAB. Too many coaches will end up harming her."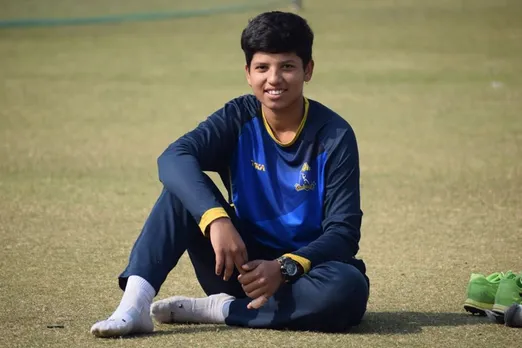 Manabendra was an allrounder at the Bagha Jatin Athletic Club. It is therefore no surprise that Richa can also bat, bowl and (surprise, surprise) keep wickets too! "Her batting was natural. We didn't have to do anything to make her bat well," says the proud father.
"I began as a wicketkeeper-batter," Richa explains. "But in one of the CAB camps, I bowled medium pace in the nets as I like to roll my arm over. Then, one of the coaches there said that I bowl decently."
While not a regular with the ball for Bengal, Richa has proved to be a more-than-handy wicket taking option at age-group level for the state side.
Having made her Senior T20 debut in the 2017-18 season, Richa has slowly developed herself into one of the side's premier young batters. This season (2019-20), in the absence of Tanusree Sarkar – part of the Railways team – the right-hander combined with veteran India allrounder Rumeli Dhar to provide Bengal with much solidity and firepower in the middle order.
"She always guides me about the way we should play when we bat together," Richa says. Her 39-run partnership with Dhar in the final – which included two giant sixes off the fast bowlers – against a star-studded Railways took Bengal to a par total of 121 for 6, underlining her importance to the side.
Given that the feeling of having been selected to play for the country in a tournament as big as the World Cup hasn't sunk in yet, Richa is yet to speak to Dhar and ask for advice on how to handle the pressures of international cricket. She will do well to pick the brain of the veteran who often found a way to pull out her best performances on the world stage.
While still waiting for Dhar's pearls of wisdom, Richa already has one piece of valuable advice stored away in her locker for now. If she does take the field in Australia, Manabendra's words are ones she will want to remember: "Don't take too much pressure, otherwise it will affect you. Just enjoy the game."
Enjoying the game is what has got Richa so far. A call up to the national side – undoubtedly a "dream come true" – is only the first step. Now, the challenge is for her to showcase her skill and sustain her place at the highest level.