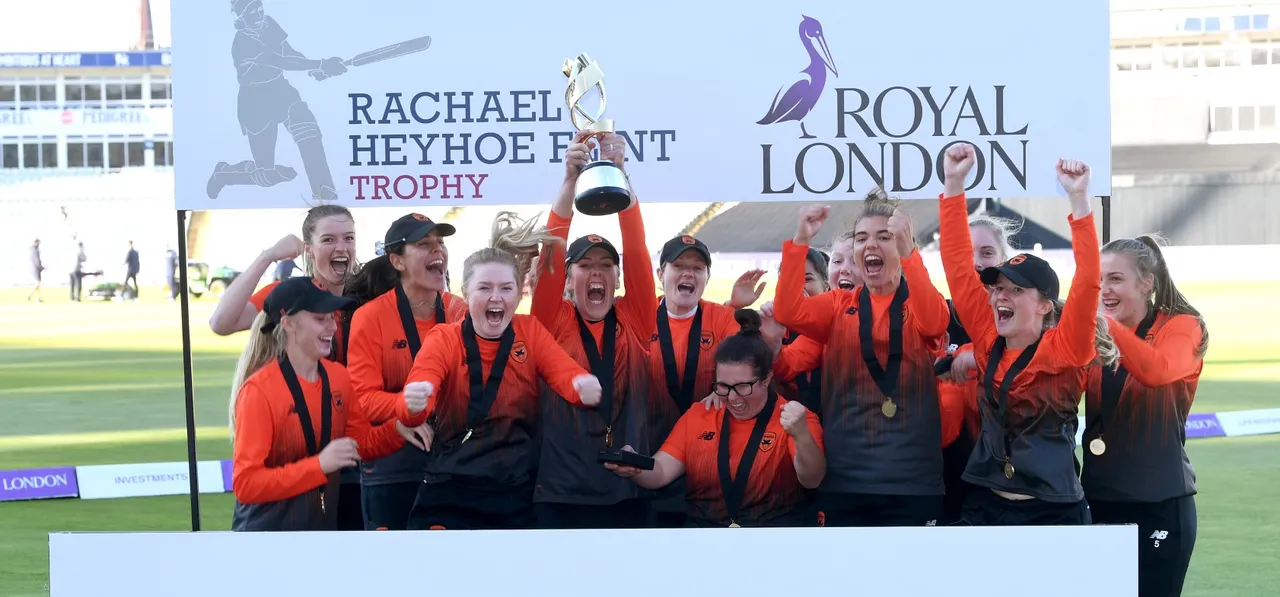 England and Wales Cricket Board has announced the schedule for the 2021 domestic season. Along with the Rachael Heyhoe Flint(RHF) Trophy, a new Women's Regional T20 competition has been introduced for the upcoming season.
The two competitions featuring a sum total of 56 fixtures will take place between May and September 2021. The RHF trophy is all set to begin on May 29, 2021, with eight teams playing round-robin once followed by the final on September 25.
Meanwhile, in the Women's Regional T20 that begins on June 26, the eight teams have been divided into two groups where they will play three home and away matches before qualifying for the final which is scheduled for September 5, 2021.
ALSO READ: Bengaluru to host India-South Africa limited-overs series in March
Clare Connor, the ECB Managing Director of Women's Cricket, said that the schedule promises to be a memorable summer of cricket for the women. "We are not only set to further professionalise the game with more players on full-time contracts than ever before but, crucially, we will showcase our game to more young girls across England and Wales so that they can say cricket is a game for them."
Connor said that she is proud to continue to move forward with Rachael Heyhoe Flint's name, with everything Flint has represented for women's cricket. "The launch of women's regional cricket last summer, despite the challenges caused by the pandemic, was another significant step forward for our domestic game. We are now looking forward to seeing those regional teams play twice as much cricket this summer with the addition of the T20 competition," Connor concluded.
Northern Diamonds will take on Central Sparks in the opener of the RHF Trophy on May 29. Western Storm will come up against Thunder, Sunrisers against South East Stars, and the defending champions Southern Vipers would start their campaign against Lightning on the same day.
With two international series planned through the summer of 2021, the availability of the international stars for the domestic competition would depend on the schedule and selection of players.
Full fixtures:
RHF Trophy 2021:
29 May:
Northern Diamonds v Central Sparks, Emerald Headingly
Western Storm v Thunder, Bristol County Ground
Sunrisers v South East Stars, Cloudfm County Ground
Southern Vipers v Lightning, Ageas Bowl
31 May:
Lightning v Northern Diamonds, Venue TBC
Central Sparks v Western Storm, Edgbaston
South East Stars v Southern Vipers, venue TBC
Thunder v Sunrisers, venue TBC
5 June:
South East Stars v Western Storm, Kia Oval
Sunrisers v Northern Diamonds, venue TBC
Thunder v Lightning, venue TBC
Southern Vipers v Central Sparks, venue TBC
12 June:
Northern Diamonds v South East Stars, Emerald Headingley
Lightning v Sunrisers, venue TBC
Central Sparks v Thunder, New Road
Western Storm v Southern Vipers, venue TBC
10 September:
Northern Diamonds v Western Storm, Emirates Riverside
South East Stars v Lightning, venue TBC
Sunrisers v Central Sparks, venue TBC
Thunder v Southern Vipers, venue TBC
12 September:
Northern Diamonds v Thunder, Emirates Riverside
Central Sparks v South East Stars, New Road
Western Storm v Lightning, Bristol County Ground
Sunrisers v Southern Vipers, venue TBC
18 September:
Lightning v Central Sparks, venue TBC
South East Stars v Thunder, venue TBC
Western Storm v Sunrisers, Bristol County Ground
Southern Vipers v Northern Diamonds, venue TBC
22 September:
2nd v 3rd Playoff, venue TBC
25 September:
RHF Trophy Final, venue TBC
Women's Regional T20:
26 June:
Lightning v South East Stars, Trent Bridge
Central Sparks v Southern Vipers, Edgbaston
Northern Diamonds v Thunder, Emerald Headingley
Western Storm v Sunrisers, Cooper Associates County Ground
2 July:
Sunrisers v Northern Diamonds, Cloudfm County Ground
3 July:
South East Stars v Central Sparks, venue TBC
Southern Vipers v Lightning, venue TBC
Thunder v Western Storm, venue TBC
9 July:
Thunder v Sunrisers, Emirates Old Trafford
10 July:
Lightning v Central Sparks, venue TBC
South East Stars v Southern Vipers, venue TBC
Western Storm v Northern Diamonds, Cooper Associates County Ground
25 August:
South East Stars v Lightning, venue TBC
Southern Vipers v Central Sparks, venue TBC
Northern Diamonds v Sunrisers, venue TBC
Western Storm v Thunder, Sophia Gardens
28 August:
Central Sparks v Lightning, New Road
Southern Vipers v South East Stars, venue TBC
Northern Diamonds v Western Storm, Emirates Riverside
Sunrisers v Thunder, County Ground Northampton
30 August:
Lightning v Southern Vipers, Incora County Ground
Central Sparks v South East Stars, New Road
Sunrisers v Western Storm, venue TBC
Thunder v Northern Diamonds, venue TBC
5 September:
Women's Regional T20 Finals Day, venue TBC