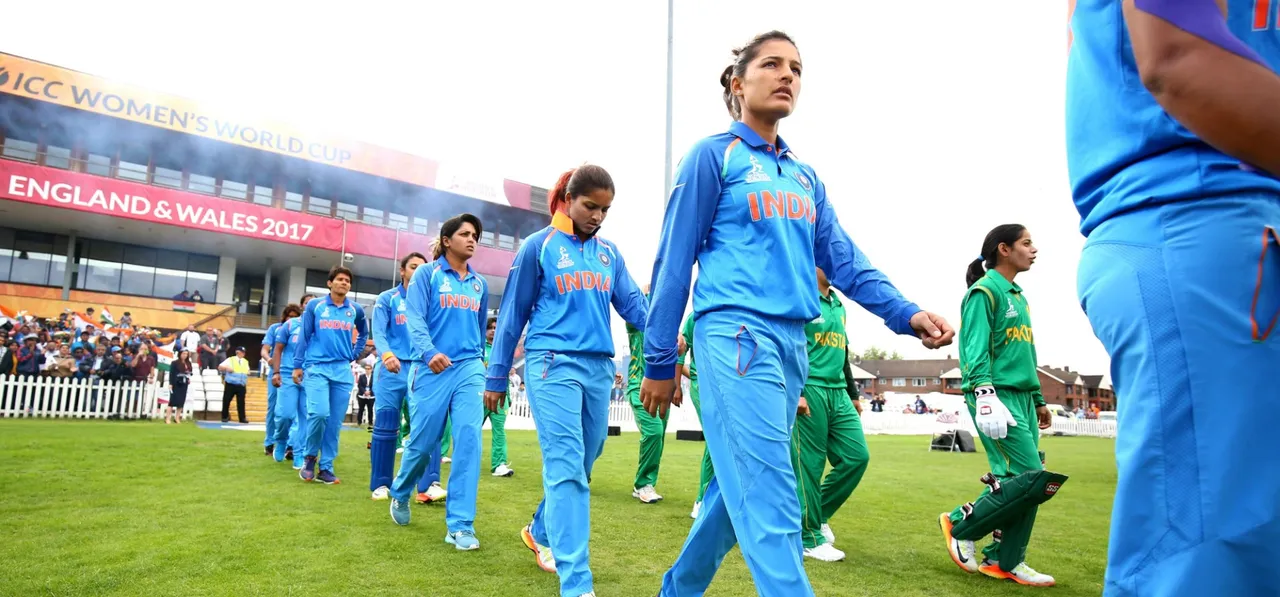 If you were to make a list of words people used over the years to describe the 2017 Women's World Cup, 'seminal' would probably top the list. Women's cricket, as we know, would go on to change forever.
The 2017 tournament made all the right noises, generating record viewing figures, becoming the most followed women's tournament at the time. The quality of cricket on the field was good, too; plenty of supremely skilled cricketers coming together to showcase their skills... It was seminal indeed.
India-Pakistan games are often built up as the biggest box office attraction of any World Cup in the men's game, with everything dialed up to the maximum. While there is a sense of excitement around the fixture when the women are involved, historically, in the ODI format, India have rarely been challenged, bossing those contests without really breaking a sweat. But in 2017, everything was different, due to which broadcasters could hype an India-Pakistan match in the women's game as well.
ALSO READ: Women's IPL will help Indian players gain confidence: Sushma Verma
"Look, all the noise and the build up of an India-Pakistan game stays on the outside. As a team we didn't see anything different that day, it was just another game for us," Sushma Verma, India wicket-keeper, tells
Women's CricZone
. Verma would go on to play significant part that day.
"But the difference was when we reached the stadium, the crowd was larger than (the) other games and they were all hooting. It was the first time we were playing in front of such a crowd."
When the Indian team started doing their usual laps before the warm ups, there was an incident that would kick the feisty Verma into gear. "I was doing the slow jogging with the fast bowlers, Shikha Pandey and Jhulan Goswami, and we were the last group of girls. When we were crossing in front of the sight-screen some Pakistan fans sitting behind said something and I felt bad because I never had such an experience. Shikha dragged me and we took a short cut to the dressing room."
ALSO READ: Rewind: Archana Das recalls India's maiden win at Lord's
When the match started the players were really engrossed in the contest and everything else stayed in the background. Having decided to bat first, India lost an early wicket with in-form Smriti Mandhana getting trapped in front of the wicket by Diana Baig for just two runs. The opening bowling combo of Baig and Asmavia Iqbal were swinging the ball and Indian duo of Punam Raut and Deepti Sharma were struggling to score runs, but they were determined to build a partnership.
The introduction of left-arm spinner Nashra Sandhu created further difficulties for India, her tight bowling meant the partnership was going under a run rate of three. Just as they were trying to pick up the pace Raut fell, offering a simple return catch to Sandhu. Then came the big blows, with Sandhu striking twice in her eighth over to get rid of the skipper Mithali Raj and Sharma to reduce India to 94 for four.



A stunning catch by Pakistan captain @mir_sana05 was voted as Sunday's #WWC17 @Nissan Play of the Day! Congratulations! pic.twitter.com/xUdJ3DP6pl


— ICC (@ICC) July 5, 2017
"When three wickets fell together Tushar Sir (Tushar Arothe, then head coach) told me
'Tu ready rehna, tujhe upar jaana pad sakta hai batting ke liye'
(You be ready, you might need to bat up the order)."
"May be because Mithali
di
(Mithali Raj) might have told him, she has seen me scoring 75 runs for Central Zone in the two-day match against North Zone. I batted well with the tail-enders and saved the match," says Verma.
Just when India thought the last recognised batting pair of Harmanpreet Kaur and Mona Meshram would save them the blushes, there was another big blow. Pakistan skipper Sana Mir pulled off a stunning catch at mid-wicket of the bowling of another left-arm spinner Sadia Yousuf to dismiss Kaur leaving India reeling at 107 for 5.
In the dressing room, Verma was confident and ready to get going. "When Harman went in, she asked me to get ready. I was normal like in other times, but somewhere down the line I was excited that I would get the opportunity to bat lot of overs and I would manage it even if it's with the bowlers."
ALSO READ: Jhulan Goswami's landmark ODI wickets
"When I went in, I had Mona as the partner, but I don't remember what she said. Maybe she was talking about the wicket or how they were bowling, I don't remember. I was excited that my turn to bat had come and I would have 20 (15.3) overs to bat. Because usually in matches before that I got only last five-six overs to bat and had no time to settle down, you just had to slog for the team."
Soon, Meshram would become Yousuf's second victim when she went for an ungainly heave and was bowled. Jhulan Goswami walked in to join Verma with Pakistan looking to tighten the screws.
"I felt Pakistan were a little bit relaxed at that point because of the constant fall of wickets. They were like, now they just have to get Jhulu
di
to wrap up the innings. They haven't seen me bat and I was benefited from that. I took time initially and they were relaxed," says Verma.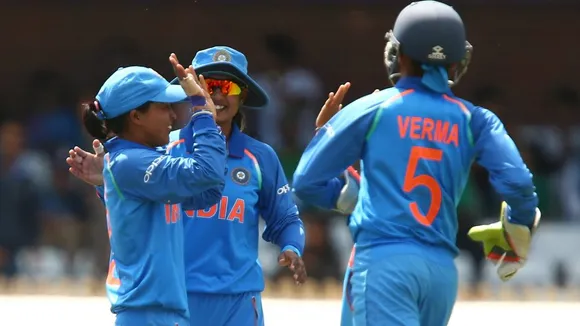 Ekta Bisht celebrates a wicket with her teammates. © ICC
"My intent was not to score runs. At the back of my mind I was thinking if I play more balls, I would score runs. Initially I took time and maybe I didn't score any runs in the first 10 balls (2 off 13). We were getting singles and doubles and pressure was slightly released and at the same time they got relaxed."
"When Jhulu
di
and I started rotating strike she said '
Sush, abhi tere ko sahi dikh rahi hai, tere bat pe zyaada achchi ball aa rahi hai. So better yeh hai ki tu last tak khelne ka soch, kuch bhi ho. Situation kaisi bhi ho, tu last tak khelna
' (You are seeing the ball well, ball is coming onto your bat. It's better you bat till the end regardless of the situation). I wasn't really listening to her and as soon as the balls were in my area I started going for the shots and accelerated," she adds.
The 34-run partnership they shared took India past 150 and to a competitive total. Sushma Verma ended her innings with a then career best 35-ball 33.
ALSO READ: Shikha Pandey argues against making 'superfluous' changes to the game
If ever there was a chance for Pakistan to set the record straight against India, this was it. They were in pursuit of a below-par total of 170 - the lowest ever target set by India against them - and with the sun out, and conditions seemingly in favour of the batters, it looked like they were in the drivers' seat. But Ekta Bisht had other ideas.
"Before we went out to the field the talk in the team huddle was that we can't relax until we take their 10 wickets. We won't be able to drag the match to 45 overs and win, though we were not overconfident everyone was happy and felt we had a good score on the board," says Verma, who was playing her first ODI World Cup.
Pakistan had problems facing Ekta Bisht in the World Cup qualifier at Colombo in February 2017 where she returned with career-best figures of 5 for 8. So, it was not a surprise when she took the new ball with the experienced Goswami and it fetched immediate results, Ayesha Zafar played the wrong line and was trapped in front of the wicket in her first over. 



It was the best bowling performance for @BCCIWomen at the Women's @cricketworldcup - watch Ekta Bisht's 5/18 against Pakistan! #WWC17 pic.twitter.com/AhovUWCSTl


— ICC (@ICC) July 3, 2017
"And the way Eku
di
(Ekta Bisht) bowled with the new ball at the start, I have noticed the difference. Unlike the spinner friendly condition in Colombo, here it was drifting and sliding and they were getting stuck in front in trying to play for the turn," says the 27-year-old Verma.
"That day ball was coming out differently from her hand, I could see it. As soon as the balls starts leaving her hand I would say in my mind 'This is a wicket, this is going to be LBW'."
Four of the Pakistan batters were back by the time Bisht completed her first spell with all getting trapped in front of the wicket. Her spell read 4-1-4-3.
ALSO READ: MD Thirushkamini's maiden hundred lights up India's home World Cup campaign
Deepti Sharma, the off-spinner and Mansi Joshi, the medium pacer, replaced the new ball bowlers, but Pakistan's ordeal continued to with runs were hard to come to by. At the end of the 15
th
over, when Asmavia Iqbal was dismissed by Joshi for a duck, Pakistan had been reduced to 26 for 6.
Opener Nahida Khan tried to stick with Mir to repair the innings, but the damage had already been done. By the time Bisht came back to bowl from the other end the result appeared to be a mere formality with Mir just trying to survive. Bisht struck with back-to-back wickets in the 29
th
over to give herself another five-fer to go with the one at the qualifier.
"I find it very interesting to keep to Eku
di
. The two seasons I played for Railways I used to regularly get four-five dismissals behind the wicket, So I was used to keeping to her."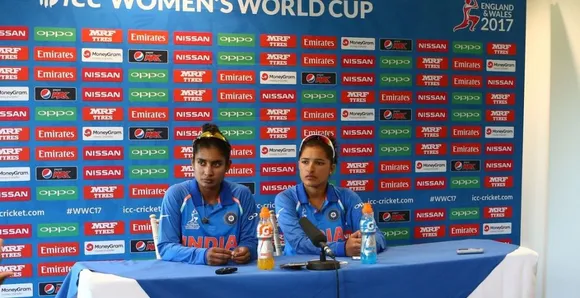 Mithali Raj and Sushma Verma answer questions at a press conference. © Getty Images
"She is one of those players who keeps talking to the wicket-keeper, taking feedback, 'How am I bowling, how my hand is coming, how the ball is coming'. She trusts whatever suggestion or feedback we give. So, that way it's very easy, communication is always there. If she has to try some variation, a message will come before delivering the ball," adds Verma.
Eventually the last wicket fell when the score was on 74 when the top scorer Mir, valiantly trying to hold the fort, was dismissed by Joshi.
India thus registered their third win on the trot at the World Cup, but Indians weren't taking it for granted or becoming complacent. "After the match everything was normal, it was just like another win, same practice, same sessions. Everything else remains on the outside."
"That was the first time I went for a press conference and here they asked me about the batting. They asked about the partnership between Jhulan and me, but
maine bola mujhe sunta kuch nahi hai jab mein andar jaati hoon.
(I said I don't hear anything once I go inside)," she laughs.
While India's win over Pakistan may not even be in their top five performances of that World Cup, on that sunny afternoon at Derby, the team took one more positive step in a historic campaign, forcing the country, to focus their attention on the women's team... Seminal, indeed!