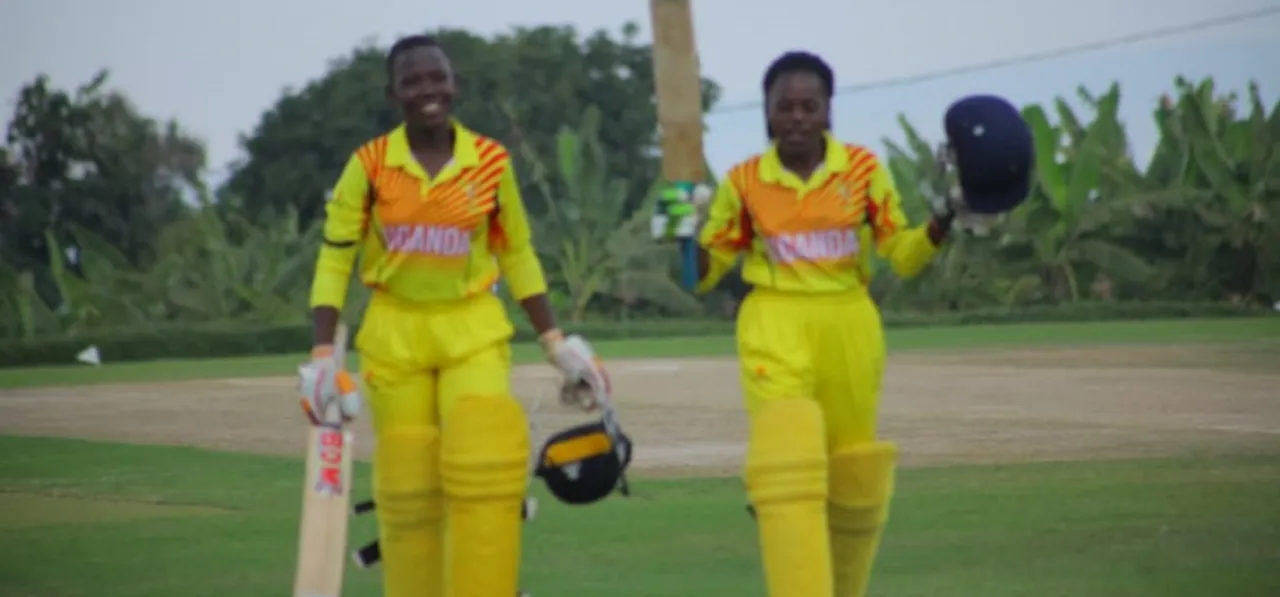 Wonder Women
– that was a part of the headline of an article on the website on April 16. It was apt as it listed some of the records owned by women in cricket. Three out of the 10 listed records belonged to a single team – Uganda, a landlocked country in East Africa whose diverse landscape encompasses the snow-capped Rwenzori Mountains, immense Lake Victoria and also boasts abundant wildlife.
In this week's rewind segment,
Women's CricZone
goes back to last year when Uganda, playing against Mali, racked up 314 runs for the loss of just two wickets – the highest-ever T20I total across genders in the history of the game – in the fifth match of the Kwibuka Women's T20 Tournament at Gahanga International Cricket Stadium in Rwanda.
"I feel like playing it again and score more than what we scored in that game," Uganda skipper Rita Musamali, who was one of the two centurions with a 61-ball 103 not out in that match, told
Women's CricZone
.
After electing to bat first, Uganda got off to a brilliant start with Prosscovia Alako (the other centurion) and Immaculate Nakisuuyi smashing 82 runs for the opening wicket in just 5.4 overs.
ALSO READ: Wonder Women: 10 T20I records women own
The latter, however, was run-out after scoring 34 off just 18 deliveries. But there was no respite for Mali as Uganda's skipper, the then 20-year-old Musamali smashed the opposition bowlers at will along with Alako.
Building an innings and a huge second-wicket partnership of 227 runs requires a lot of planning and execution. Musamali admitted she felt anxious despite the opposition not being too strong, but the guidance of the coaches, and some mature and sensible planning during the innings helped her team raise such a feat.
"As captain, there was a bit of anxiety since the team we were playing was not that strong but at that time of the game, we had lost a wicket in the sixth over," she explained.
"So I was nervous and had to plan with my partner with the guidance of the coaches. The grand plan was at least get a target of 250 runs, keep communication good, keep reviewing the targets, and we managed to get to a score of 314 runs by achieving small targets over by over."
ALSO READ: With heart and patience Mali keep moving forward
One of the aspects that worked was that both Musamali and Alako kept challenging themselves with a target every over. "In the middle, we kept it more and more challenging by aiming for out-of-the-world targets. We kept talking about rotating strike and getting regular boundaries. And trust me. that kept the boarding ticking," said the captain.
It was a nightmare for Mali that afternoon. After conceding 61 extras - 30 no-balls and 28 wides - a hapless Mali could manage just 10 chasing Uganda's 314. They had recorded the lowest-ever total in a T20I across gender after being all out for just six in their previous encounter against Rwanda.
No Mali batter could reach more than four, with six falling for ducks. Their innings was wrapped up in 11.1 overs. "Truth is I felt pity for Mali but then it was a team plan so I had to follow the coaches' instructions. My role was to go hard at it but of course cautiously while my partner was not to lose her wicket," said Rusamali.
ALSO READ: The flight of the Flamingos: Argentina's tryst with cricket
The encounter gave statisticians a plethora of records to write about. Uganda's 304-run is to date is the highest ever in terms of runs while the previous best was UAE's 189-run win over China the same year in January. Interestingly, Mali have the three lowest totals in women's T20Is - having achieved those on three consecutive days.  The 61 extras Mali bowled are the third most in women's T20Is.
"Records were broken in that game because of listening to instructions from the coaches and also good partnership in the middle. You never realise the beauty of being a record holder," said Musamali. Asked about who does she thinks will break their record, the 21-year-old replied, "My team Uganda (laughs) …the ladies cricket team. We can smash that record because there is a lot of raw talent here. And I am sure it will be a great feeling." 
More rewind stories here.