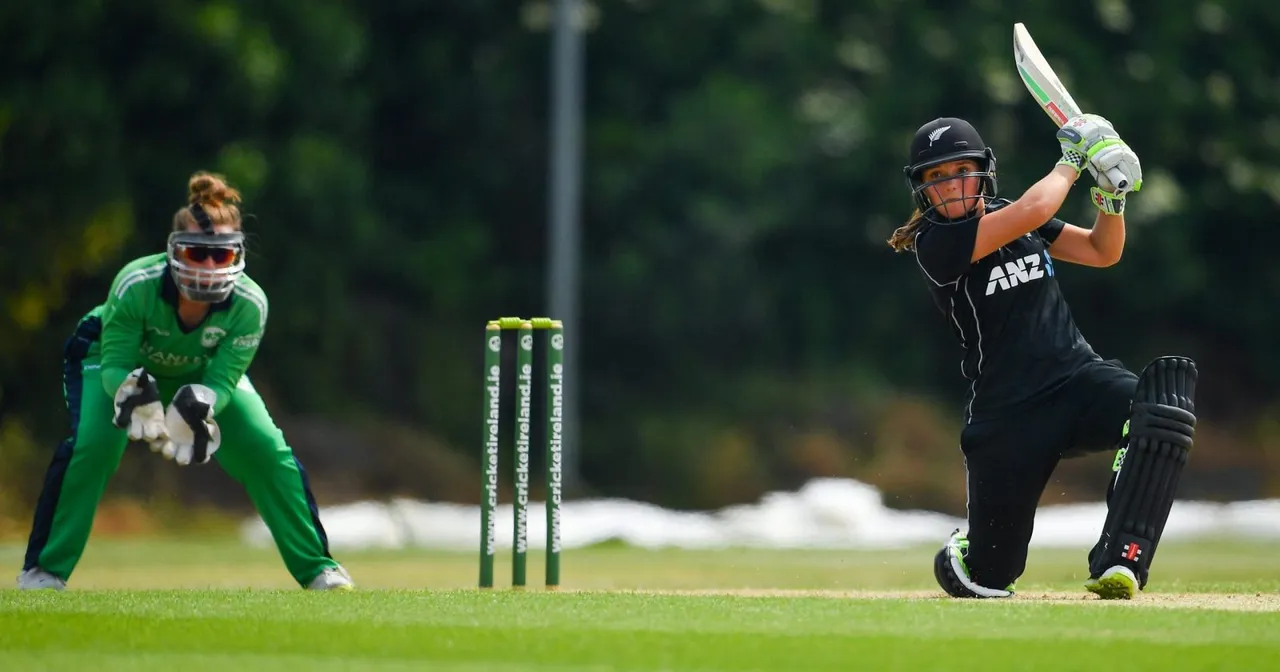 Never did Amelia Kerr think she would break a 21-year-old record at just 17. "It was a very special day and everything seemed to fall into place for me," Kerr told Women's CricZone. "I had the opportunity to open the batting for New Zealand so I wanted to make the most of it."

In this week's rewind segment, we turn back the clock a couple of years to the Castle Avenue Cricket Ground in Dublin when the teenage allrounder simply took the Ireland bowling attack to cleaners in the third and final game of the series to notch up the highest score in women's ODI history, surpassing Australian Belinda Clark's record of 229 not out against Denmark in 1997.



Kerr was on 217 off 141 balls at the start of the final over and needed 13 more to topple Clark's feat. She drove the second ball of the over to long-on for a single before hitting 4, 4, 6 off the last three balls to reach the landmark, Amy Kenealy being at the receiving end.

"Once I got into a rhythm, the flow of my innings felt very natural. I kept things simple, I had a very clear mind and it was just a case of 'see the ball, hit the ball.' I thought I played with confidence and to my strengths in that innings," the younger of Kerr sisters, said, remembering her majestic unbeaten 232 off 145 balls which included 31 hits to the fence and two sixes.

ALSO READ: Rewind - Scintillating Suzie smashes South Africa to smithereens

It was a series to remember for New Zealand, too. Not only did they win the series 3-0 but it was also the first time that a team had notched up three consecutive 400-plus scores in women's ODIs. Their 491 for 4 in the series opener is the highest total in ODIs, across gender. Interestingly, New Zealand are the only women's team to have four 400-plus ODI totals. Their other was back in 1997 when they scored 455 for 5 against Pakistan.

"It was an awesome series for the White Ferns with many players contributing. We had real belief and played with a lot of confidence," said Kerr. "The approach was no different going into game three. Fortunately, because we had done so well, we had the opportunity to share things round a bit meaning people like me got more opportunity. Nothing changed, every game you represent your country you play with real pride and honour."


Amelia Kerr hits a shot. ©White Ferns
Opting to bat first, New Zealand set a strong platform with Kerr and Amy Satterthwaite (61 off 45 balls) putting on 113 runs for the first wicket. In fact, it was the only time Kerr had opened the innings in her 32-match ODI career. The partnership was broken when Gaby Lewis had Satterthwaite holing out on the leg side. Kerr then combined with Leigh Kasperek as the duo amassed 295 runs for the second wicket at a run rate of nearly nine runs per over.
Kasperek brought up her maiden ODI hundred off 97 balls when she hit Lara Maritz over the keeper's head for four in the 46th over. Kerr, too, was unstoppable - one loose ball and she would smack it over the bowler or fielder's head to the boundary. She admitted that opening the innings with Satterthwaite gave her a lot of clarity.
ALSO READ: Rewind - When New Zealand were crowned World Champions
"Can't quite remember the chat out there as it was a long time ago but opening with Amy was an awesome learning opportunity for me. She is a New Zealand great and is one of the best cricket brains going around," recalled Kerr, who made her international debut in 2016.
"She helped give me clarity and confidence and took the pressure off me by scoring quickly at the start. Leigh and I are good mates so it was nice for us to have a big batting partnership together... Normally it is with the ball where we combine! We both decided to stick to what we do best. For her, it was lapping the ball and sweeping, while for me it was looking to hit the ball straight. It was a nice combination and our strengths complimented each other well," she added.
At a time who you hit the opposition so hard, there ought to be some talking from the opposition to break the momentum and distract the mindset, but Kerr was in her zone completely that day. "I think they tried to talk to me a little bit but I was in the zone and nothing could distract me that day so all I was focusing on was the next ball," she said.
Kerr also became the joint third-youngest (17 years and 243 days) woman to score an ODI century. India ODI skipper Mithali Raj holds the record for the youngest to an ODI century when she got to that feat at 16 years and 205 days, also against Ireland.
ALSO READ: Captaincy is something I am interested in, but in no rush at all: Amelia Kerr
But the Kiwi wasn't finished yet. She then let her leg-spin do the talking, ripping apart the Irish chase. Coming to bowl in the 23rd over, she started with a maiden before scalping her first wicket for the day - uprooting Una Raymond-Hoey's stumps in her second over. With that wicket, Ireland were 91 for 4 at the end of the 25th over and could add only 44 more in their next 19 overs, thanks to the leggie's strikes. She had Shauna Kavanagh clean bowled, before dismissing Kenealy, Maritz and Cara Murray to finish with figures of 7-1-17-5.
"I was pretty tired after the first innings and was hoping I wasn't going to bowl," she said. "However, when Suzie (Bates) told me to warm-up I was ready and as a leg spinner, you want to be aggressive and take wickets. It was just one of those days where everything seemed to go your way."
However, the Tawa-born native felt that it was lack of experience, and not pressure, which undid the Laura Delany–led side. "I don't think Ireland crumbled under pressure. They are less experienced as they have played less number of cricket around the world. They are a great group of players and it was nice to get to know them off the field as well."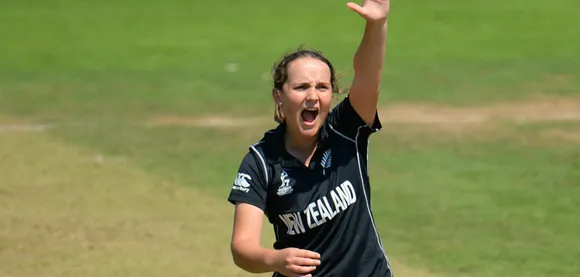 Amelia Kerr appeals for a wicket. © ICC
Kerr ended the three-match series as the highest scorer - 342 runs at a strike rate of 156.88 - and the highest wicket-taker with eight scalps, to be named the Player of the Series. Was that the best day of her career? "For me you can't top your highest score and best ODI figures, so it was a special day and my best performance on paper," she said.
"In saying that I want to judge myself on how I play and step up in pressure situations and for me those games, where I have done well in big moments, are always important and memorable ones for me."
With the cricketing activity stopped globally due to COVID-19 pandemic, Kerr has been keeping herself busy with a home gym, running and skill work without cricket.
"I'm studying online so I have had a bit of university work to do as well and a few assignments due. My sister (Jess) and I enjoy music and we have a piano and guitar at home and our dog, Willow, who keeps us entertained. I've been watching a lot of Friends and now the Michael Jordan documentary – The Last Dance," she concluded. 
You can read more rewind stories here
.