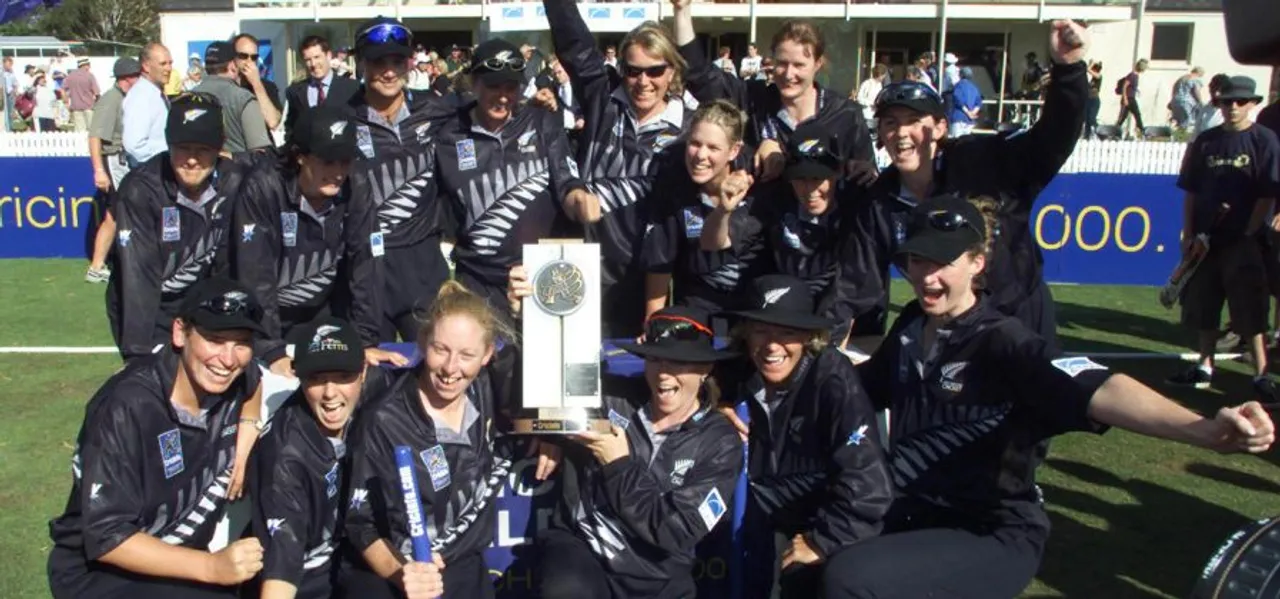 It was the turn of the new millennium, and an opportunity for New Zealand to create history. The country – hosting their second Women's World Cup – and the team – having created some 'winning' momentum heading into the tournament – were primed for something special it seemed.
Having lost to defending champions Australia in the tournament opener on November 29, the hosts strung together five wins on the bounce to set-up a final date with their trans-Tasman rivals. Although New Zealand had already experienced the pressure of a World Cup final in both 1993 and 1997, the 2000 World Cup felt like their best chance of securing the silverware. The emotions within the team were running high, and the pressure and expectation of the general public, too, had increased manifold. But Emily Drumm and co. were very clear in their thinking – their eyes were only on the prize.
"We were excited," Catherine Campbell, former New Zealand off-spinner, who doubled up as manager of the team in 2000, tells Women's CricZone. "(The) media following in New Zealand had really picked up as the tournament progressed, and the country supports any New Zealand team playing our neighbours Australia, so that really helped galvanise public interest and support which we loved."
"We hadn't won any previous World Cups although we had been in other finals and we weren't the favorites for this tournament, so that took some of the pressure off."
While New Zealand had faltered once in the group stage, Australia remained unbeaten during their run to the final. They no doubt had the upper hand, but Campbell stresses that New Zealand were confident going into that final.
"I don't know if underdog is the right term. They had beaten us in the group stage and we were aware of how well the Australians do in crunch matches, but we were confident that we could acquit ourselves well if we kept things simple."
New Zealand had thrashed India by nine-wickets in their semi-final, with Anna Smith (50*) and Drumm (47*) seeing out the chase of 118 in 26.5 overs. They appeared to be peaking at the right time and were determined to cross that final hurdle.
"To be honest I can't recall," Campbell says of the mood in the camp ahead of the big final. "We would have tried to keep things simple and make sure we enjoyed the occasion as we knew there was going to be a good-sized crowd and it was capping off a really successful month of cricket (for us)."
ALSO READ: Allrounder Shikha Pandey's whirlwind comeback
Come December 23, 2000, the coin fell in Drumm's favor and New Zealand opted to bat first. Their start, though, was far from inspiring with Smith bowled by Terry McGregor for one. Wicket-keeper Rebecca Rolls and Drumm consolidated with a 43-run stand, but the duo's departure off successive balls resulted in a collapse. In the end, Kathryn Ramel's 41 took the hosts to a below-par total of 184.
At the lunch break, Australia were in the driver's seat. They had three of the top six tournament run-getters in their line-up, all of whom should have been able to chase down the target in their sleep. Until the final Karen Rolton (392), Lisa Keightley (375) and Belinda Clark (260) had set the tournament alight with their attacking batting. New Zealand's bowlers were under the pump, and they were aware of the need to take early wickets.
"If we were honest, we knew we were a few runs short, but it was runs on the board and in any match – especially a final – that is often important."
"We talked about having to park any disappointment about the total and focus on doing whatever we could to defend it," she said of New Zealand's determination to stay in the game.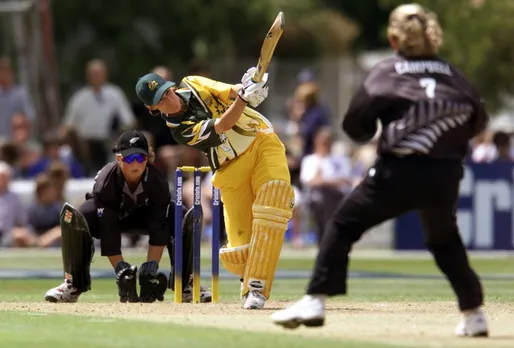 Belinda Clark threatened to take the game away from New Zealand with an excellent knock. © Getty Images
If Australia had the batting, New Zealand had the bowlers who could deliver the goods. Through the tournament the quartet of Katrina Keenan, Helen Watson, Clare Nicholson and Campbell combined to run through the opposition – consistently rolling them over for less than 150.
"We were confident with our bowlers," Campbell reminisces. "We had good experience and variety that could attack at the start and dry things up in the middle; and with good fielding – which clearly played a big role in match – we knew we were still in it."
Much like Campbell predicted, New Zealand managed to rock Australia early, dismissing both Keightley (1) and Rolton (0) within the first three overs. However, despite the hiccup, skipper Belinda Clark put her head down and looked determined to take Australia to an unprecedented fifth title.
"The runout of Rolton was probably the key wicket for us in the entire tournament.  She was a fantastic player and had caused us a lot of trouble in the past, so getting her out cheaply and in that way gave us a real lift. I never get tired of watching that run out! Similarly, with the other run out (of McGregor), they were two pieces of individual brilliance that were key to our win."
With Australia back in the ascendency, New Zealand needed a bit of magic – or a lapse in concentration – to fight their way back into the game. That was when Nicholson struck, bowling the Australian skipper around her legs after she tried to sweep a ball that was too full. Clark had to walk back for a wonderfully constructed 91 off 102, and suddenly, it seemed, New Zealand had one foot in the door.
"Belinda was always a key wicket whenever we played Australia and we knew the longer she stayed in, the more the pendulum swung towards them. So, her wicket was huge; so (there was) definitely great excitement when we got that. It opened the match up – I can't recall what was said (after that wicket), but it got us back into the match."
Although the wicket had lifted New Zealand's spirits, they were well aware that Australia's lower order was more than capable of getting their team over the line. It was now a battle of nerves.
McGregor's patient 19 saw Australia inch closer to the target. They needed 26 runs off 31 balls with three wickets in hand. Watson's brilliance came to the fore again when she ran McGregor out.
ALSO READ: Meg Lanning's T20I ton that helped Australia clinch the Ashes
Once again, New Zealand had arrested Australia's momentum and were in the ascendency. But if they thought the defending champions would fold like a pack of cards, they were mistaken. Charmaine Mason and Cathryn Fitzpatrick added 16 crucial runs for the ninth wicket before the latter was bowled for six, leaving Australia with 10 runs to get off 11 balls. A further five runs off the 49th over and the equation read: five runs, six balls and one wicket.
Drumm had a decision to make – pace or spin?  Haidee Tiffen's five overs of medium pace had conceded 27 runs, while Nicholson's nine overs of spin leaked 38 runs. In the end, the choice was clear, with the experienced Nicholson being entrusted the with the final over.
"The discussion was more about whether to bowl pace or spin," remembers Campbell. "In the end we went with spin. The general message was to keep our cool and give it everything. To the bowler, it was keep it up and get her hitting down the ground – it didn't quite go to plan but we got the wicket!"
Right on cue, off the first ball of the final over, Nicholson got Mason to nick off – Rolls taking the final catch to wrap up proceedings. After two failed attempts, New Zealand had finally won the World Cup!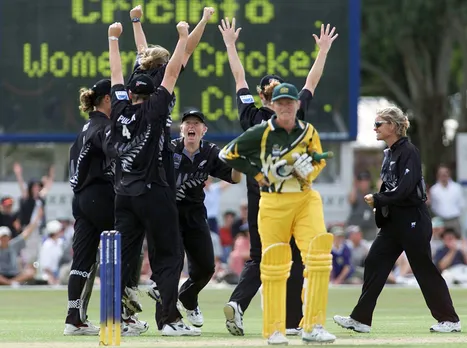 New Zealand celebrate after dismissing Cathryn Fitzpatrick, the last Australian batter, in the 2000 Women's Cricket World Cup. © Getty Images
"I can remember running from deep third to grab a stump and then heading off to Katrina Keenan at deep square leg. By then people had run onto the ground. It was incredible – such emotion from everyone."
"The dressing room was great – we stayed there for some time.  It was going to be the end for a few players so we spent time together as well as selectors, New Zealand Cricket staff, families etc. being around."
It was a fitting farewell to two New Zealand legends, Debbie Hockley and Campbell. The pair, who had announced their retirements earlier, deservedly bowed out as champions.
The victory was particularly sweet for Campbell who was part of the World Cup organising committee.
"For me personally there was huge satisfaction," Campbell recollects. "I had played in two previous World Cup finals (1993 and 1997) having lost them both, and it was going to be my last match. In my role at NZC I had also helped organise the tournament, so for it to finish that way was very special."
"It remains the only World Cup that a New Zealand team has won. To do it at home was exciting, and at the time it generated a lot of profile and support for the team and the players."
While this particular victory may have come two decades ago, perhaps New Zealand, hosts of the 2021 ICC Women's World Cup, can take inspiration from the batch of 2000.
Read more 'Rewind' stories here.