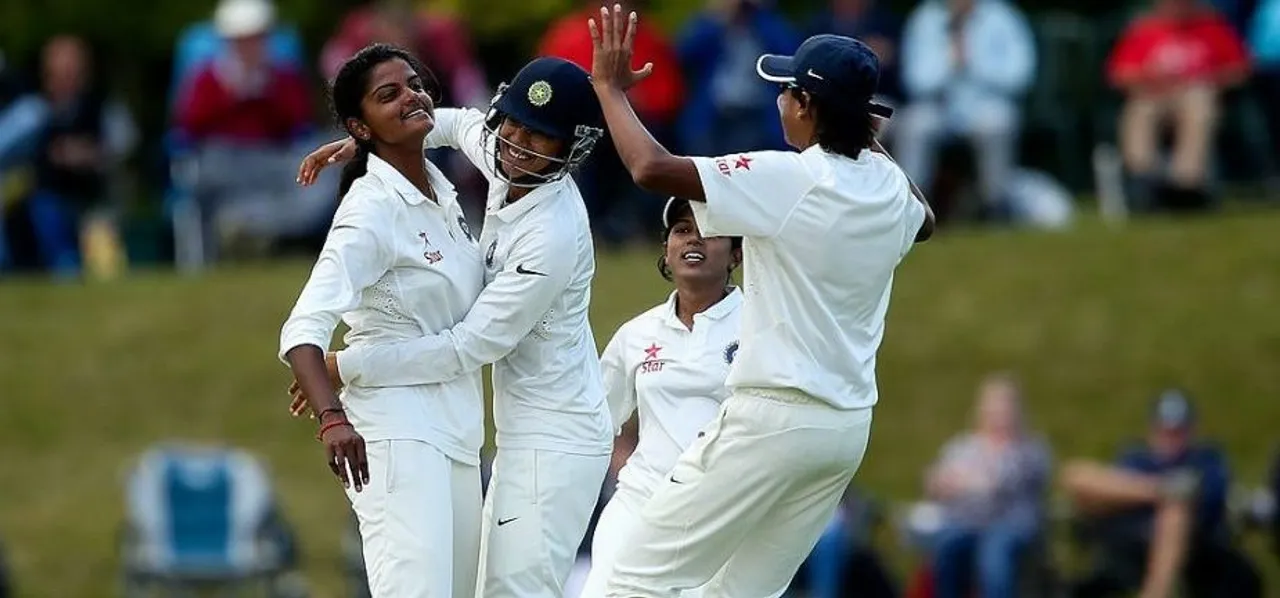 Conversations about women's Tests are rarely about cricket; they invariably snowball into discussions about the lack of it or the rarity of it. If men's Test cricket is dying, then the women's version is in its afterlife. But we will leave that debate to the administrators and those who decide the commercial viability of everything related to cricket.
When you strip any cricket match to its bare essentials what remains is its three variables - balls, runs, and wickets. So, when India faced England in Wormsley in a Test match during their 2014 tour, the health of Test cricket wasn't something they were worried about. They were just happy to be there and play the game.
"I feel truly blessed and grateful to have played that England Test match. It was actually one exceptional match in my entire career," Niranjana Nagarajan, India pace bowler, tells
Women's CricZone
. "It was thoroughly enjoyable; every practice session and we had a practice match too against a normal county side (England Academy). It was truly wonderful."
"Eight of us were playing (a) Test match for the first time, we were not really experienced, but the guidance of Mithali (Raj) and Jhulan (Goswami) was helping us throughout."
India won the toss and decided to bowl on conditions that seemed bowler-friendly. Nagarajan made an immediate impact trapping opener Heather Knight in front of the wicket.
"There will be days when you feel even if you close your eyes and bowl, you would bowl on the spot. It was one such day for me," says Nagarajan.
"When Mithali gave me the ball she said 'I don't want you to just release it, I want you to hit the pitch.' So, I took two balls to get my rhythm and run-up. From the third ball, I got my rhythm, I knew I was going to get it right. Fast bowling is all about run-up, especially in a Test match, you need to have your run up and release correct. I was very lucky to get everything right that particular day."
ALSO READ: Rewind: When Das' best ensured India 'Raj' at Lord's
Nagarajan bowled a probing spell, striking three more times including the wicket of England skipper Charlotte Edwards as England were reduced to 49 for 5. The fast bowler ended her spell with figures of 10-5-11-4. Three of her wickets were LBWs - apt for a game that saw a record 20 LBWs given.
"I thoroughly enjoyed all my wickets. When I made the comeback into the Indian team in 2012, I was lucky to dismiss Edwards three times (twice) in ODIs and it was lbw in every instance. So, I kind of knew she was a little susceptible to the balls coming in."
"After I got the caught behind (Lauren Winfield), I was bowling outswingers for three-four balls continuously, and then I bowled one inswinger and I could get that wicket of Edwards. It was a precious wicket for me, as she was their main batsman," adds Nagarajan.
England were bowled out for only 92 runs. India's plan was to get a sizeable lead in the first innings, but after a good 40-run opening partnership they had a batting collapse and were reduced to 64 for 6. Nagarajan joined Goswami at the crease and had the task of batting the day out.
"I love batting, I am a fast bowler, but I just love batting anywhere. My passion for batting is limitless. So, I enjoyed my batting there, because there was no hurry to get runs. I just had to stay there, the instructions were just to stay there and my mindset was also just to see through the day."
"Around 4:15 or something I thought the play will get over in another 15 minutes. I asked the umpires, both Jhulan and me, how much of play left for the day. They said one hour of play is remaining. I was surprised, I thought we can manage fifteen minutes and we can go off for the day. So, somehow, we had to negotiate the bowling for one more hour," laughs Nagarajan.
India didn't get the 100-run lead they wanted, but managed to inch past England's score before they were dismissed for 114 the next morning. Jenny Gunn's five-wicket haul brought England back into the game and gave them an opportunity to set a good target on a pitch that was getting better for batting.
https://open.spotify.com/episode/3wIV5plfHhXuX9kotfATXW
"Jenny Gunn is this kind of irritating bowler, who just keeps bowling in particular length with weird pace. You can't hit it, neither you want to defend it. Batters always likes it when the ball is coming on to the bat nicely. With her bowling it doesn't happen like that."
Gunn wasn't done and with the help of her 62 and contributions from Sarah Taylor and Winfield. England set India a target of 181 runs to win the Test match. Goswami bowled really well for her four-wicket haul and Nagarajan - who went wicketless in the second innings - enjoyed her spell from fine leg with the crowd behind her cheering.
Even though the wicket was easing up India knew they had a tough task at hand. The plan wasn't to be overly aggressive or go into a shell says Nagarajan. "We knew we needed at least three-four sessions to score 181 runs. We were not supposed to be very aggressive or very defensive, we had to be positive. That was the mindset."
The left-handed duo Smriti Mandhana and MD Thirushkamini gave India a solid start with a 76-run partnership. The pair kept the scoreboard ticking while playing some delightful shots with the then 18-year-old Mandhana employing her trademark cover drives to good effect.
"Both (Mandhana and Thirushkamini) were playing really well, first innings they didn't score much, and in the second innings they had to contribute, and both of them are really classy players. They adjusted themselves well for the wicket, they knew, they had to give India a very good start and they should see to it that team was in a good position at the end of the day."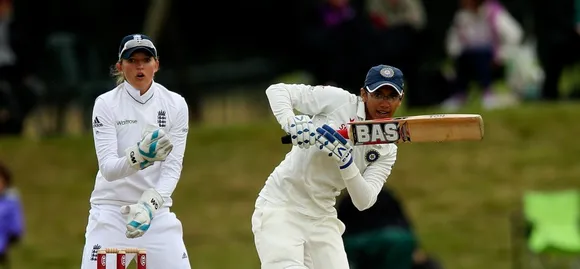 Smriti Mandhana pushes one off the back foot. © Getty Images
Mandhana, one of India's eight debutantes, scored her maiden fifty but departed soon to leave the skipper Mithali Raj with the responsibility of getting India through the day and a possible historic win on the final day.
Raj, who scored the winning runs when India defeated England for the first time eight years ago, decided she had to be there again to guide her inexperienced side through. She started the innings with two boundaries off Gunn in the first eight deliveries she faced, but soon slowed down, playing time, rather than going in search of runs.
"Mithali Raj is a world-class player; she is very calm and composed. (Sometimes) it looks like she is not looking at the scoreboard, but every ball, every over, she has it in her mind what the score is and what can be done better," the pacer said while talking about the experience of batting with her.
"I have batted with her on a few occasions. So, she has it in her mind, now we have to increase the scoring rate or now little defence is more than enough. When she went into bat with India 82 for 2, she knew, she had to be there if India had to win the match. Not one bad stroke or rough stroke she played that day."
India finished the day three on 119 for 4 needing 62 more runs to win their first Test match in eight years. A shoulder injury to Shubhlakshmi Sharma meant India had five wickets in hand to get there.
On the fourth day morning there was a lot of nervous energy in the dressing room, "butterflies in the stomach" as Nagarajan says and it was time to add superstition into the mix as well.
"I still remember when we came down from the hotel room for the bus. Everybody was like, it was not nervousness, we just wanted to win somehow, the feeling of winning the Test match, it was like going to an examination. But everybody had butterflies in the stomach, including our coach, because we knew if we win this Test, we will create history. But we still needed sixty more runs."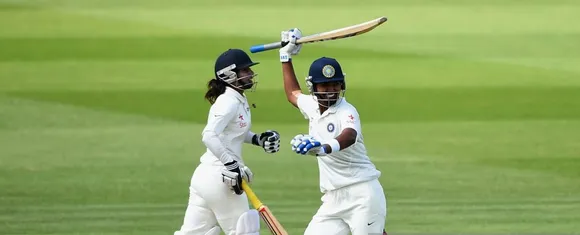 Mithali Raj and Shikha Pandey exult after hitting the winning runs. © Getty Images
Raj and Shikha Pandey - who had been sent in the previous evening as a 'nightwatchman' - resumed the innings and Nagarajan was busy instructing her team mates to do their bit in the dressing room.
"A few of us believe in superstitions. Mithali was standing by the side the previous evening, wickets were not falling. When Mithali went in, I didn't want the team to lose wickets. So, I didn't move from the place, it was near the restroom, till the match was over. From that place I was watching and asking everybody to sit in their own places," Nagarajan adds.
Raj looked assured at the crease, she rotated strike with ease and occasionally scored boundaries when the bowlers erred. She unassumingly brought her fifty up with a single off Sonia Odedra. Pandey just had to stay there and she did just that. As soon as Pandey hit the winning run, those in the dressing room ran to the ground screaming in excitement.
"When Shikha scored that boundary through the covers it was just a surreal feeling. I think if you ask those who played the Test match it will be a fresh enough memory anytime. We ran inside the wicket straight away and the crowd gave us an India flag, I was holding the flag. I took one stump and then I made everybody, the players and the support staff, sign in that stump and I still have that stump with me."
"I played only two Test matches in my career and we won both of them. So, it was a great honour for me to have represented in India in a white clothing, it's the highest I can ask for."
As the cricket world continues to debate over the feasibility of Test cricket for women, Nagarajan and her teammates can bask in the memory of a historic win in Wormsley, when a team of semi-professionals (at best) - with as many as eight debutantes - beat a team of professionals in their own backyard. 
You can read more rewind stories here.