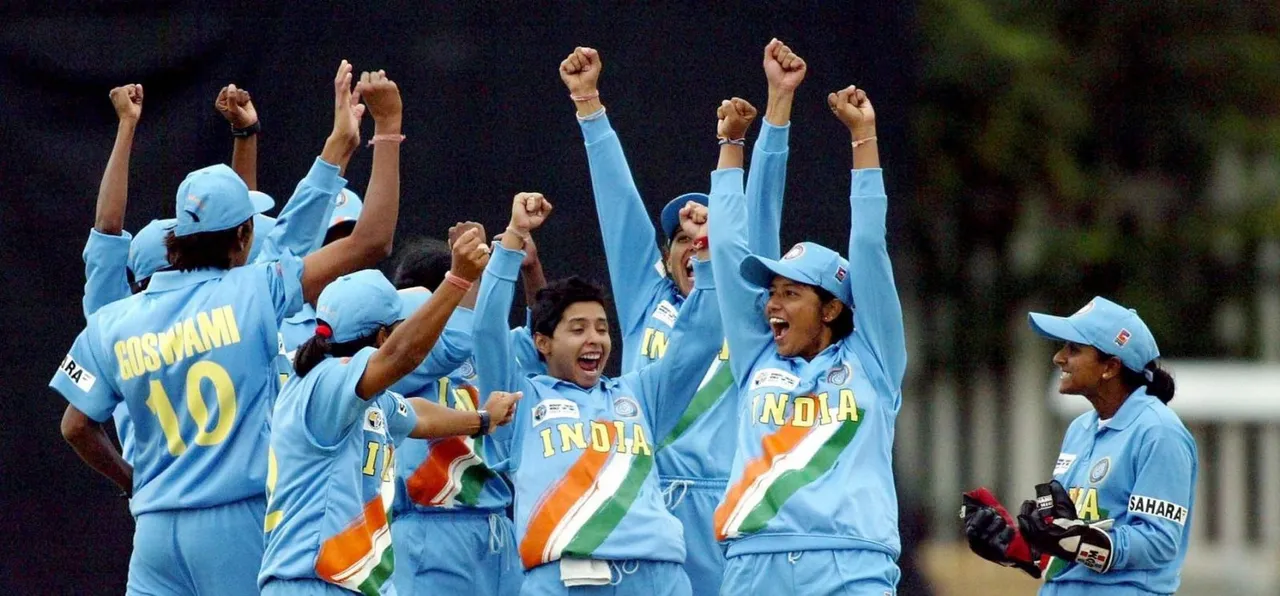 wp:tadv/classic-paragraph
"That was an amazing tournament for all of us; it was a different feeling altogether," Neetu David tells Women's CricZone about India's incredible campaign in the 2005 Women's World Cup in South Africa. "The best part was that we played as a unit and all the girls were focused till the last match. We enjoyed each and every moment both on and off-field," she reminisces.
India had come into the tournament with plenty of cricket under their belt, playing close to 30 ODIs in the two preceding years. Along the way, they beat the likes of Australia, England, New Zealand, Sri Lanka and West Indies, gaining crucial experience and momentum ahead of the World Cup.
Within the team itself, the pressure was palpable because of the semi-final finishes in the previous two World Cups (1997 & 2000). However, contrary to past experiences, that pressure worked wonders as the Mithali Raj-led side overcame every hurdle to make their way into their first ever World Cup final.
"There was extra motivation in all of us that we have to play the final at any cost. We worked extensively hard for three-four years to prepare ourselves for that World Cup. All that hard work paid off in the end," David remembers. The tourney was heavily marred by rain with eight of 31 matches ending with no results.
ALSO READ: Rewind - Suzie Bates' monstrous hitting against SA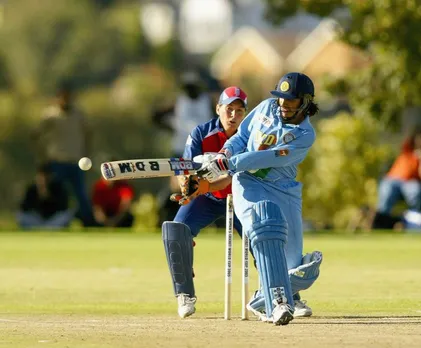 Anjum Chopra plays one through the on-side against England in 2005 Women's World Cup. © Getty Images
Just before India left for the tournament, there was an article in a reputed newspaper that read – the 2005 World Cup could be India's best or worst. And that's what happened. The girls played brilliantly before losing in the final to Australia by 98 runs. "There was a lot of pressure on us," she says. "In that squad, some players were there who had played in one of the last two World Cups and some new faces. So pressure or expectation, as it may be described, was definitely there and it worked somehow."
For India, the stakes were high. If captain Mithali and Anjum Chopra bailed the team out with the bat at crucial junctures, the trio of Jhulan Goswami, David and Amita Sharma ripped through the opposition with the ball. Although India's opener against Sri Lanka was washed out, they easily got pasts the hosts and Ireland in the next two games. However, the two performances that stood out through India's campaign were Goswami and David's devastating spell of 19.3-3-50-7 against England in group stages and Mithali's unbeaten 91 against New Zealand in the semi-final.
ALSO READ: Rewind - Mignon du Preez's maiden Test hundred 
"That match (vs England) was very crucial for us. I think that win instilled more confidence in us and it showed in the tournament after that game."
In that game, Charlotte Edwards (58) and Arran Brindle (51) aside, none of England's batters could reach double figures, as India took the honours in the vital clash at the Laudium Oval in Tshwane, Pretoria.
Winning the toss and opting to bat first, England made heavy weather of the conditions slumping to 56 for 4 in 25.3 overs. David herself had accounted for two early wickets, and with England struggling to find and stability, Goswami returned to the attack and cleaned up the tail to finish with figures of 4 for 27.
"Our main plan was to contain as many runs as possible," David says. "Because we knew that if we can contain the opposition, they will go for risky shots and make mistakes."
Needing just 140 for victory, India were in dire straits reeling at 35 for 3 in the 20th over. At that point, it seemed like anyone's game, but an unbeaten 106-run partnership for the fourth wicket between Chopra and Rumeli Dhar saw India home.
Although India lost their next group game against New Zealand despite a five-fer from David, a win against West Indies and a washout against Australia in the last two round-robin matches saw them through to the knockouts.
ALSO READ: Rewind - Priyanka Roy's 5/16 demolishes Pakistan 
"It's a dream for every bowler to take a World Cup five-wicket haul," laughs David, who returned with figures of 5 for 25. "It was the same for me too and would have been much more memorable had we won the match."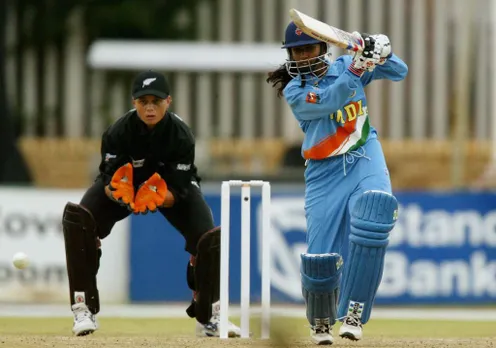 India's Mithali Raj in action against New Zealand during the 2005 Women's World Cup semi-final. © Getty Images
The semi-final against defending champions New Zealand was all about Mithali. Coming in at 38 for 2 in the 14th over, the skipper batted through the innings facing 104 balls for her 91, helping India to a total of 204 for 6 in 50 overs. In reply, New Zealand were bowled out for 164, thanks to six wickets shared between Sharma and off-spinner Nooshin Al Khadeer.
"As a batter, my toughest and the most memorable match was the semi-final against New Zealand," Mithali, who finished the tournament with 199 runs, said after the game.
So what went wrong for India in the final in Centurion? Did they fold under the pressure of the big occasion? Or were Australia just too good?
"We lost too many wickets in the form of run-outs (four in total)," laments David, who was the highest wicket-taker in the tournament with 20 scalps. Riding on Karen Rolton's majestic 107 not out and Lisa Sthalekar's 55, Australia posted 215 for 4 in 50 overs. In the chase, India were never really in the hunt, losing wickets at regular intervals to be bundled out for just 117. Opener Anju Jain top-scored with 29.
"We didn't play our shots and concentrated (only) on cheeky singles. No doubt they had a great fielding side. We panicked a lot and that's where we lost the title," David, who has 181 international wickets from 107 matches, laments. "Definitely it (the pressure) was there, but at the same time, it can't be an excuse. The better team won that day."
Bowling on seamer-friendly tracks, it was always difficult for a spinner like David to keep the opposition on the check. Short in stature, the lady from Kanpur used her height wisely, tossing the ball up and deceiving the batters in the air. It was a tactic that gave her a great deal of success through the tournament.
"It was okay. I gave my best. In a team game, no feat is achieved alone and the whole credit goes to my teammates, support staff who worked tirelessly. They showed faith in me and I am happy to have not let them down," she concludes.
/wp:tadv/classic-paragraph