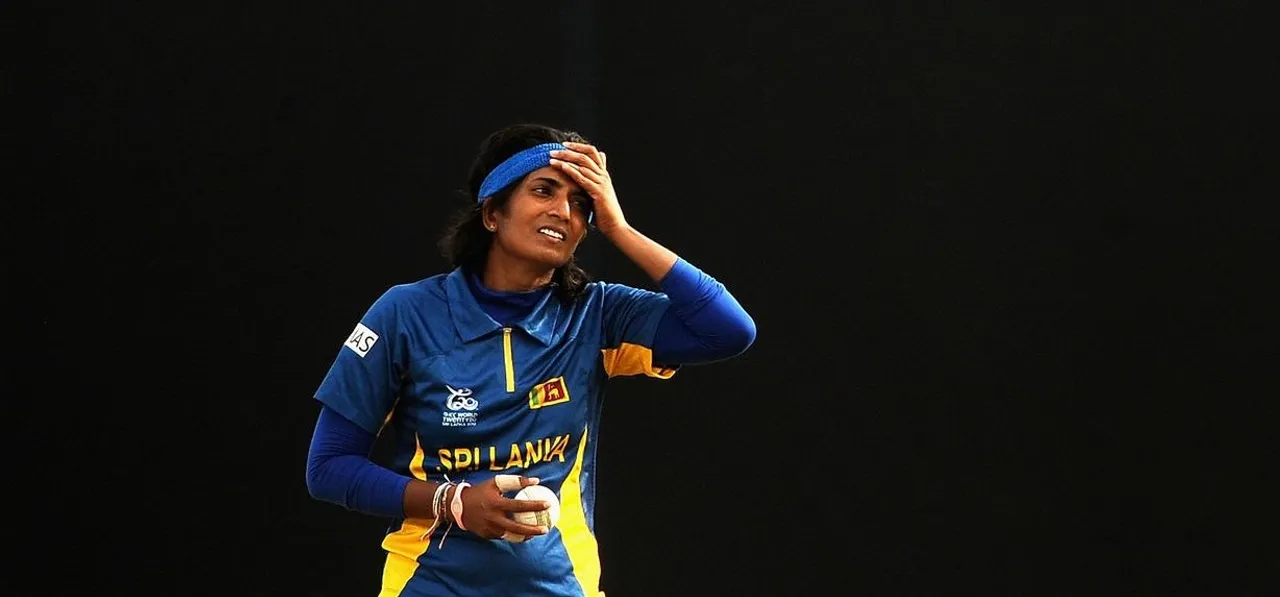 Playing Test cricket is the ultimate for every cricketer. As the name suggests, it is the greatest test of a player's temperament, technique, powers of endurance. Unlike men, women do not play Test cricket too often. In fact, only three women's Test matches have taken place over the last six years - all between England and Australia. Outside these two nations, India and South Africa played a Test back in 2014, and there are several countries who have played only one Test in their history.

To date, only 12 players have notched up centuries on their Test debut. Sri Lanka's Chamani Senevirathne is one of the lucky few. In this week's rewind section, Women's CricZone travels back to the late nineties when the lower-middle order batter not only flourished with the bat, but also exploited the conditions with the ball taking a fifer. She is the only woman to have the distinction of scoring a hundred and taking a five-wicket haul on Test debut.

April 17, 1998. The stage was set at the Colts Cricket Ground in Colombo as both Sri Lanka and Pakistan were making their international Test debuts. "It was long back, some 15 years ago I think. I fondly remember that match," Senevirathne, who now stays in Dubai and turns out for UAE national side, told Women's CricZone over a video call.



Batting first, the hosts didn't have the start they would have wanted being reduced to 56 for 2. Although Vanessa Bowen held up one end, wickets continued to tumble at the other end. However, it was Senevirathne's gritty 43 and Rose Fernando's 44 that propelled the Lankans passed the 300-run mark. They finally declared their innings at 305 for 9 with Bowen top-scoring with 78.

In reply, Pakistan were troubled by Senevirathne's medium-pace. After Rasanjali Chandima Silva provided the breakthrough dismissing Nazia Nazir for a duck, Senevirathne picked up the next three to rattle the opposition middle-order. She then picked another two towards the end to bowl out Pakistan for paltry 171.

ALSO READ: Rewind - When Verma and Bisht shone on a sunny afternoon against Pakistan in Derby

"I also took seven wickets in that very match including a fifer in the first innings. It was one of the memorable matches of my life," recalled the 41-year-old. With a 131-run first-innings lead, the Lankans didn't have a good start, losing half of the side quickly. For a then 20-year-old, the circumstances weren't ideal, having to make her own way in a difficult situation. However, Senevirathne showed great maturity, calmly aiding Bowen as they saved the team from a tricky spot.

"I was very young then. After I scored 43 in the first innings, I was confident when I went to bat in the second and scored a century," said Senevirathne. "It was a very interesting innings. Since I was not that mature the seniors guided me. Bowen asked me to play my normal game and not panic."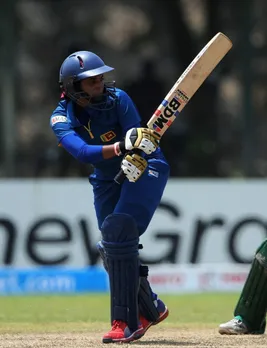 Chamani Seneviratna in action for Sri Lanka. © Getty Images
"Pakistan had a very good side. They had some very good players, but we were also a decent team with some brilliant and talented players in our ranks." Although there are no visuals of that encounter, it is understood the kind of innings that Seneviratna played made many stand up and notice. The right-hander carried her bat till the last with 105 not out etched next to her name as Sri Lanka declared their innings at 285 for 6.
Set a winning target of 416, Pakistan crumbled under pressure and were bowled out for 100. Her 105 not out is also the highest Test score made by any woman cricketer batting at No. 8 or lower in women's Test history. It is also believed to be the fastest Test ton in women's cricket, though the absence of the number of balls faced makes it tough to assert the fact.
Incidentally, since that encounter, Sri Lanka never played Test cricket while Pakistan turned up only twice after that against Ireland (2000) and West Indies (2004). "Nobody was there to push for us to play Test cricket," said Senevirathne when asked why Sri Lanka were never seen at the international arena playing in whites.
"We initially didn't get any facilities of that sort. It was in 2008 when women's cricket was taken under Sri Lanka Cricket. Former World Cup-winning skipper Arjuna Ranatunga was the board chairman then and he brought in all the facilities and infrastructure for us and step by step we improved," added Senevirathne who played for Sri Lanka from 1997 to 2014.
After her retirement from Sri Lanka, Senevirathne moved to UAE in 2015. That year she worked on her fitness and the injury she was carrying previously and made her debut in domestic cricket the following year. In May 2018, she was named in the UAE squad for the 2018 ICC Women's World T20 Qualifier tournament and made her debut against the Netherlands. A year later, in an ICC Women's Qualifier Asia match against Kuwait, Senevirathne took her first five-wicket haul in T20Is. 
You can read more rewind stories here.