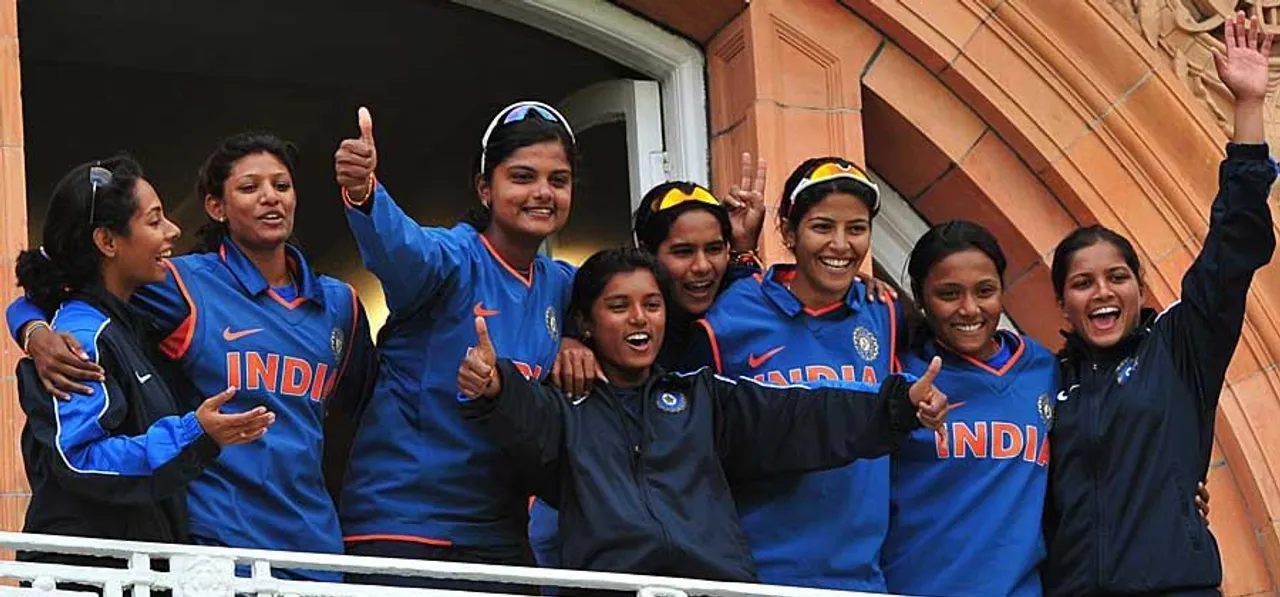 Between 2010 and 2013, the Indian team went through a bit of turmoil. Not only were they going through a period of transition, with several young players attempting to make their place in the side, but selection also seemed to be a bit of a revolving door. Over the course of 33 ODIs, as many as 16 players were handed debuts as India struggled to find winning momentum. However, the period was not all doom and gloom, as the team registered a few memorable wins along the way, trying to navigate their way back into the top four.
One of these came on their tour of England in 2012, when India chased down a tricky 230 at Lord's to register their only victory at the historic ground.
Having suffered a 2-0 defeat in the T20I series, not many gave India a realistic chance going into the five-match ODI series. The hosts were, at the time, ranked no.2 in the world, while India were languishing in the middle of the table. They had only recently suffered a 3-0 thrashing at home at the hands of Australia and looked to be staring down the barrel in alien English conditions.
ALSO READ: Rewind: 17-year-old Amelia Kerr breaks a 21-year-old record
"Look, to be honest, I think at that point we were a young team still trying to find our feet at the international level," Archana Das, former India off-spinner, who played a key part in that victory, tells
Women's CricZone.
"The talk in the dressing room was often about focusing on the process and making sure we give our efforts on the ground. We all knew what we were capable of, so it was more about finding a method that worked for us as a team."
"Many of us were touring England for the first time, and we were obviously a bit nervous, but at the same time there was a lot of excitement about playing at Lord's. I don't think anyone was really expecting much from us, but as a group we were quietly confident," says Das, who played 34 matches for India.
Having gotten to the ground quite early on match day, the young Indian team were greeted by typically overcast and gloomy English conditions. Layered up in their slightly over-sized sweaters, they diligently warmed up, wondering whether the game would start on time. But as always, the clouds parted just before the toss, which England won and decided to bat.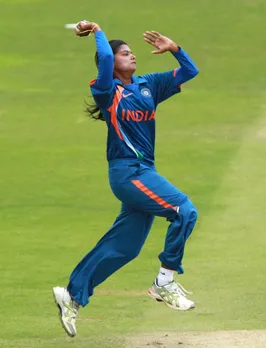 Niranjana Nagarajan bowled an incisive opening spell. © Getty Images
Niranjana Nagarajan gave India an early breakthrough when she trapped Charlotte Edwards plumb in front in her very first over, but Sarah Taylor's arrival meant they couldn't yet heave a sigh of relief.
ALSO READ: Saee Purandare braces for the future with focus on controllables
In an attacking move, Mithali Raj brought her spinners into the game quite early – Gouher Sultana and Das were both in the attack before the 20
th
over. While Sultana managed to keep up the pressure at her end, Das conceded 12 runs off her first over – Taylor picking off two boundaries.
"I came into the attack quite early – the ball was still quite hard because the pacers had really not gone for many runs. After Sarah Taylor hit me for a couple of boundaries – one each on the off and leg side – I was a bit shaky," she reminisces. "But then Mithali
di
came up to me and asked me to change my line a bit. She (Taylor) got beaten twice after that, and that kind of lifted my confidence."
Having changed ends for her second over, Das struck straight away getting her nemesis Taylor stumped. It was a tossed-up delivery, slightly wider than the others that drew the batter out for an expansive drive, only for her to be beaten in the air. It is the most prized wicket of Das' international career.
"That was like a dream wicket for me," Das gushes. "The credit goes entirely to Gauri
di
(wicket-keeper Sulakshana Naik). Taylor saw the loop and line and went for the drive, but she was beaten in the flight and slightly over-balanced. She probably dragged her foot out of the crease for a split second, but Gauri
di
had the bails off in a flash! I don't think it was an extraordinary delivery or anything, but the 'keeping was excellent."
"That wicket really boosted my confidence immensely, and helped me settle down in the match."
ALSO READ: Shafali needs to understand what she is doing, says MD Thirushkamini
Having let the match slip in the middle phase, as Arran Brindle built partnerships with Jenny Gunn and Laura Marsh, India clawed their way back in the back end of the innings as the crowd built up. Das and the rest of the bowlers combined to bowl out England for a total of 229. The off-spinner led the charge, picking up three more wickets – Brindle, Danielle Wyatt and Danielle Hazell – to finish with career-best figures of 4 for 61, the best by an Indian bowler at Lord's.
"Though I was slightly expensive in my spell, I got good wickets. So, I guess you can say I had to give some runs to purchase those wickets. It was a good track to bat on, so as an off-spinner I had to be precise with my line and length."
"I was a bit upset that I couldn't get my fifth wicket, but I guess that's the way the game goes. All-in-all, the bowling group worked well together," she added.
At the halfway mark though, England may have thought they were in charge of the game. After all, the Indian team had won only two of their last 22 matches whilst chasing – and those were both targets below 160.
"As a batting unit we were still growing at that time, so when we saw the score, there was a slight sense of 'Can we do this?'. But I think the coaching staff was great in helping us stay focused – they pepped us up," she says.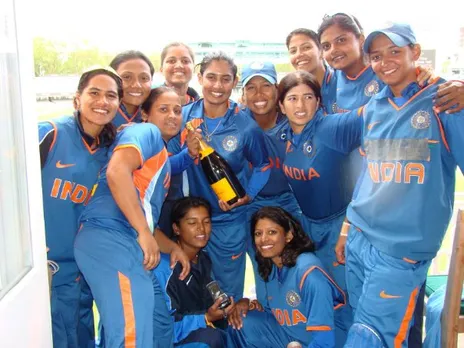 The Indian team pose for a photograph in the dressing room. © Punam Raut/ Facebook
"Also, the crowd was really filling up at that point… The stand opposite to the pavilion was full. There were plenty of people with Indian flags, cheering us on, so I think that really helped us when we were batting – it definitely gave us that 
josh
and we kind of just rode that wave."
After the early loss of Mona Meshram, Punam Raut and Raj combined for a 106-run stand for the second wicket to lay a solid foundation. When Raut was dismissed for a 105-ball 60, India were in a slightly tricky position, needing 103 runs from 102 balls.
Cue the entry of Harmanpreet Kaur.
With little time to lose, Kaur took a couple of overs to get her eye in before she helped the skipper lift the run rate. The pair rotated the strike brilliantly, playing only 28 dot balls over the next 14.5 overs, also finding the boundary seven times.
"As the partnership progressed, the belief in the dressing room kept increasing. We all felt
ki agar Mithali di hai, toh ho jayega.
(If Mithali bats through, we will get over the line). That's always the case with the Indian team, I guess, but that day she was in excellent form. Punam and Harry supported her really well too. So, that was great. It was a real team effort."
ALSO READ: Bengal reap rewards of a supremely successful system
Their brisk 89-run stand saw India inch closer to the target. However, with victory in sight, Kaur was dismissed for a run-a-ball half-century.
Still requiring 14 runs in 14 balls with seven wickets in hand, there were suddenly jitters within the dressing room.
"Everyone is superstitious in cricket," laughs Das. "The closer we got, the more fidgety we got. I wasn't even allowed to get up to get a bottle of water!"
"We cheered every run with so much enthusiasm, but then if we got too loud or just before the next ball was about to start, Jhulu
di
would make everyone calm down. We lived each ball together… And with the crowd there, waving the India flags, it was so exciting."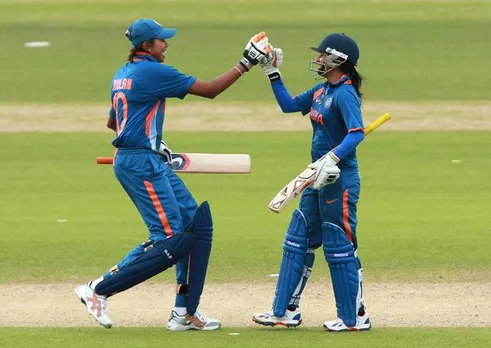 Mithali Raj and Jhulan Goswami celebrate India's win. © Getty Images
Although England mounted a comeback when they dismissed Krishnamurthy and wicket-keeper Naik, Raj made sure India got over the line with three balls to spare. She remained unbeaten on 94 off 111 balls and was named Player of the Match.
ALSO READ: Rewind: Allround Shikha Pandey's whirlwind comeback
India thus registered their maiden victory on the hallowed turf of Lord's, chasing down their highest total in England.
"It was a huge win for us. As a team, it really helped us believe that we were capable of chasing down big targets," Das says.
"Up until then we always had this issue of relying too heavily on the bowlers… It was always the bowlers who were expected to defend low scores. But that match at Lord's helped the batting group immensely. Now, you can see how much people like Harry and Punam enjoy chasing a total."
"That win was a real team effort. The bowling, fielding and the batting came together so well."
Despite a win in the next game, where they defended a paltry 129, India went on to lose the series 3-2. However, the win at Lord's will forever be etched in the history books as one of their most famous, and it was appropriately celebrated at the Indian embassy – tea, cookies, champagne and all! 
You can read more rewind stories here.