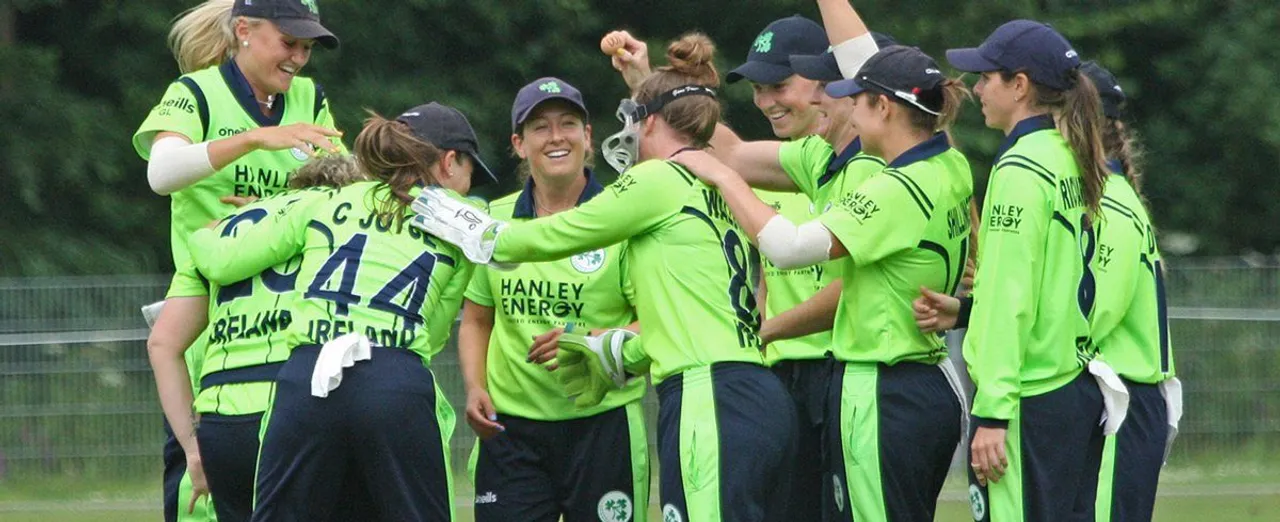 It's difficult to be Ireland in international cricket. It's not a major sport in the country, it's hard to choose it as a profession and make a living out of it and the fixtures are always sparse.
Ireland didn't have a particularly good start to 2018 having lost their lone T20I against New Zealand by 10 wickets, before suffering three consecutive 300-plus run defeats against them at home in ODIs. 17-year-old Gaby Lewis watched fellow teenage prodigy Amelia Kerr
break a 21-year-old record
against her team in the last ODI. The series against Bangladesh didn't bring any luck either. Ireland lost the first two T20Is - not a great place to be with just one week to go for the World T20 Qualifier.
But Lewis believed; she believed in herself, she believed in her team.
"We still knew that we hadn't played our best cricket yet and we strongly believed that we could beat Bangladesh," Lewis tells
Women's CricZone
. Lewis had a good outing in the first match but failed in the second with pacer Jahanara Alam, who tormented Ireland, accounting for her.
Having lost the first two matches batting first, Ireland skipper Laura Delany chose to field on a good batting wicket in the third. Bangladesh got off to a flying start with openers Shamima Sultana and Ayasha Rahman putting on a 47-run partnership.
"The wicket was really good, we reckoned 140-150 was par. We tried to keep it as simple as we could with our plans, and Laura Delany did exactly that," says Lewis.
"They batted well, it was a very good, even contest and we've been pretty well matched as teams over the years that I have been playing."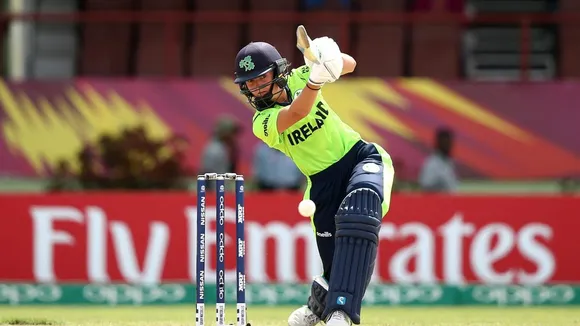 Gaby Lewis plays a fluent drive through the off-side. © ICC
Fargana Hoque, who came in to bat at three, continued the good work of the openers. She would go on to score a stroke-filled 66. Ireland just wanted to protect the boundaries and restrict them to the score they believed they can chase and Delany did just that.
"She bowled wide of off-stump and protected her boundaries which was crucial in that middle period when she bowled. We knew Bangladesh like to hit the leg side so we protected that area to minimize the boundaries," Lewis explained.
ALSO READ: Gaby Lewis lauds Cricket Ireland for having more support staff and training facilities
Hoque remained not out and her innings took Bangladesh to 151 for 4. Delany's bowling figures read 4-0-19-1, everyone else - including Lewis - went for plenty more runs.
"We felt, we (had) done really well. We knew that score was par on that wicket," Lewis adds. Ireland believed they had restricted Bangladesh to a score they could chase, but believing is one thing, and doing it is another. Until then, they had never made more than 129 batting second.
"The outfield was really fast. We wanted to be aggressive in the power play, (and) knew that we would get value for our shots as the outfield was lightning quick."
Ireland didn't get the start they wanted and could score only 28 runs in the first six overs. They lost the wicket of Clare Shillington offf the penultimate ball of the power play.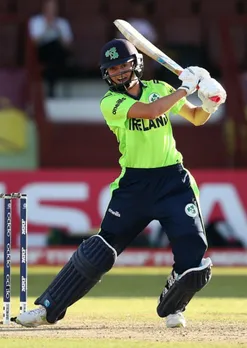 Gaby Lewis plays a forceful shot off the back foot. © ICC
In walked Lewis with Ireland needing another 124 runs from 91 deliveries.
"I was confident. We had played Bangladesh numerous times, so I knew what I was coming up against. I tried to stay as relaxed as I could and just rotate the strike for a few overs."
Left-arm spinner Nahida Akter struck in the next over removing the experienced Cecelia Joyce, reducing Ireland to 30 for 2. Delany then joined Lewis at the crease.
"Our main focus was to hit the gaps and run hard, we are both decent runners and I think we complimented each other well. I always love batting with Laura Delany and it was an innings I will never forget," says the 19-year-old.
"We didn't set any target but wanted to try (to) go at least seven-eight (runs per over) in the middle then reassess at (the) 14-15 (over mark). I knew I had the ability to hit boundaries, so if we took it late, we backed each other to finish it off."
The required run rate was climbing and was above ten by the time Alam came back into the attack. She had already taken seven wickets in the first two matches and Ireland batters struggled against her. Call it fearlessness of youth, daredevilry or necessity, Lewis wanted to take-on the strike bowler.
"Jahanara is their main bowler and I think they rely on her a lot, so I wanted to try (and) attack her," says Lewis. She smashed Alam for a six and a four in the 15
th
over.
ALSO READ: When teen Amelia Kerr broke a 21-year-old record
Delany, who was looking steady at the other end, then decided it was time for her to take charge as well. She hit two boundaries off Salma Khatun in the next over. Lewis then clipped Khatun over square leg for another four and took a single to complete a well-deserved fifty. Her innings was studded with seven fours and a six.
However, almost against the run of play, disaster struck Ireland in the next over. Delany, in her elements, attempted to tonk  left-arm spinner Akter for consecutive fours, but only managed to smash the ball back in the direction of the bowler who got her fingertips to it before the ball rolled on to the stumps at the non-striker's end. Lewis was run-out for 50 off 31 balls, leaving Ireland needing 29 off 21.
Isobel Joyce, who made her debut for the national side much before Lewis was born, was left to bring all her experience into play. She warmed up to the task, hitting a four off Rumana Ahmed before going into the last over with Ireland needing 11.
Alam gave away just three singles off the first three deliveries. On the fourth, she managed to run Delany out for 46 off a wide, which meant the hosts needed seven more in three balls.
https://open.spotify.com/episode/7fji2PZYGMgkzXoi8QSYcO
"We were obviously very nervous but with the experience that Isobel has, we backed ourselves all the way. Anything can happen in T20 cricket," says the teenager.
"I would back Isobel 100% of the time in that situation. Eimear (Richardson) also has a lot of experience. So with Eimear and Isobel out there we were confident of them knowing what they were doing."
Two runs were taken off the next ball but Lewis knew what Joyce was upto on the penultimate ball.
"We all knew that Izzy was eyeing up the scoop when fine leg and third man was up."
And she did.
Joyce went down early and hit the ball past short fine leg for four, that tied the scores. She drove the last ball to the covers and ran as fast as she could to take them home. It was the highest successful chase in Ireland's T20I history.
"We always knew we had it in us and to finally go out and do it was a big relief," Lewis says.
"That win gave us massive confidence, chasing a total of 152 especially, which we'd never done before."
You can read more rewind stories here.