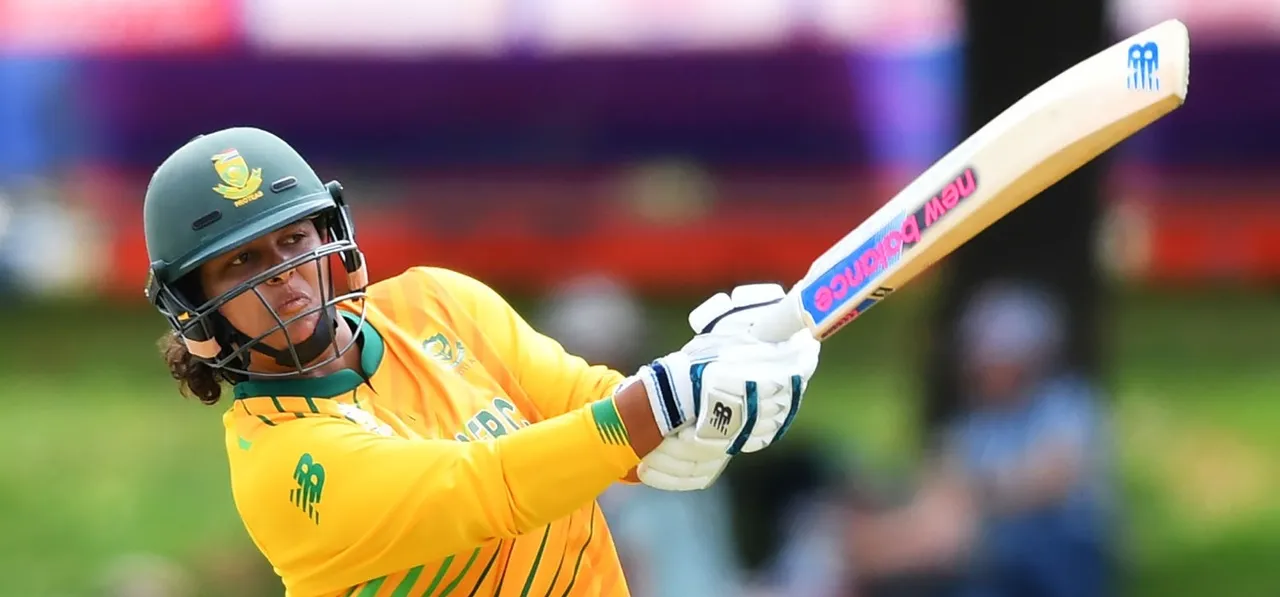 I want to be match-winner for my team and perform consistently well for as long as I can," Chloe Tryon tells Women's CricZone.
Coming up against Pakistan in South Africa's opening match of the ICC Women's World Cup Qualifier 2017 in Sri Lanka, Tryon certainly lived up to that billing, dishing out a batting master class to headline South Africa's 63-run win at the Nondescripts Cricket Club in Colombo.
Having finished sixth in the inaugural edition of the ICC Women's ODI Championship, South Africa had to book their place in the 2017 ODI World Cup in England through the qualifying tournament in Sri Lanka in February 2017.
On a hot, sunny morning in Colombo, South Africa opted to bat first, but were precariously placed at 129 for five at the halfway mark.
Tryon, who had walked in at number six and watched Marizanne Kapp (38) fall soon after her arrival, joined hands with skipper Dane van Niekerk in the 26th over. The burly right-hander knew immediately that she had enough time to settle in before taking any chances.
ALSO READ
:
Rewind: Memorable ton, forgettable Test for Mignon du Preez
"It was the first game against Pakistan; we knew how competitive and big of a game it would be," she recollects. "So, we definitely knew that batting first we should bat well and build a good partnership and carry on the momentum to put up a good score. We started off really well, but towards the middle, we lost a few wickets there."
With Pakistan in the ascendancy, van Niekerk and Tryon surmised that a steady partnership was the need of the hour. The pitch seemed a tad slow and was assisting the spinners, and another wicket would have been disastrous. Luckily for South Africa, the captain's presence seemed to calm Tryon, giving her clarity on how to approach the next half of the innings.
"It was a difficult period and to have her at the other end made it easier. Obviously, we are great friends off the field and we communicate really well so it kind of helped me to have her (in the middle)."
"Every now and then we spoke in between the overs (about) how to accelerate. We kind of set goals for every five overs and made sure if it was a really good over (for the bowler) we would let it be and look to bat deep."
Against her natural attacking instincts, Tryon began cautiously, inching (by her explosive standards) to 23 off 36 balls. It was around then that she felt the pitch had eased out. It was time to press the accelerator.
ALSO READ:
Rewind: When Amelia Kerr broke a 21-year-old record
"I was playing straight since their spinners were bowling really well. I tried to look for quick singles where we could. I knew if I stayed a little bit longer it would be easier for me to attack in the end," she says.
"I was not planning to target any bowler in the beginning. My plan was to stay at the crease and target a few bowlers towards the end. We had to make sure to figure out different options against them."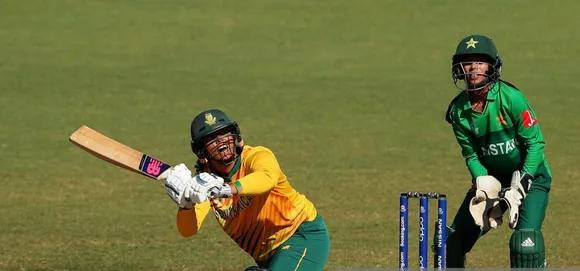 Chloe Tryon took Pakistan's bowlers to the cleaners in the back end of the innings. © Getty Images
The pair of Tryon and van Niekerk added 89 runs for the seventh wicket before the latter was dismissed for a patient 30. Their stand gave South Africa a solid base going into the last phase of the innings, and Tryon knew she was the one who needed to up the ante.
The right-hander took on Nashra Sandhu, blasting her for a huge six, to bring up her fourth ODI fifty. It was almost as if that six broke the shackles, with Tryon's next 29 runs coming off just 17 balls.
"I think it was a little bit of luck: I got a full toss and it kind of got the momentum going for me. Things started clicking for us from that moment and we made sure we got a good total on board."
"The mindset shifted a bit, and I targeted the deep square boundary and cow corner. For me, it was about making sure I could maintain a good position and it kind of worked in my favor."
ALSO READ: Rewind: When Bangladesh shocked the Asian giants and stole their crown
Tryon found the boundary as many as nine times – five fours and four sixes – through her innings, before she was dismissed for a 69-ball 79. Her blitz saw South Africa finish with a total of 258 for 9.
"I think it was a very good total. The situation when I walked in, we were aiming somewhere around 220. The pitch was a bit slower and I felt the 30 runs we got, in the end, were a bit of a bonus. With the bowling attack that we had we felt the total was enough," she recalls.
After Tryon's late onslaught put South Africa in pole position, the bowlers combined to restrict Pakistan to just 195 for 6 giving them a comfortable 63-run victory. Tryon's efforts with the bat earned her the player of the match award.
"Obviously, in that first game, the plan for me was staying in there for a bit longer and (trying to) bat through and help my team get to a good score. I was training very hard and wanted to execute those (skills) on the field. Obviously, it did come off that day. And hopefully it will continue to happen in the future."