Hugs and smiles. In a contest between bat and ball, expressions tell us about the more important bits in life, let alone the game, and bring out the human side of a fiercely contested match on the ground. And when the victory for one team – or the defeat for the other – is something few foresee, those said expressions are magnified. Just like Bangladesh experienced on June 10, 2018 at the Kinrara Oval in Kuala Lumpur…
***
It was the Women's Asia Cup. India, six times champions, had (Obviously! Naturally! Had to!) made it to the final. But who were the opponents? Not the two-time runners-up Pakistan. Not the punching-above-their-weight Sri Lanka. But on the back of some stellar performance in the group stage, Bangladesh, the perennial underdogs, had made it to the title-clash.
"When we started the Asia, nobody took us seriously. We had lost badly against Sri Lanka," Nigar Sultana Joty tells
Women's CricZone
as she fondly recalls memories of that day.
"But we came back strongly versus Pakistan. We won all the group matches. We defeated India for the first time in Asia Cups in the group stage. So that gave us a lot of confidence to play the final."
Bangladesh had managed to always keep the opposition under check in the competition. Thus, it wasn't a surprise that they chose to bowl after winning the toss that afternoon.
"On that day, I think from the beginning everything was going our way, right from the toss," says Joty. "We wanted to bowl first, because bowling and fielding was our strength. Our plan was to restrict them to a total that we can chase down easily."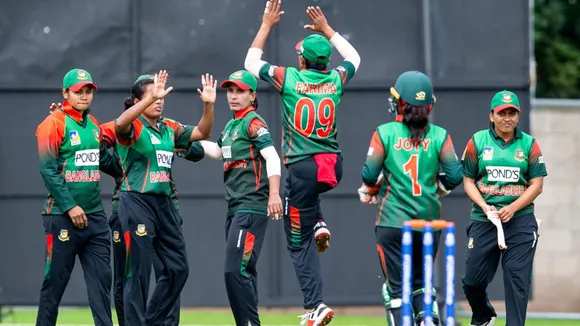 Bangladesh celebrate the fall of wicket. © ICC
One of the things that worked for them was fearlessness. These thoughts were fed into the heads of the players by Salma Khatun, the captain.
"Before the match, in the meeting, we talked about having nothing to lose," reveals Joty. "So we needed to remain positive all the time and enjoy every moment as much as possible. When we reached the ground, Salma Khatun, our captain said, 'there's nothing to be afraid of. We need to play our game and just need to enjoy.'"
"Even our coaches helped us a lot. Both of them (Anju Jain and Devika Palshikar) are Indians and they played alongside or coached some of the Indian players at some time. So they knew their strengths and weaknesses. That helped us a lot in creating the plan with the captain."
***
India didn't get off to the best of starts on a track that wasn't really conducive to good stroke-play. Smriti Mandhana (seven) was run out early while Deepti Sharma (four) played one on, trying to force the pace. 2 for 26 soon became 3 for 28 when Mithali Raj got a leading edge to mid-off against Khadija Tul Kubra.
ALSO READ: Harmanpreet's batting through the prism of the unknown
But India still believed, for they had their skipper Harmanpreet Kaur in the middle. However, Bangladesh were undeterred as they managed to make regular inroads from the other end.
"We knew that one of Mithali or Harman would try to play till the end and so we needed to pick the other wickets," says the middle-order Bangladesh batter.
"When we got Mithali's wicket, some of our seniors already planned to restrict Harman from taking more strike. We managed to pick wickets from the other side. But as a captain, Harman played really well on that day."
Through Kaur's knock of 56, India crept to a total of 112 for 9. Not imposing by any standards, but tricky, given the nature of the surface.
In Joty's words, Bangladesh weren't overly confident but they were quietly so. They had the faith in their batting but also bore the fact in mind that if they could restrict India to a low score, the then champions, too, possessed the ability to do so.
ALSO READ: Harmanpreet Kaur's mutually exclusive facets - captaincy and form
Shamima Sultana and Ayasha Rahman got Bangladesh off to a positive start, enduring a wicketless powerplay in the process. However, Poonam Yadav's introduction in the seventh over was like setting the cat among the pigeons. It immediately bore fruit for India as she sent back the openers off successive deliveries.
In walked Joty. Bangladesh needed a run-a-ball 78.
***
When she went to sleep a day before the match, Joty thought to herself that she would do anything it takes to be remembered as someone who did something for Bangladesh. She wasn't to think about it as a 'final' but was to play as if it was any other match. Without any pressure. Keeping it simple.
She joined hands with with Fargana Hoque and steadied the ship, adding 20 runs in 28 balls. After the latter's fall, Joty then combined with Rumana Ahmed to keep Bangladesh in the hunt.
"Rumana and I tried to stitch a partnership for as long as possible," she says. "At one stage I saw that the run rate was going up. So, I decided to try one over to bring it down."
When Jhulan Goswami came into the attack, Joty identified her target. She knew exactly what she had to do.
"I saw Jhulan Goswami come into the attack. In the group stage, Rumana played her very well. So, I told her she had pace and I need to take risk off her bowling. 15 or 20 odd runs and the (required) score will (come) level (with the number of balls). I thought I need to take strike and go BOOM! I just told Rumana that I'm going to take charge now, just support me. I'll do it."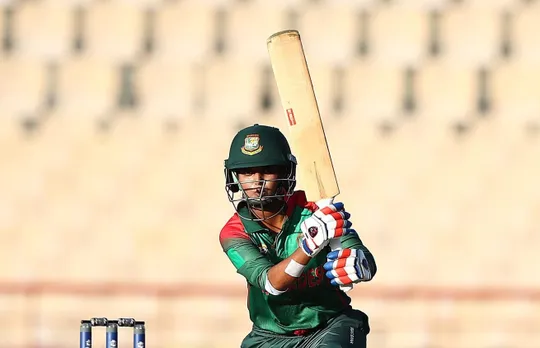 Nigar Sultana in action. © Getty Images
Joty first charged down the track and hit it over wide mid-off for the first boundary. The next one, a full ball, was squeezed through backward point. The third one was all about using the pace offered by Goswami and guiding it past the keeper. And just like that, Bangladesh needed 31 in the last five overs.
Yadav, meanwhile, with figures of 3-0-6-3 was brought back. Her slow loopy deliveries were troubling the batters and that was an over that could have well decided which way the game was going.
"She bowled very slow through the air and she got drift and turn," says Joty. "Sometimes batters get confused whether to play her off the front foot or off the back foot. I tried to play her down the track."
In that over, Joty ended up holing out to deep square leg, though the legality of the ball was contested – because of the height – before she was given her marching orders. She had made 27.
ALSO READ: Generous flight, wrong 'uns key to 'tiny' Poonam's huge stature
"But I thought it was a no ball. So I played it normally and got out. I thought it was a no ball. Even our coach Anju Jain told me that some of our top order batters need to take her bowling seriously and stay at the crease. I think I didn't execute my plan against her bowling well."
***
Yadav had finished with an exceptional 4-0-9-4. But Ahmed played a sensible hand to bring the equation down to Bangladesh needing nine off the final over.
"I think I wasn't in the world at that time! I couldn't feel anything, I didn't know where I was," reckons Joty. "I (still) felt guilty I got out at a crucial stage. (But) I was confident in Rumana that she could finish it off."
"In the dugout, nobody spoke much. Everyone was just praying. I didn't see the first three balls at all. Then one of my team-mates told me I had to see it because we were going to win. I said yes we will, but I can't see it."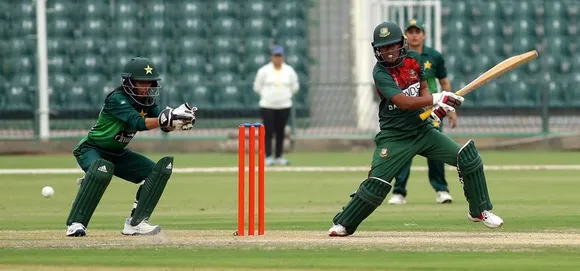 Rumana Ahmed cuts one through the off side. © PCB
Ahmed had managed to get a four through wide long off as Bangladesh got six runs off the first three balls. But on the next two balls, two wickets fell – first Sanjida Islam holed out to long on and then, a bit of carelessness saw Ahmed being run out, though she had managed to complete one run. That meant Bangladesh needed two off the final ball.
"On the fifth ball when Rumana got out, Salma went in. That time I felt, oh no, this is going to be tough, really going to be tough."
But Jahanara Alam then charged down and  managed to hit one off the inner half in front of square on the leg side and managed to take two runs – diving to make it in for the second run.
Deepti Sharma's throw didn't have the desired power behind it and that meant that Bangladesh were the new Asia Cup champions. The whole squad charged out to the middle to bask in the glory.



What a finish! Two needed off the last ball and Jahanara Alam gets them! 👏👏


Bangladesh defeat India to win the women's T20 Asia Cup! 🏆#AsiaCupFinal pic.twitter.com/cQjVyB9Ktb

— ICC (@ICC) June 10, 2018
***
The on-field celebrations had to be cut short.
"When we ran into the ground after the win, the crowd was all over the ground. So, we just tried to protect ourselves and came back into the dressing room. We didn't have a chance to celebrate as a team on the field."
ALSO READ: Shikha Pandey's whirlwind comeback
"Jahanara did really well, full credit to her. I'm also going to credit Deepti Sharma because she fielded very well throughout the match," says Joty.
"She has good arm; she threw very well from the deep. I don't know what was going on there that day. She picked the ball very well but couldn't throw it as well as she could. Like I told you, everything was going our way and that's why we won the Asia Cup."
The open arms run, the elation, the hugs… They all underlined the magnitude of Bangladesh's achievement - not only that day, but through the tournament as a whole. They had managed to win their first Asia Cup, defeating a side that had managed to keep a tight grip on the trophy on the previous six occasions. What's more, before the competition began, India had never been beaten before in an Asia Cup encounter, but Bangladesh managed to beat them twice in the 2018 edition. Their achievement was not fluke!
"We couldn't believe that we won the Asia Cup and we're the champions." 
You can read more rewind stories here
. 
https://open.spotify.com/episode/484PTeQYxjKUMnQdE9PXa6?si=lxw-HKqFRg-FNN3nY53zJQ