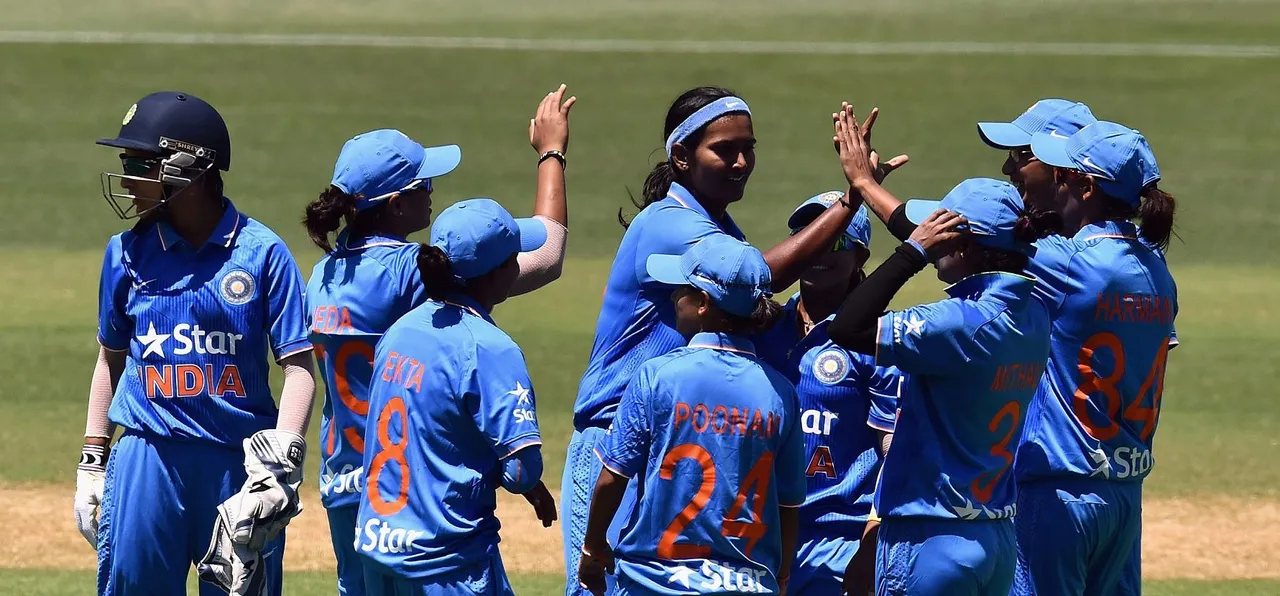 Imagine, just five days after being dropped from the Indian team, while you are back training with your domestic side, you receive a call during the lunch interval of a practice match – at around 12.30 pm – telling you to "pack your bags and be on the 6.30 pm flight to Bangalore."
You rush home – which is close to 40 minutes away – hurriedly stuff your bags, and speed off to the airport, getting there just in the nick of time...
What happens next?
A couple of days after India had walloped South Africa by
an innings at 34 runs
in the one-off Test match in Mysore, Pandey – who had scored an unbeaten six off five balls before taking one wicket in seven overs across two innings – had returned home, having been left out of the ODI squad.
ALSO READ: Shikha Pandey swings her way back into the spotlight
"After the Test match, when we got back to Bangalore, they announced the ODI squad," the allrounder tells
Women's CricZone
. "I hadn't made the 15, so had to go back home. Luckily for me, my state side (Goa) was preparing for the domestic one-day games, so I got straight back to training with them and didn't really have time to dwell on the disappointment."
"We were playing practice matches against the boys – a mix of Under-16 and Under-19 – and I remember we had back-to-back games. During the second game, I got a call in the lunch break saying that I had been called in to the ODI team as an injury replacement."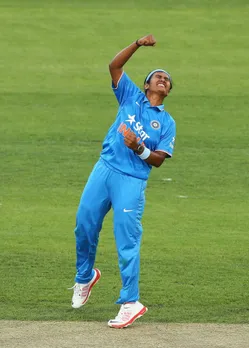 Shikha Pandey exults after taking a wicket. © Getty Images
On the afternoon of November 25, in a car arranged by the Goa Cricket Association, Pandey raced home, frantically re-packed her kit bag with all her ODI gear, and head off to the airport. She flew from Goa to Mumbai to Bangalore, reaching the team hotel a little past midnight.
Although the matches were day-night fixtures – beginning at 3.30 PM – Pandey didn't expect to feature in the ODI later that afternoon. After all, India had picked only two quicks in their original squad. At the back of her mind, she thought she would be carrying the drinks. However, the allrounder was in for a surprise.
ALSO READ: Mignon du Preez's maiden Test ton
"I never expected to play," she laughs. "But when I went for breakfast the next morning, Sudha (Shah) ma'am spoke to me and I got to know that I would be playing. She told me that I would be batting higher up as well, so that was quite exciting."
Ahead of the game, as the players warmed up, skipper
Mithali Raj
, too, had a quiet word with Pandey. "She said to keep things simple and just play my normal way. It was a comforting chat."
Already a game down in the three-match series, India chose to field on an unusually hot afternoon at the M Chinnaswamy Stadium in Bangalore. As
Jhulan Goswami
and Shubhlakshmi Sharma went through their paces with the new ball, Pandey, stationed on the boundary, began mentally preparing for her turn with the ball. It was now or never – she had to take the opportunity.
Brought in to bowl in the 12
th
over with the tourists one down, the inswinger, slightly over eager and very nervous, started with a wide. Not the most auspicious way to mark one's comeback! However, it would be the worst ball Pandey bowled all spell, as she finished with then career-best figures of 10-3-19-3, ripping through South Africa's middle order.
"If my memory serves correctly, it was around 4.30 PM when I took the ball. I came in to bowl in the 11
th
(12
th
) over, and continued until the 30
th
(over)," she reminisces.
ALSO READ: India haven't needed their cavalry, the Aif Force has done the job
Within her first two overs, Pandey accounted for the wickets of the dangerous Lizelle Lee, trapped in front for 21, and Nadine Moodley for three. It was just the confidence booster she needed.
"What I heard from the other players was that she (Lee) is a hitter who was batting really well. I was getting the ball to swing nicely, and managed to get her wicket early in my spell. I was very lucky with the second wicket, I guess. Their No.3 (Moodley) dragged the ball on to her stumps."
Soon enough, with the dismissal of
Marizanne Kapp
(9) in the 22
nd
over – Pandey's sixth – South Africa had been reduced to 63 for 4.
"It was one of those days when everything goes to plan and you are able to execute well. I felt in really good rhythm. I just kept running in and bowling. Honestly, in my fifth or sixth over I thought Mithali
di
would stop me, but then I continued bowling."
"I actually thought I could have gotten a few more (wickets), but I was never really thinking about wickets when I was bowling that spell of mine. I just wanted to make sure that I am pitching the ball in the right area."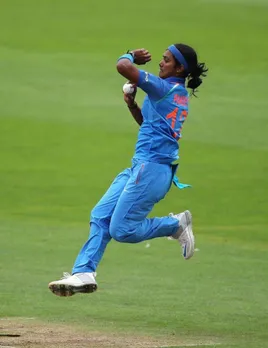 Shikha Pandey in action for India. © Getty Images
"One thing I remember very vividly when Kapp came out to bat was that Mignon du Preez told her to play me out," she gushes. "It was obviously a big compliment for me to know that the batters were wary. She (Kapp) was really struggling and got out to a beauty – an inswinger's dream ball, pitching on the fourth or fifth stump and coming back in and hitting the middle stump. That wicket was pretty special for me."
ALSO READ: Rewind: When India created history in South Africa
Despite the exhaustion from the heat, Pandey chugged along to bowl 10 overs unchanged, keeping the South African batters honest throughout her spell. It was a testing period of swing bowling, one during which India managed to dry up the runs. However, a late onslaught at the back end of the innings from Chloe Tryon (49 not out off 34 balls) – including 19 runs off Sharma's last over – saw the visitors reach a total of 186 for 8 – then, their highest in ODIs against India.
Walking off the ground with her side in a good position, Pandey headed straight to the dressing room in the hope of taking an ice bath and putting her feet up, as the batters went about their job in the second innings. However, a quick reminder from the coach came that she was meant to bat "higher up", and the allrounder's bubble was quickly burst.
Having changed, padded up, and shared a quiet word with a visibly upset Sharma (
"Hum bhi maarenge unko, aur jeetenge!"
), Pandey grabbed a couple of sandwiches and went down to join some of her teammates who were sitting at the edge of the boundary when India's innings began. Punam Raut and Smriti Mandhana went about the chase in the old-fashioned way – looking to build a solid base from which the middle order could launch. The pair added 37 in 14 overs, before Mandhana was excellently caught at short cover by Sunette Loubser off the bowling of Dane van Niekerk. Raj added a further 28 with Raut (47) before the pair were dismissed within the space of three overs. At the halfway stage, India were in a spot of bother at 73 for 3, with both Pandey (who had walked in at No.4) and Harmanpreet Kaur fresh at the crease.

"When I was walking in to bat, I was just told to play my natural game and not curb my shots," Pandey says. "My aim was to keep things really basic and make sure my calls were loud and clear. Initially, first with Punam (Raut) and then with Harry (Harmanpreet), we spoke about taking singles and going after anything loose. For me, it was about working the ball around and trying to get Harry on strike until I got set."

ALSO READ: Ladies first - ODI records women hold over men

"I think bowling first on the wicket really helped me. I felt like I understood how it was playing – there wasn't much movement under lights, and the wicket seemed to have eased out, so I think it played to my advantage a bit. It was coming on nicely."

After a slightly sluggish start, the right-hander got stuck in, picking up the pace with some lovely shots down the ground off the spinners. Her first real sign of aggression came against Loubser, the off-spinner, when she danced down the track and smashed her over long on for the first six of the innings. Following that, the floodgates opened. Pandey unleashed her full repertoire of strokes – cutting powerfully past point, lofting over cover and deftly gliding to third man and fine leg – racing to her maiden ODI half-century in 52 balls. She thus became the first Indian to take three wickets and score a half-century in the same ODI.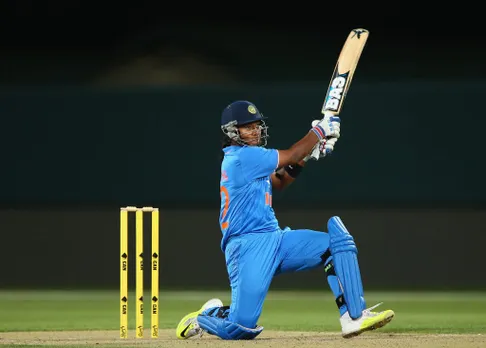 Shikha Pandey plays a powerful slog over mid-wicket. © Getty Images

"I don't know whether they were loose balls or whether it was my day, but the shots that I was trying to play, they all came off really well," she laughs. "I was just so happy and relieved after reaching my fifty. I think there's a picture of me beaming when I got to the mark… I had so much fun batting higher up the order."

Although Pandey was unable to see India home – getting out for 59 with the team still needing 25 runs – her 89-run stand (in only 14 overs) with Kaur (42 not out), allowed the hosts to canter home with six wickets and 32 balls to spare.

ALSO READ: Shikha Pandey credits WV Raman for improvement

It was a performance that not only earned the allrounder a special hug from Sharma, but also one that proved to Pandey she had both the fight and skill to be successful and sustain at the international level.

"After I got dropped, I told myself that whenever I get an opportunity, I will make sure that I play and show what talent I have got. I was really happy that the self-belief that I had and the will to do well just got me through. The best part about the at innings was I wasn't struggling at all… I just enjoyed playing cricket that day on the field."

"That innings gave me a lot of faith that I was made for international sport and I could sustain at that level for a long time. Every cricketer has that one innings that instills confidence in them and makes them believe that they are made for it. I guess that match in both the departments – as a bowler and a batter – I begin to genuinely believe in my own abilities at the highest level."

And Shikha Pandey's love affair with South Africa, thus began!