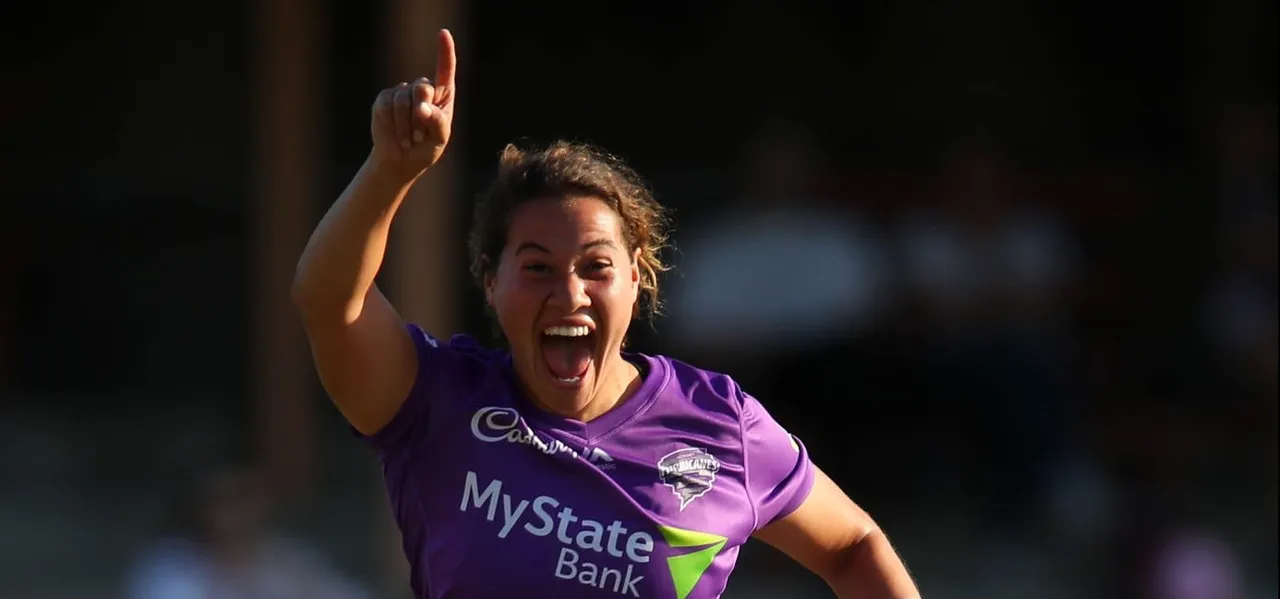 20:
 Third highest wicket-taker in the 2019 Women's Big Bash League
4 for 19:
 Second best tournament figures in WBBL05
15.80
: Best tournament average for anyone who bowled more than 20 overs
10:
 Tasmania's second highest wicket-taker in the 2019-20 Women's National Cricket League
3.23:
 Lowest tournament economy rate for anyone who bowled more than 40 overs
One look at her 2019-20 season numbers and there is little doubt as to how Belinda Vakarewa found her way back into the
Australian squad
for the series against New Zealand this summer. Yet, she says the overriding emotion when she received the call from national selector Shawn Flegler was that of shock.
"I was just in shock! I couldn't believe it really," she tells
Women's CricZone
. "I was at training when I got the call and I remember Nic (Nicola Carey) was there, just smiling at me."
"It (selection) wasn't even something that was on my mind. I was just focusing on pre-season training and working on my game, but I'm really grateful to be given the opportunity to be part of the squad again."
ALSO READ: Tactical adjustments, better decision-making: Best in the world Beth Mooney keen to build on success
In late 2016, Vakarewa burst on to the scene as a young tearaway fast bowler. Barely eight months after making her List-A debut for New South Wales, she was catapulted into Australia's squad for the 2017 Women's World Cup in England. There, she found herself training alongside some of the best players in the world, soaking it all in alongside fellow debutante and New South Wales veteran Sarah Aley.
Then only 19, the right-arm seamer made her debut against Sri Lanka in a match where Chamari Atapattu smashed a record 178 not out. Vakarewa bowled four overs for 22 runs, but was unable to pick up a wicket. After the side's ouster in the semi-final against India, Vakarewa retained her place in the squad for the Women's Ashes series at home, and then travelled to India in early 2018, but didn't get the chance to add to her single international appearance.
Looking back, however, she says it was a time of great learning - one that allowed her to take a closer look at the skills required to succeed at international level.
"Just being part of the squad and learning, and earning my first cap was amazing. It was great to be able to understand what it was like and just know what is required to succeed at that level," she says.
The opportunity to work with fellow inswinger Megan Schutt is also something she remembers fondly.
ALSO READ: Elegant lefty, shrewd vice-captain and a doting mother: Amy Satterthwaite prepares for juggling comeback
"It was great to be able to watch her (Schutt) go about her business in the nets and out there in the games. She was awesome to work with… She kind of took me under her wing and taught me what slower ball to bowl and just helped me understand my craft better. That experience of learning from her through the World Cup in England and my time in the squad was invaluable."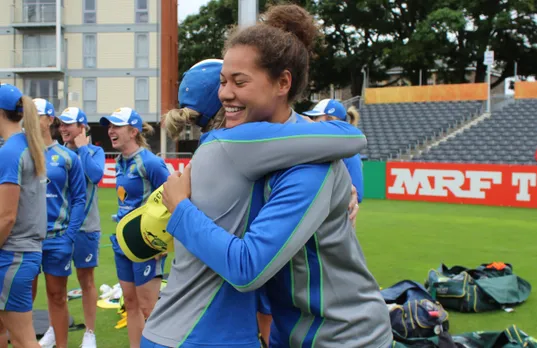 Belinda Vakarewa made her ODI debut during the 2017 Women's World Cup. © Getty Images
Three years later, it is the chance to team up with Schutt again that excites the 22-year-old.
"She is one of the best in the world, so it's a great opportunity for me to pick her brain and learn off
her as an inswinger myself."

"But I'm also just really excited to be back in the group and have the opportunity to bowl to some of the best batters in the world in the nets and just learn as much as I can."

"I'm not going into the series with any pressure or any goals - I haven't really thought about that stuff, to be honest - but I just want to keep improving and learning what I can."

Following her national call-up in 2017, Vakarewa played two more seasons - in 2017-18 and 2018-19 - for New South Wales and Sydney Thunder (WBBL). During this period, she showed promise and remained in and around the Australia A and national performance squads. But to be fair, the the numbers just didn't add up. She was in search of a breakthrough season.

Between 2016 and 2019, Vakarewa bowled only 80.1 overs in 15 List-A matches for New South Wales - averaging only 32 deliveries (5.2 overs) per match. Only on one occasion did she bowl her quota of 10 overs, and that was in her first season with the side.

ALSO READ: The ultimate aim is to play 360: Alyssa Healy

The presence of veterans Rene Farrell, Aley and fellow internationals Ellyse Perry, Ashleigh Gardner and Nicola Carey in the team meant opportunities with the ball were limited. Vakarewa was often battling for game-time. In the WBBL too, for Thunder, she managed only 85 overs across four seasons of the competition.

As her search for "one good season" continued, in 2019, Vakarewa received a call from Salliann Briggs, head coach of Tasmania. Following an "intense" conversation, the fast bowler decided to  make the journey across the Bass Strait to ply her trade for the island state. She was wooed by the opportunity to play a more prominent role in the side and also the chance to move closer to her mother who is based in Hobart.

"I had a conversation with Sal about the opportunities I would get over in Tassie - being thrown into situations I haven't been in before was something that excited me," she explains. "It's one thing to practice skills and try them out in the nets, and another completely to experience it out in the middle."

"That was one of the main reasons I moved down to Hobart… And then of course, there was the opportunity to work more closely with Sal and learn off of her."



What resulted was a breakthrough year for the fast bowler who notched up career-best numbers in both one-day and T20 formats. She played 21 matches across the WNCL and WBBL, taking 31 wickets - the same number she had taken across four seasons playing for New South Wales and Sydney Thunder. Her tally in WBBL05 - 20 wickets in 13 matches - meant she was named Hobart Hurricanes' WBBL player of the tournament. She was in the middle of a purple patch - enjoying her cricket, and how!

Vakarewa puts down a lot of her success to the enjoyable environment in Tasmania. She says the 2019-20 season was the "most fun" she has had on the field so far.

"Down here in Tassie has been the most enjoyable environment I've been in," she laughs. "I can't put it down to one thing, but it's just been a lovely atmosphere. The girls have been so welcoming and it's just a lot of fun to be out there playing cricket with this group. We've all just enjoyed being around each other."

True to her word, Briggs has provided Vakarewa with the most opportunities she has had through her career. Through the season, the right-arm seamer bowled a whopping 123.5 overs across both formats - close to 75% of the overs she bowled across four seasons in New South Wales. She was given the new ball and also bowled at the death. She was sometimes brought back in the middle to break a big partnership, or to stop the flow of runs. She was thrown into situations she had never faced before and had to quickly learn on her feet.

"With Tassie and the Hurricanes, I was kind of thrown into different situations I hadn't experienced before. I had never bowled much at the death before, but for the Hurricanes that was something I did a fair bit. I had to learn to deal with those different game situations every day and I think that helped me develop tactically as well. Not everything went my way, but I was able to experience and learn from those situations and understand what was required and what I can do better."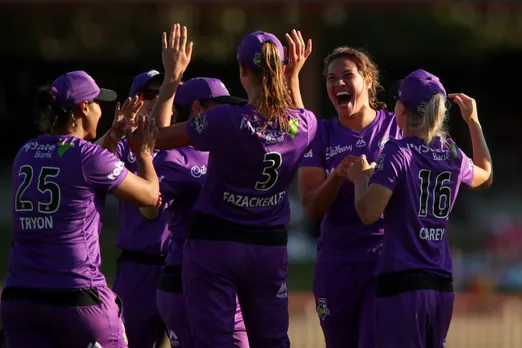 Belinda Vakarewa says her time is Tasmania has been the "most  enjoyable" of her career. © Getty Images

"I have always enjoyed the tactical side of cricket. I've been involved in sports like netball and rugby that are really fast paced and not as nuanced as cricket, and that's what I love about it… There's nothing quite like the feeling of picking up a wicket."

ALSO READ: Won't hold back on the field due to injury concerns, says Ellyse Perry

Additionally, she credits the work she did with Briggs on her bowling in the lead up to the season as one of the keys to her success.

"Sal's a great coach. She's really backed me and given me a lot of confidence, but she also tells it how it is, which is what you need sometimes," she says.

"We worked lot on getting the ball to swing more and my seam presentation as well. All the great bowlers in the game are able to be consistent and that's something that I really worked on down there."

"I wanted to have a good season in state cricket. I knew if I could have a good season there and perform well there I could always find my way back into the Aussie side. When I was playing for the Breakers and now at Tassie, the goal was always to have a good season and be successful as a bowler."

Now that she has earned her place back, Vakarewa is eager to soak up every bit of information that comes her way. While she is hoping to add to her single international appearance, the fast bowler insists that she's not putting too much pressure on herself and instead wants to continue doing what she has over the past year.

"I just want to enjoy my cricket… We'll see how it goes," she beams.