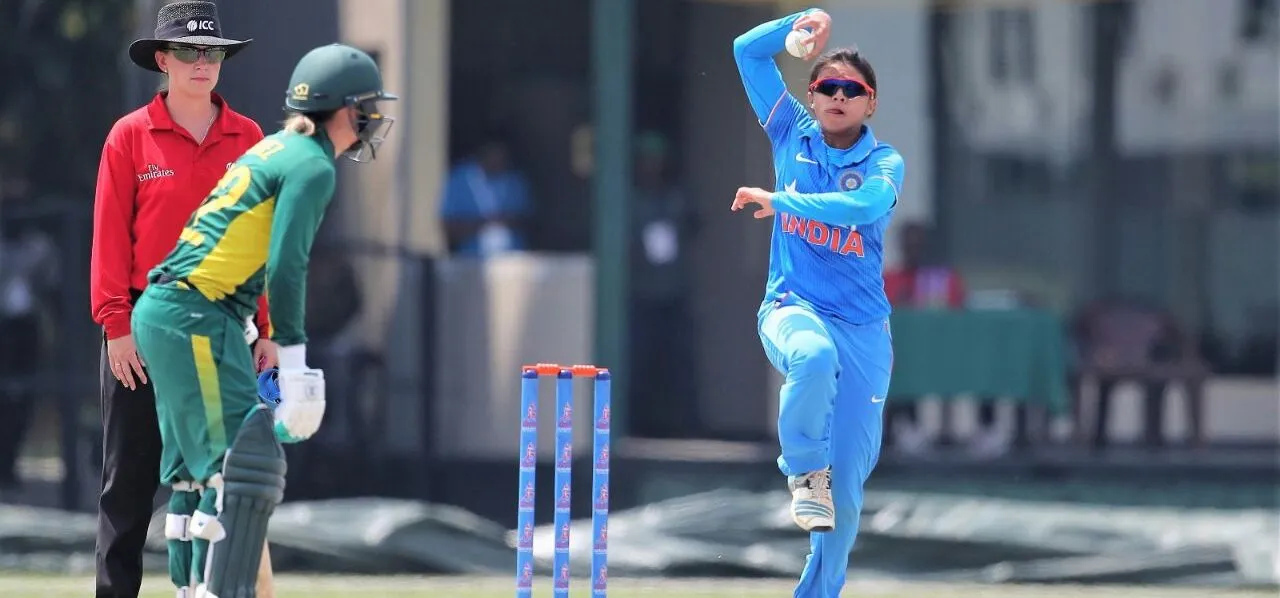 "I like leading any team, not just (in) cricket. I like to be the leader in whatever I do," Devika Vaidya tells
Women's CricZone
. This, only days after she was announced as the
captain of the India A side
that is to travel to Bangladesh and then the impending Emerging Asia Cup in Sri Lanka.
"It (captaincy) is a surprise for me. I didn't play the India A matches recently. Though I was expecting to get selected for the tour, leading the team wasn't on my mind."
Leadership is not only about guiding and showing others the way but also understanding how to, at times, manage those who may not necessarily be your subordinate. In the India A side, among others, there is Tejal Hasabnis, who has captained Vaidya in the Maharashtra senior team as well as at the under-23 level.
Quiz her how she's preparing for this role reversal, she states, matter of factly, "We've been playing with each other for the last five-six years, so we're very comfortable with each other and don't really mind who is the leader. We gel very well."
Vaidya isn't even 23. To have such understanding shows she is mature beyond her years - something that comes to light when she speaks about the various setbacks, health and otherwise, that have hampered her over the past 12 to 18 months.
Having only played 10 international matches since debuting at the age of 17 in 2014, she looked set to earn a place in the Indian team that played the Women's World Cup in 2017. However, a shoulder injury disrupted those plans. Since then, chikungunya, dengue and other unfortunate happenings have pegged her back.
Now, she is able to joke about these and hopes the tours of Bangladesh and Sri Lanka with the India A side come with no such setbacks. "Every player has this thing in mind about keeping Devika safe and away from injuries, whenever a series looms," she giggles.
"I don't really think far too ahead. The moment I think, something happens. So, I just (try to) be in the present. Going there and playing all the matches is also something new to me."
Vaidya comes across as an optimist. Perhaps she might have turned one as she faced one hurdle after another. Her 'failures' kept her busy. In her own words, while she was recuperating from illnesses and getting back to full fitness, she didn't have the energy to think about or sulk over her circumstances. And then, by the time she attained full fitness, the season or said series would often be over - no point mulling over the past, she says.
No wonder she doesn't have one 'favourite moment' from the field. "I always enjoy whatever happens on the field. I always enjoy others' success," she asserts. She's has had little time on the field in the recent past and that explains her desire and hunger to be out there playing. The focus is firmly on enjoying every moment she has whilst playing - the feeling is beyond compare.
During our interaction, Vaidya is quite honest and open about her career and struggles so far. She appears to be someone who mingles easily with everyone. It is a trait that allows her to 'switch off' quite easily even when in a new group. "I love interacting with new people," she says. That, she cites, is one of the reasons behind her moving to Chhattisgarh from Maharashtra for the 2019-20 domestic season. 



My new team. Chattisgarh. Great to practice with this young bunch. pic.twitter.com/jswqBGGBPD


— Devika Vaidya (@OfficialDevika) August 26, 2019
"I don't like getting into a comfort zone. I like to keep changing everything, not just cricket but everything. It is a gut feeling. (I want to) explore whatever there is with respect to women's cricket in India," she laughs.
Although she would ply her trade as a professional for Chhattisgarh, Vaidya still wishes the best for Maharashtra. "I don't like to leave the team I have played for so long in a bad state. Maharashtra being in a good condition made the choice to move easier."
With the new side, she aims to guide the players, most of whom have little experience. "It is going to be more about guiding them than me performing. After a while, you cannot change the technical aspects of your game. You just have to work on the tactical front," she explains.
For someone who's still young, her understanding and reading of certain situations makes you take notice. She has played with the likes of Anagha Deshpande, Snehal Pradhan and Soniya Dabir - all of whom have represented India - when she was taking her first steps in the Maharashtra setup. Naturally, having progressed through the ranks, and almost transitioning into a different era has its own set of challenges.
While Vaidya is quick to acknowledge the lessons she learnt from that batch, she doesn't shy away from admitting that her own experiences and that of her peers like Smriti Mandhana and Anuja Patil are far different. "The way they (the seniors) approached the game is different than we do. Back then, it was about doing things together, as a group," she explains. "Each player now has her own individual game-plan according to the team's needs. We each make sure that we are prepared for what is coming ahead."
She sums it up wonderfully: "They weren't wrong, but we are different."
Vaidya doesn't repent the opportunities she missed. She doesn't wish she had done things differently. She doesn't change the way she expresses her thoughts. However, she also doesn't want to go down the same path. These tours for her mark the start of something new - a clean slate, and a chance to create some wonderful memories.
With India expected to zero in on players to head over to Australia early next year for the ICC Women's T20 World Cup, Vaidya would be eyeing a spot on that flight. And for that, she is well aware that an injury-free time on the field will only help her cause.
But then, a leader knows how to go about the tasks at hand. Devika Vaidya surely does. Her
funda
is simple: stay in the present. 
This article is also available on SheThePeople.TV - India's biggest digital storytelling for women, dedicated to passionately championing and promoting their journeys.