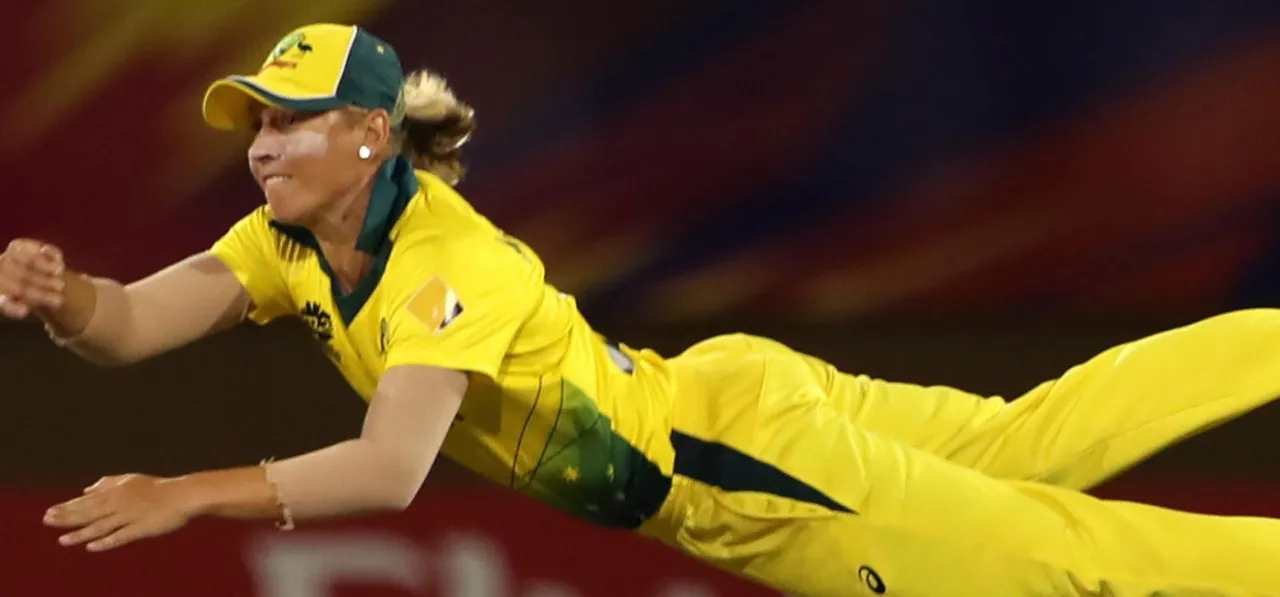 Delissa Kimmince's
story
 has been told and re-told many times over the last 10 months. The allrounder's successful return to the international circuit has— to use a cliché— been nothing short of inspiring.
Kimmince, who made her international debut as a 19-year-old in 2008, chose to walk away from the game barely a year into her career. She found that it was beginning to consume her.
In March 2014, Kimmince was recalled to the Australian team, almost exactly five years since she had made her last international appearance. The 'big comeback' however, came in 2017 for the T20I-leg of the Ashes at home. Kimmince grabbed her opportunity with both hands, taking four wickets in the series, but more importantly, showing her versatility and value as a short-form player. She has since established herself as an important part of the T20I squad.
Going into the 2019 Ashes series, Kimmince had played only 12 ODIs. The 11th one was in 2014.
Before the first two ODIs in England, the allrounder admittedly didn't expect to be part of Australia's first choice XI. However, in both games, Kimmince has helped the visitors get over the line through crucial performances with bat and ball. In the fist ODI, she shepherded a
nervy chase of 178
with an unbeaten 14, and in the second match on Thursday (July 4), her career-best figures of 5 for 26 laid the foundation to Australia's
four-wicket win
.
"I think I can count how many ODIs I have played," said Kimmince, reflecting on the turnaround. "It has been short-lived for me. So, to be in the starting team and out there with the girls, it is obviously an awesome achievement. It was a great opportunity for me to go out there and take five wickets today and do my job for the team. I'm pretty happy with that."
On Thursday, with England having gotten off to a rollicking start, courtesy Tammy Beaumont, Australia were desperate to wrestle back some control.
Enter Kimmince.
The right-arm medium pacer came into the attack in the 24th over and struck with her fourth delivery. She got a back of a length ball to skid on to Natalie Sciver and trap her in front of the stumps. It was a typical Kimmince dismissal— a cross seam delivery bowled gun-barrel straight.
Through the innings Kimmince kept the England batters quiet, conceding only one boundary in 7.4 overs. She bowled a lot of change-ups, using her repertoire of slower balls, cutters and cross seamers to frustrate the opposition. Katherine Brunt, had the worst time of it, continually trying to hit the cover off the ball, but struggling to find her timing.
"I think at the back end of the game the slower ball seems to be working a lot better than pace on the ball," Kimmince said. "It's obviously a lot harder to hit, and I knew that I just needed to keep my plan simple and obviously just try and keep changing the pace with Katherine Brunt going quite hard at the time. So I thought the change of pace was needed at the time and I just tried to stick with that."
"I have a few (slower balls) that I like to mix up between. I just know that they (the opposition batters) probably expect my slower ball is coming because that's what I do a lot of in the T20 games, so I just try and keep them guessing and at the same time just try and keep it simple, which sometimes can be difficult."
Kimmince's 'simple' plan worked wonderfully well for Australia at Leicester. She combined brilliantly with Megan Schutt towards the end of the innings to help dry up the runs. England lost their last six wickets for 34 runs— their last four fell in the space of three overs, all to Kimmince.
While she has helped Australia gain an early lead in the series, Kimmince is aware that they cannot afford to take their foot off the pedal just yet.
"I think it's extra special to win the first two, and obviously, to go 4-0 up in this tournament is always nice, but I know at the back end the English are going to come hard at us again. So it's nice to have a little buffer, but we know we are still going to have to play well in the games to come."
In her book, 'Becoming'—currently on Kimmince's reading list— Michelle Obama writes: "For me, becoming isn't about arriving somewhere or achieving a certain aim. I see it instead as forward motion, a means of evolving, a way to reach continuously toward a better self. The journey doesn't end."
At the start of her career, Kimmince felt the constant pressure of wanting to achieve certain standards. More than a decade since making her international debut, she has come to understand that it is enjoying the journey that matters most. She is simply looking to enjoy herself whilst trying to get better.
Heading into the final ODI of the series in Canterbury on Sunday (July 7), Kimmince will be hoping to, but not overly worried about, continuing her good run of form. /codes_iframe