New Zealand legend Rachel Priest has no doubt that her Hundred debut for Trent Rockets will come close to capturing the atmosphere and intensity of the international game. Priest, a veteran of 162 ODI and T20I appearances for New Zealand, says the standard of franchise competitions around the world is now so high it comes close to international cricket.

The 36-year-old called time on her 13-year career with New Zealand last year and has since built a new role lending her experience to Tasmania Tigers in the Australia Women's National Cricket League and featuring for Hobart Hurricanes in the Women's Big Bash League. She thought the opportunity to play in the Hundred had passed her by until she received a late call-up after Australian batter Elyse Villani pulled out.

Now, Priest is looking forward to being part of a new format and playing in England again after four years with Western Storm in the Women's Cricket Super League.

"When I think back over my career, there's things that I've done that have been amazing. I've been so, so, so lucky, in so many ways," she says. "But everyone that's playing in this tournament is super lucky because it's so special to play in the first one of anything. I'm just really, really thankful to
Salliann Briggs for getting me to come over and giving me the opportunity to play in it because I thought that ship had sailed."
"So, I'm really excited and it will certainly rate really highly in my career for sure, along with, obviously, the KSL - that was amazing - and the Big Bash and everything like that."
ALSO READ: Katherine Brunt weighs in on the pay gap in the Hundred
Priest's aggressive hitting at a strike rate of 140 at the top of the order played a big part in Western Storm's success over four seasons. Her 72 off just 36 balls earned her the player of the final in the first of Storm's two titles. She is keen to play an equally dominant role for the Rockets.
"These competitions around the world are getting as close to international cricket as you can get without actually playing it," she says. "Which is amazing for the young girls that are getting the opportunity to be exposed to that because they'll ultimately be more prepared for international cricket when they get there."
Speaking of international cricket, Priest admits that she still misses playing on the world stage, having represented the White Ferns in 87 ODIs and 75 T20Is since her debut in 2007. In that time, she scored 2,567 runs and finished with 165 dismissals with the gloves. In making 157 against Sri Lanka in 2015 she posted the highest ODI score by a wicket-keeper, breaking Sarah Taylor's record in the process.
Rachel Priest scored a record 157 against Sri Lanka in 2015. © Getty Images
"I do miss international cricket. I always will because it's the pinnacle, really, and I loved playing for my country," she says, reflecting on a storied career. "But I've been lucky enough to be picked up to play for Tasmania in the competition in Australia, so just lengthen out my career a little bit more, and to come over and play in the Hundred as well is really special."
"So yeah, I will always miss it and I miss the people that I played with there as well. But you kind of move on and concentrate on the next thing on the list."
A number of overseas players withdrew from the Hundred due to challenges posed by COVID regulations and bubble fatigue. Priest though felt confident to make the trip.
"In Tasmania, we haven't had COVID for like over a year. So, part of me is like, oh, you know, it'll be alright. But then since I've gotten here, you know, you have to be so much more aware here because it
is here."

ALSO READ: The Hundred: Everything you need to know about the participating teams

"Like I knew that the protocols and everything would be in place for this tournament and the ECB are not going to let anything slip, I don't believe, so I certainly felt very, very confident that everything would be covered and that we would be really well looked after."

"So yeah, everyone has to make a decision for themselves. But I think particularly for me, like towards the end of my career, these chances aren't going to come up much more often. So, I kind of jumped at the chance when I could."

Although she's played alongside several of the English players in the WCSL, Priest is still trying to learn - and remember - all her new teammates' names.

"I tend to like to get nicknames because I find that easier to remember because I'll be shouting that out when I'm keeping most of the time!"

The Rockets are captained by England allrounder Natalie Sciver and also feature veteran fast bowler Katherine Brunt and leg-spinner Sarah Glenn in their ranks.


Having retired from international cricket, Priest now plies her trade as a professional for Tasmania. © Getty Images

"I think have some of the three strongest England players on our team, we're really lucky that we've got those three," says Priest. "So, I have pretty high hopes for us for this tournament if we can pull together."

"It can be hard in this kind of timeframe to pull a group of people together. But also, in these kinds of competitions, it's often one person will win you a game really, like individual performances will win games for us."

"So, I just hope that we can kind of spread that out around the team, and people can be contributing differently in different games. But yeah, I'm really excited and I think we have a really good chance to hopefully make the final. If we make the final, then anything can happen on the day."

Not only is Priest familiar with the English conditions and many of the players, but she has also built a strong relationship with Briggs who holds the head coach role at Tasmania and the Hurricanes. She knows too the Rockets' Trent Bridge home, having played there with New Zealand.

What is different are the rules of the new tournament.

"I'm not sure I've got my head around them yet," she admits. "But we've got a couple of days to brush up. And we've been quizzing each other. But yeah, it's all going to happen really fast. And I'm sure there's going to be a lot of learning on our feet.

ALSO READ: Dane van Niekerk leads Oval Invincibles to thrilling win in the Hundred opener

"The 65 minutes thing is stressful, especially considering we can have can only have three out if we go over that.

"So, that's really going to put some pressure on teams and we're going to have to have ways to deal with that because we just can't afford to have only three out at the back end with some of the batters on the other teams. That would be devastating for us."

Priest has been a keen and excited observer of the advances made in English cricket. She sees the parity with the men's game in the Hundred as another huge step forward and hopes that it will mean more fans will watch women's cricket for the first time.

"I think particularly in this country, women's cricket has absolutely gone ahead in leaps and bounds over the last, five to ten years. They've really put a lot of effort, time and money into it and obviously, they're reaping the rewards, particularly with the national side which is one of the best in the world."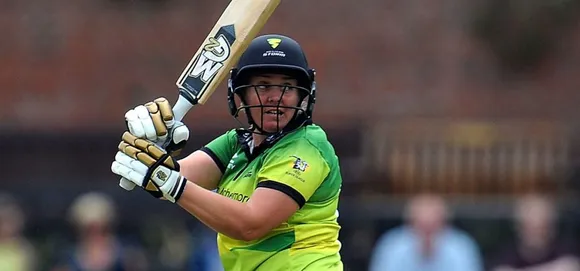 Rachel Priest turned out for Western Storm in WCSL for four seasons. © Getty Images

"They've got some amazing players now. And I think that these sorts of competitions having people playing in these, but also like the other competitions, the Rachael Heyhoe Flint Trophy and Charlotte Edwards Cup, and having domestic people contracted is only going to be something that's good for the game. So, the more of that stuff that they can push forward, the better really."

"I certainly didn't think in my career I would ever be going around the world playing cricket. Just at the beginning of my career, it just was a pipe dream. It just didn't look like it was ever going to happen. Then it all happened really quickly, like all the competitions started coming up."

"I still think they need to get an IPL going, but that's another kettle of fish. But yeah, I honestly did not think I would ever be doing this kind of thing, certainly not as my job. So, I think it's amazing that they've matched it up with the men's tournament . It can only be a good thing for women's cricket to be seen on an even playing field in that way."

ALSO READ: Chloe Tryon, Trevor Griffin heap praise on London Spirit skipper Heather Knight

The focus now shifts to the cricket. Priest says she won't be changing the way she bats for the Rockets.

"I'd just really love to be able to contribute some good runs at the top of the order. I mean, that's kind of why I'm here to have a bit of a swing at the top of the order. So, hopefully that can come off."

"I mean, it's not always going to come off because of the way that I bat, but hopefully I can make some contributions."

"And then in the field as a 'keeper, I absolutely love 'keeping and I'll just be motivating the team hopefully in running through the overs because we don't want to go over time."

"But I'll be just soaking up every minute of it. I think that the atmosphere is going to be great. And yeah, hopefully, we will get some really good crowds. I think it's going to be really, really exciting."