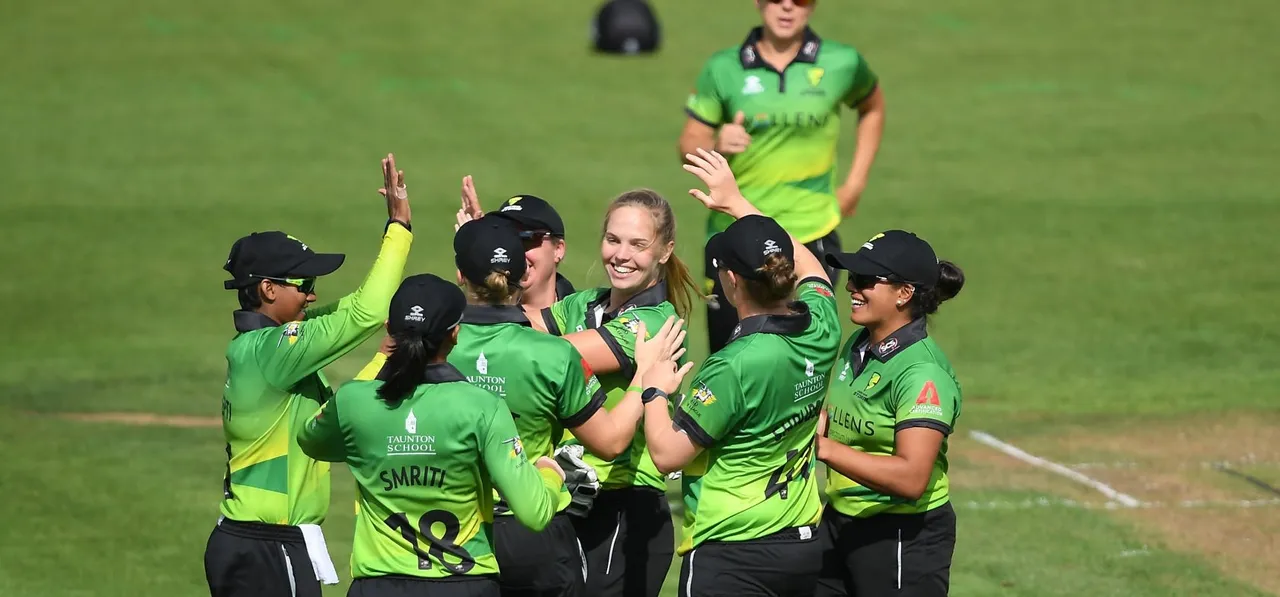 The England and Wales Cricket Board (ECB) confirmed the fixtures for this season's
Rachael Heyhoe-Flint Trophy
on Wednesday (August 13). The tournament will see eight regional teams compete in a 29-day competition with final to be held on September 26.
The eight teams have been divided into two regionalised groups of four with Sunrisers, Southern Vipers, Western Storm and South East Stars making up one groups, and Central Sparks, Northern Diamonds, Lightning and Thunder consisting the other group. The competition will get underway on August 29, with the group stage running until September 19. The two regionalised group winners will compete in the final.
All eight teams will be in action in the opening round on August 29, with matches scheduled to take place in Chelmsford, Edgbaston, Trent Bridge and Beckenham. The second round will be held on August 31.
ALSO READ: ECB's new domestic competition to be named after Rachael Heyhoe-Flint
The competition has been created only for the 2020-21 season "to ensure women's domestic cricket is played despite the challenges of COVID-19 and underlined the ECB's commitment to professionalise the domestic game for the women," a release from the ECB stated.
"After a challenging few months it's really exciting that we can look forward to three domestic finals at the end of the summer," said ECB Chief Executive Tom Harrison. "It promises to be a thrilling climax to the season, and something members, fans and everyone involved in the game can look forward to."
"I'm also proud that we will stage the Rachael Heyhoe-Flint Trophy in honour of a true great of our game both on and off the field. Rachael's determination to give women's cricket the platform it deserves is a legacy that must endure through these difficult times as we continue the journey to professionalise the women's game. This summer's tournament will be another important step on that path."
ALSO READ: Kristen Beams suggests revamp of Tasmania's premier league competition
"The fact we've been able to get so much domestic cricket played this summer owes to the collaborative efforts of the county network and their willingness to find a way to get the game on in the safest way possible for all involved. There will be many more challenges ahead, but the unity and spirit shown during this summer has been a tribute to the county network as we work together to grow our sport."
While none of the matches will be live on television, the ECB have confirmed that they intend to live stream some of the matches.
Full fixtures:29 August:
Sunrisers v Southern Vipers, County Ground (Chelmsford)
Central Sparks v Northern Diamonds, Edgbaston
Lightning v Thunder, Trent Bridge
South East Stars v Western Storm, Beckenham
31 August:
Western Storm v Southern Vipers, Bristol County Ground
South East Stars v Sunrisers, Beckenham
Thunder v Central Sparks, venue TBC
Northern Diamonds v Lightning, Emirates Riverside
5 September:
Southern Vipers v South East Stars, The 1st Central County Ground
10 September:
Thunder v Northern Diamonds, venue TBC
11 September:
Western Storm v South East Stars, Bristol County Ground
Southern Vipers v Sunrisers, Ageas Bowl
Central Sparks v Lightning, Blackfinch New Road
13 September:
Southern Vipers v Western Storm, Ageas Bowl
Sunrisers v South East Stars, County Ground (Chelmsford)
Thunder v Lightning, venue TBC
Northern Diamonds v Central Sparks, Emerald Headingley
19 September:
South East Stars v Southern Vipers, Kia Oval
Northern Diamonds v Thunder, Emerald Headingley
Lightning v Central Sparks, County Ground, Grace Road
Western Storm v Sunrisers, Bristol County Ground
26 September:
Final, venue TBC