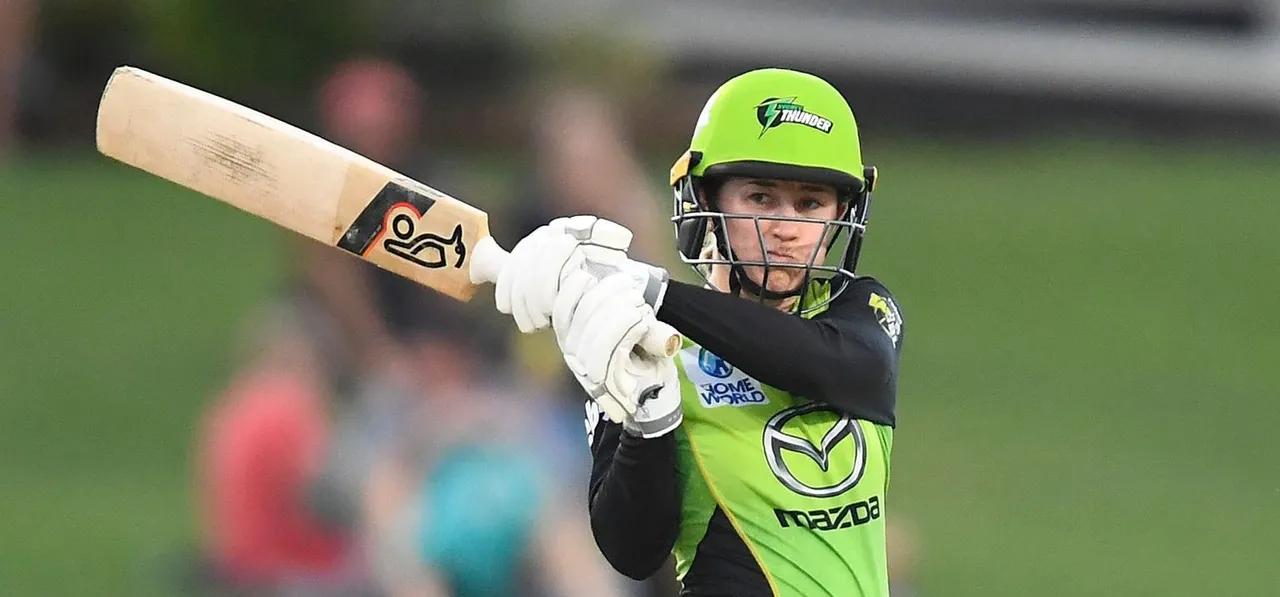 Alex Blackwell and Rachael Haynes have re-signed with Sydney Thunder for the fifth season of the Women's Big Bash League in Australia beginning on October 18. Haynes is set to take over from Blackwell as captain of the side, it was announced on Wednesday (August 28).



Our star duo is locked in, with Rachael Haynes set to take over as captain in @WBBL|05! 👊


MORE: https://t.co/GHIza5FbIO #ThunderNation pic.twitter.com/Ebk4V3TtHD

— Sydney Thunder (@ThunderBBL) August 28, 2019
The left-hander, currently Australia's vice-captain, has been a part of the club since the very first edition of the WBBL. She has scored 1,416 runs in 57 matches at an average of 25.74, including eight half-centuries. What her numbers don't show is the impact she has had in the lower-middle order, guiding the likes of Naomi Stalenberg and Nicola Carey through their paces, and always making sure to put team requirements ahead of personal milestones.
Haynes' leadership abilities are proven, having stepping up to lead Australia in the absence of Meg Lanning between July 2017 to March 2018.
"I'm really excited about the opportunity ahead and to take over from Alex Blackwell who's set such a fantastic foundation for the club and was a key part of the inaugural win for the club in WBBL|01," Haynes said, shortly after the announcement.
"The squad is shaping up really well. We've got some fresh faces in the mix which is really exciting for the club and some young players who I think will get some good opportunities having lost some regular players from our squad last year. I think the sky's the limit for us. We want to play finals and be part of that end of the season. We're looking forward to going out there and putting our best foot forward," she added. 



A message from your new @ThunderWBBL captain, @RachaelHaynes! 💭 #ThunderNation pic.twitter.com/Gj5o3xDsjO


— Sydney Thunder (@ThunderBBL) August 28, 2019
Blackwell, who led the side for four seasons, including a title-winning campaign in the inaugural edition of the WBBL, will continue to play a key role in the development of the team. Despite losing the captaincy, the veteran is keen to continue her association with Thunder and help with the growth of the club and its players.
"I'm very proud of what we achieved in WBBL|01," said Blackwell. "We were a group of cricketers who were somewhat underrated on paper by outsiders, who went on to win the inaugural WBBL title. My biggest role in this was ensuring that each person felt valuable to our club objectives because of their skill set and because of their unique personality."
The 35-year-old is Thunder's highest run-scorer of all time, amassing 1,435 runs across 59 matches at an average of 35.87. She remained supportive of Haynes' elevation to captaincy, and said that she was keen to continue contributing as a senior member of the squad.
"Rach is decisive and reads the game incredibly well. She is successful in her own game because she is calculated and has a clear game plan to each opposition bowler that matches to her strengths. She fearlessly puts the team ahead of personal milestones. She is a wonderful role model to us all," she added.
"She will ensure the expectations and standards of a Thunder team member in WBBL|05 are clear and I expect she will take the time to discuss with each of us individually how she sees us playing our role."
Blackwell, who recently
stepped aside as head coach of Lancashire Thunder
in the Women's Cricket Super League in England, having taken up a new role as a genetic counsellor in a children's hospital, will enter this season of the WBBL with more responsibilities on and off the field— something she is very excited about.
Formerly known as a typical 'nudger and nurdler', the back-end of Blackwell's career showcased how much she had worked on and developed different facets of her game.
"Continual improvement as a batter and team member is what I always look to achieve," she said. "This season I will be juggling more responsibilities away from the playing field and I'm confident this will enhance my enjoyment of playing the game and subsequently my contribution to team performances."
This announcement follows the
signing of exciting wicketkeeper-batter Tahlia Wilson
earlier this month. The trio will join the likes of Naomi Stalenberg, Sam Bates, Lisa Griffith and Saskia Horley in the squad.
Thunder are set to open their campaign in the first ever standalone WBBL with a match against their local rivals, Sydney Sixers, at the North Sydney Oval on October 18.
Sydney Thunder squad
so far:
Rachael Haynes (C), Sam Bates, Alex Blackwell, Lisa Griffith, Saskia Horley, Naomi Stalenberg, Tahlia Wilson.