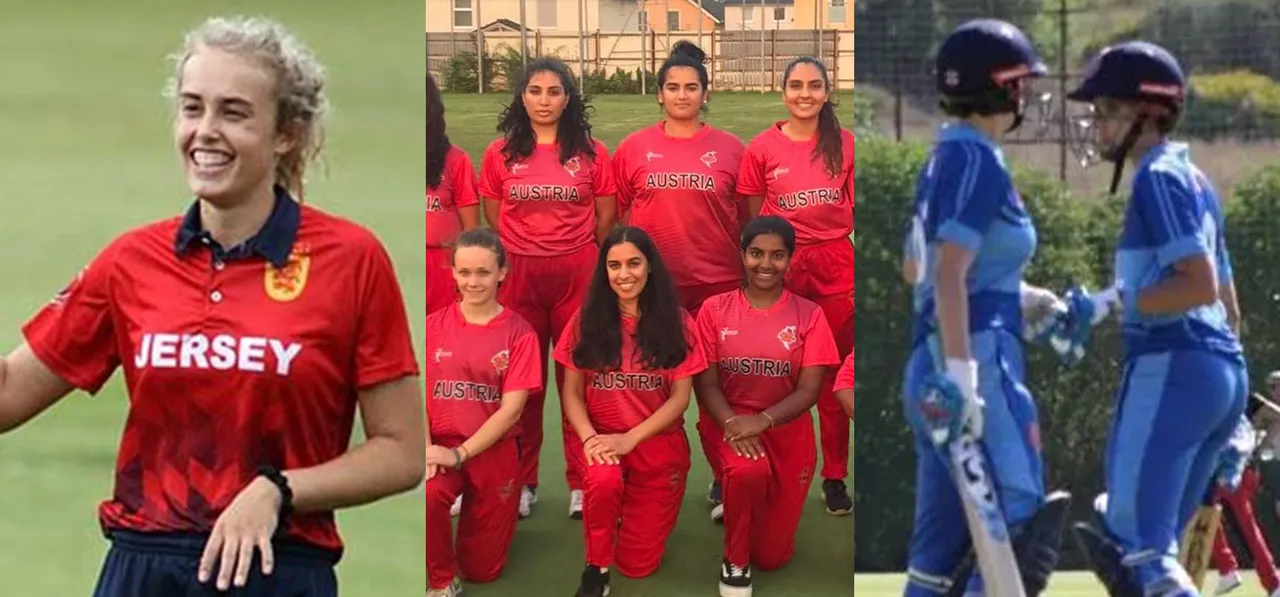 France will host
Jersey, Austria, and Spain in a four-nation T20I quadrangular series starting Thursday (May 5) at the Dreux Sports cricket club. This will be Austria's first international assignment since 2021, while Jersy will play their third T20I series ever. France will be in the action for the first time since ICC Women's T20 World Cup Europe qualifiers and Spain will make their debut in the shortest format with this series. 
Chloe Greechan will lead the Jersey squad and she will take over the captaincy from Rosa Hill, who led the side in the quadrangular series in 2019. The 17-year-old Lily Greg, who was Jersey's highest run-scorer from that quadrangular series will also feature in the series. Jersey will be back in action after the gap of three years forced due to the COVID-19 pandemic. 
Also Read: Ireland, Scotland register mammoth wins over France, Germany
Austria will be without the services of all-rounder Andrea-Mae Zepeda, who was the top scorer in her country's

previous international assignment against Belgium in 2021.

Zepeda scored 250 runs across a three-match series, including a century in the series opener. Right-arm pacer, Ashmaan Sifee, who was the top wicket-taker of the series will feature in this

quadrangular series. 
It will be a historic occasion as Spain will make their debut at the international level with this series.
Elspeth Fowler will lead the side in their first international assignment. Hosts France will feature in their first series since ICC T20 World Cup Europe Region Qualifiers in August 2021.
Emmanuelle Brelivet, who led France in the
Europe Region Qualifiers will not be part of the squad for the quadrangular series. Emmanuelle Violleau Marie and Martine Breteche Cindy who were part of the squad for the ICC event will come back for the series as well. 
Each team will play four matches starting on (Thursday) May 5 till (Sunday) May 8. 
Schedule for the quadrangular seriesMay 5
Morning session: France v Jersey
Evening session: Austra v Spain
May 6
Morning session: Jersey v Spain
Evening session: Austria v Jersey
May 7
Morning session: Jersey v France
Evening session: Spain v Austria
May 8
Morning session: France v Spain
Evening session: Austria v France
Squads: Jersey Women:
Chloe Greechan (Captain), Charlie Miles, Maria Da Rocha, Flo Copley, Rose Hill, Trinity Smith, Lily Greig, Georgia Mallet, Tea Brocklesby, Grace Wetherall, Mia Maguire, Erin Gouge, Erin Duffy and Olive Smith
Spain Women:
Elspeth Fowler (Captain), Aliza Fatima Saleem Arra, Hifsa Butt, Jaspreet Grang Kaur, Memoona Riaz Quresh Muhammad, Muskan Naseeb, Rabia Ahmed Iqbal, Rabia Mushtaq, Samaia Basharat, Simranjit Grang Kaur, Tashiba Mirza, Uswa Syed, Wania Arif Malik, Zenab Batool Ahmed Iqbal and Amy Brown-Carrera
France Women:
Cecilia Brodin Alix, Beatrice Pierre, Blandine Verdon, Martine Breteche Cindy, Ganesh Pooja, Krystel Lemoine, Maria Armas Lara, Armas Lena, Louise Lestavel, Lydie Wykes Templeman, Maelle Cargouet, Michelle Marchello-Nizia, Emmanuelle Violleau Marie, Clementine Mcgeown Poppy, Yvette Baron Sabine and Tara Elizabeth Britton
Austria Women:
Anisha Nookala, Ashmaan Saifee, Busra Uca, Grandhali Tushar Bapat, Hannah Simpson-Parker, Harjivan Bhullar, Jo-Antoinette Stiglitz, Mallika Pushpangani Mahadewa Pathirannehelage, Priya Sabu, Raphaela Trobinger, Rezarta Avdylaj, Smriti Kohli, Soujanya Bangalore Chanmundaiah and Valentina Avdylaj