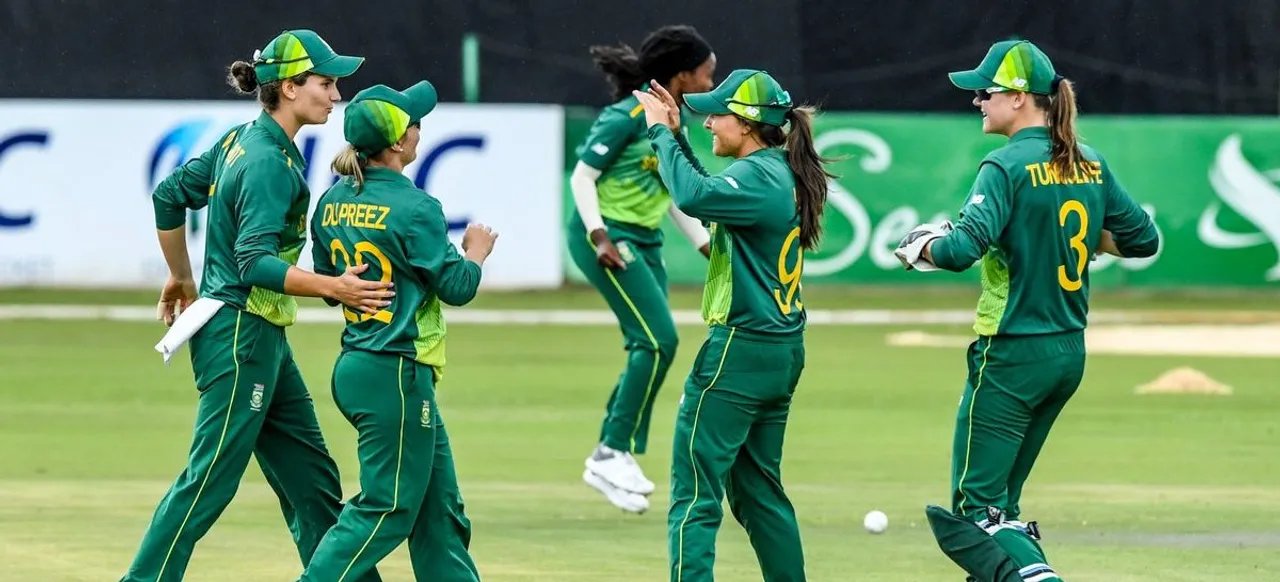 Press Release

Lizelle Lee is satisfied that the Proteas women's pre-tour camp has fulfilled the team's objectives in preparing for their home tour against Pakistan starting in Potchefstroom on Monday.  The national team have been in camp for the past five days, refining all of the problem areas that they had identified at the conclusion of their tour against Sri Lanka earlier this year.

The Pakistan tour includes three ICC Women's Championship (IWC) One-Day Internationals and five T20 internationals.

Wicket-keeper-batter Lee, is delighted with the consistent improvement of the team in the last few weeks, in particular the batting unit and is cautiously optimistic of their chances against the visitors.

"The batters are looking really good," she commented. "We played warm-up games on Tuesday and yesterday (Thursday) which I think went very well. One of our aims was to get to 280-plus consistently and in both games we did that, so I'm really proud of the way we are going about things. I think the big thing about South Africa that was a bad thing for us is that we always lost wickets in clusters and that comes down to being under pressure but not getting singles and finding a work around. One of the things we've worked really hard on is getting that right. A lot of the girls have worked on extra options to play during the game and I think it's something that took the pressure off them and it was really good to see us executing that in the warm-up games.

"Pakistan is a very good team and we're not underestimating them at all. When we go into game one on Monday, we're going to go hard because we understand the importance of the IWC and the points needed for World Cup qualification. The way we are batting and bowling now and even fielding gives me confidence that we can do well in this series. We're definitely going out to get those six points, we're not going to hold back."

South Africa are currently in fifth place with 13 points on the IWC table, while Pakistan trail closely behind them in sixth place with 12 points. The tournament allows for the top four teams to directly qualify for the 2021 ICC Women's World Cup in New Zealand.

The five-match T20 series is also very important to the home side. Lee said it provided a good opportunity for them to measure themselves up against good opposition and prepare for the 2020 ICC Women's T20 World Cup also taking place in New Zealand.

"If you have a look at the games that we played in the previous T20 World Cup (West Indies 2019) we had them  (Pakistan) in one of our warm-up matches and we lost against them," she explained. "Pakistan is not a team you should underestimate and this is preparation for the T20 World Cup next year, which is really big for us. We want to make sure we cover all of our bases before we go out there."

The North West local is also happy with the amount of game time that the team has been getting recently, stating that it has gone a long way in improving the team's performance.

"The girls did really well in the tour against Sri Lanka where they had two white washes and then soon after we had a very good (CSA) Women's Week (provincial tournament) where our batters did extremely well. Before that, we had the World T20 and a tour in the West Indies and just before that we hosted Bangladesh here at home. There is no better teacher in cricket than game time against good opposition and we're really fortunate to be getting more and more time out on the field. It really helps teams grow and ups the competitiveness of women's cricket around the world.

"Right now, because we've played so much cricket we have a team that's more confident in themselves and their abilities because we've been in enough match situations that we don't panic when things don't go our way – it's the healthiest and most competitive that we've ever been as a national team.

"Looking ahead to this next tour, I think everyone is in a good space at the moment and I have to say that the mood in the camp is very good. I'm really looking forward to the tour," Lee concluded.