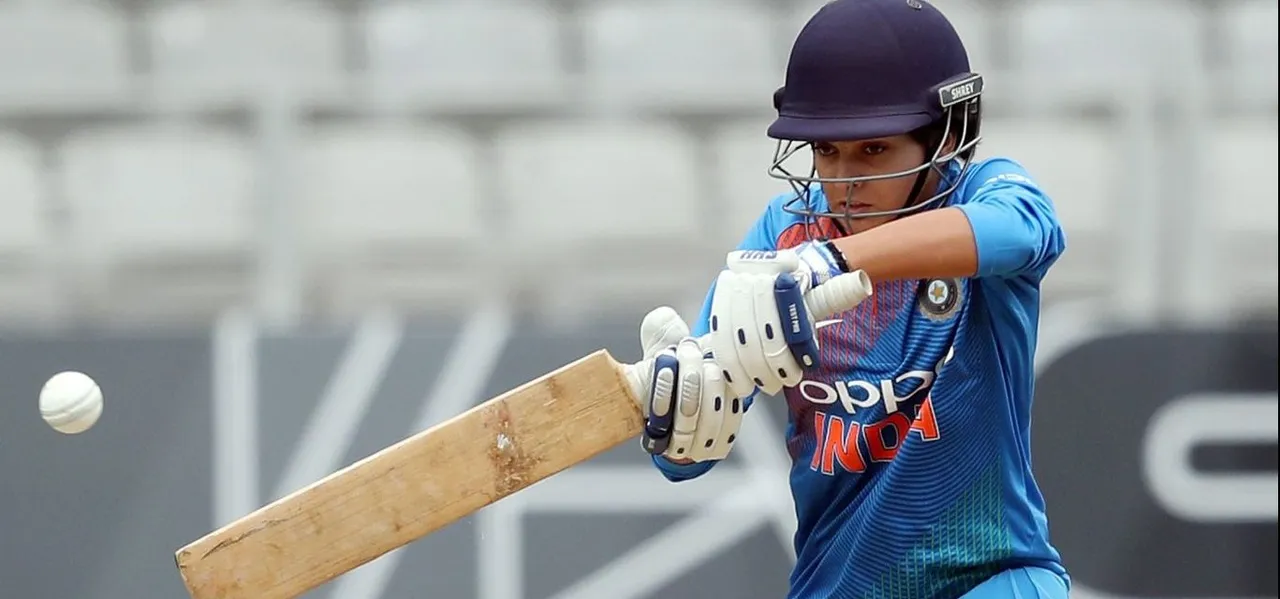 Her first ODI run came quickly - she got a length ball from Shabnim Ismail, which she guided to third man to open her account. And so did her second, third and the fourth runs. Then she played out a maiden.
"
Time leke kheliyo
." (Take your time and play)
This was what Priya Punia's father told her on the morning of her ODI debut on Wednesday (October 9). He
used to coach her
earlier. Not just her father, even WV Raman, India's head coach, had asked her to take her time, she said, when she
first came into the side
in New Zealand earlier this year (for the T20Is).
Punia took her time. With one ball to go in the tenth over of the run-chase, she was batting on eight and had faced 28 balls. India's score then was 31. The last ball of that over, bowled by Tumi Sekhukhune, was full and outside off. Punia reached out for the drive but got a thick outside edge past the wicketkeeper, who was standing up. That was her first four in ODIs.
She took her time. 29 balls.
For someone who is young and making her debut, the right-hander largely looked unflustered. The first look or the beginning of her innings wouldn't have given the viewers much confidence. Unlike her illustrious opening partner - a certain Jemimah Rodrigues - her first few balls didn't scream #WatchMe. There were more edgy boundaries to follow. Well, much before her first boundary, she was given a life as well. Marizanne Kapp fluffed a sitter at mid-wicket, when the newbie was on six. But Punia didn't let it affect her.
Indian cricket, if it were a person, would have been smiling watching the openers go about their stuff. Rodrigues, all of 19 years and playing her 11
th
ODI, guided the 'senior' youngster – Punia is 23 – through their stand. That Rodrigues was moving along freely at the other end helped Punia settle in.
By the first drinks break, India were on 64 after 16 overs. Rodrigues was on a classy 54-ball 42, while Punia was on 15 runs. More significantly, she had faced 42 balls. She was taking her time.
Rodrigues then proceeded to score her second ODI half century and when the hosts' score was on 83, was out LBW. Punia was on 21 off 59 balls at that point.
An over later, Punia's first shot of authority came through. Off-spinner Nondumiso Shangase, playing her first match and having gotten rid of Rodrigues, was smashed over mid-on by Punia - she used her feet to get to the pitch of the ball. In the next over, she hit Sekhukhune for successive fours. Just like that, she had moved to 34 off 70 balls.
It is easy to assume that the coach would have told the youngster to take her time and given her a game-plan about approaching the chase. But that was not the case, as it turned out.
"I don't really talk much to debutants to be honest. As it is they have a lot of things going on in their mind. They're trying to work it out, trying to get in their zones. It is not the right time to try and download many things into their heads," said Raman. "I just wish them good luck and tell them to enjoy themselves."
It was the 27
th
over. It's a shot that you wouldn't forget in a hurry, if you'd have watched it live. Shangase tossed one up, inviting the drive. Punia got her stride out and drove it nicely past mid-off. Pure timing and placement. Against the spin. Majestic.
That took her to 46 and in sight of a well-deserved maiden fifty. By then she had taken 82 balls. Eventually, she got to the landmark in her maiden outing in ODIs by pushing a fuller one to sweeper cover for one. Just a raise of bat, soaking in the applause that the dressing room plus a small crowd, mostly consisting of school children, had for her.
She was the seventh Indian to have conjured up a half century in her maiden innings in the 50-over format. She had, more importantly – because she was told to take time – faced the 89
th
ball for that important run.
She was told to feel the ball onto the bat for the nervousness to subside and for the runs to flow. All those dot balls that she played out – 74 in all – were a part of that. Fittingly enough, she was the one who hit the winning runs – a flick through mid-wicket for a brace, though just a solitary run was needed. She finished unconquered on 75, facing 124 balls for the same. She had hit eight fours in the process.
Raman said it was "definitely a statement". "She didn't really get off to a good start. But for somebody to come back after six months under a little bit of pressure – there is a bit of pressure even if you have not had bad outings – when you're making your debut. She handled it very well."
More importantly, that Punia finished the match pleased the coach. "The way she went on to complete the game, that is always very important and is a big lesson for her and also for other batters. They need to spend time in the middle to get better and better. As a debutante she did very well and she should try and replicate as often as possible, in what will be a very promising career, as I see it," said Raman.
There is time. As long as Punia takes it and makes use of it, nobody will complain. Not even her father.