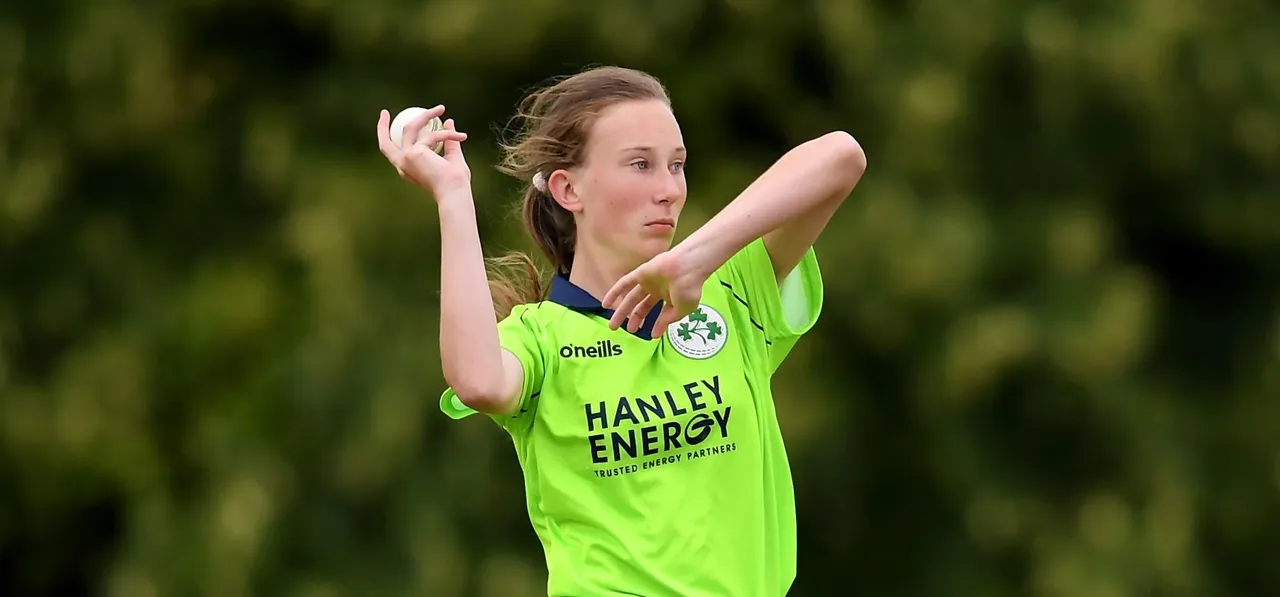 Allrounder Orla Prendergast is excited to return to international cricket as Ireland take on Scotland in
four T20Is
starting from Sunday (May 23) and believes the game time they had in the on going Super 50 series will hold them in good stead although she expects it to be a closely contested series.
Ireland last played international cricket during the
T20 World Cup Qualifier
in Scotland in September the same year. Many of their subsequent international fixtures were either
cancelled
or postponed due to COVID-19 pandemic. 18-year-old Prendergast made her debut for Ireland in August 2019 and has played eight T20Is so far taking five wickets at an average of 16.80. The pace bowling allrounder says she hasn't set any personal goals but focused on helping the team win matches.
"It's absolutely brilliant to finally be back playing international cricket and definitely an added bonus to have our first home fixture in two years," Prendergast said. "The possibility of spectators being allowed to attend is a really exciting prospect and hopefully, all going well that will be able to happen. We've had a long training block over the last 18 months, so it's really exciting to be able to compete again and see where we are."
"With regard to the Scotland series, I'm expecting some high standard and very close games. The two sides look quite evenly matched, so I'm looking forward to seeing how the series plays out. In relation to my own specific goals, I don't really have any. Obviously, I'm hoping to take wickets and make some runs, but my main focus is just on helping the team win."
ALSO READ: Laura Delany, Gaby Lewis eager to take massive strides ahead of crucial year for Ireland
Even though Ireland weren't able to play any international cricket for the last 18 months period, they have successfully conducted Super 50 Series
last year
and
2020-21 season
of the tournament is currently undergoing with separate competitions in both the limited over formats.
Prendergast, who sees Ellyse Perry as her role model, was one of the members instrumental in Typhoons led by Ireland skipper Laura Delany winning the last edition of the Super 50 series. She scored 151 runs and took ten wickets from eight matches during the tournament. Continuing her form from the last year, she led Typhoons in the absence of Delany in two matches and scored her
maiden century
in the third one-dayer to take her side to their first win of the season.
"The Super Series this year has provided an excellent opportunity for us to prepare for the upcoming series. While we've obviously been extremely lucky to continue training over the last months, it's been vital for us to get time out batting and bowling in the middle to prepare for upcoming international matches," she said.
"Personally, I feel the Super Series has really helped me prepare for the upcoming series, both bowling and batting. The century I scored two weeks ago has definitely boosted my confidence, and hopefully I'll carry some of that form through to the Scotland series."
Prendergast was promoted to a
part-time professional retainer
mid-way during the last season of the tournament. She believes it has allowed her to have more training time and work on her game with the head coach Ed Joyce and women's pathway and development coach
Glenn Querl
.
"Being without international cricket for a long period has left me with a lot of time to work on things that I wouldn't have wanted to change if I had upcoming matches. I've been working on my bowling action and consistency a lot, and also my game plan with the bat," Prendergast added.
"The part-time retainer contract has also been a welcome opportunity. Having extra coaching contact time with Ed and Glenn has really helped me further my game already, and it'll be great to have some matches to test my skills again."