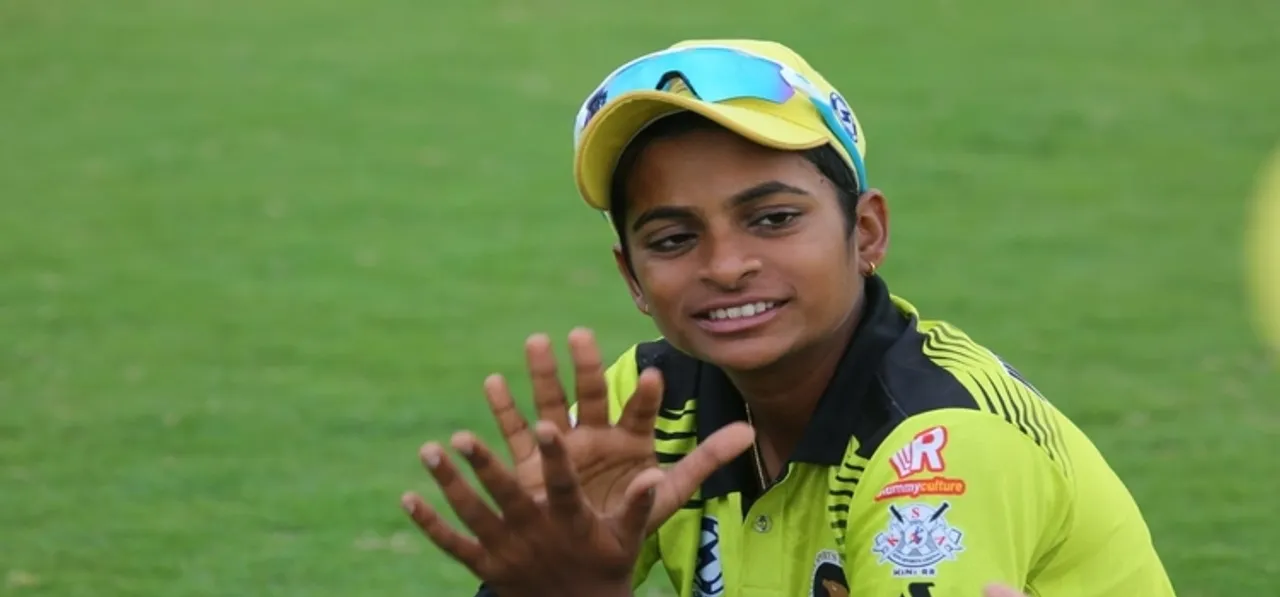 When Karnataka allrounder Prathyusha C led KiNi RR Sports - a squad which included India internationals Radha Yadav, Vanitha VR, Arundhati Reddy, Punam Raut, and Nuzhat Parween - to the title in the Falcons Golden Jubilee Inter-Academy T20 Tournament in January 2021, little did she expect to receive her maiden India call-up a month later. Which is why, when she got the news about her selection for the India-South Africa series a few days ago, both she and her family could not believe it.
"I wasn't expecting this call at all. To be honest, it felt surreal and took some time to sink in," Prathyusha told
Women's CricZone
. Her parents, C N Krishna Prasad and C K Suneetha Prasad asked her, "Are you sure? Can you check once again?" Although they had been waiting for this moment to happen, when it actually did, they had to pinch themselves.
Growing up in a family that did not have any cricketing background, the game has been a constant in her life since the very start. Prathyusha's interest in the game stems from her father, a software engineer. "I did not play cricket at any professional level, apart from gully cricket. But I used to watch all the matches on Television," Krishna says.
Sitting and watching cricket with her dad, the sport grew on her. At the age of five, she told her father that she wanted to play cricket. When taken to a reputed academy in their neighbourhood in Bengaluru, the coach sent them back, saying that they had to wait until she is in second grade. Till then, Prathyusha had to make peace with the cricket toys she had.
In 2005, she joined Herons Sports Club and made rapid progress through the age-group tournaments. Having started as a medium-pacer, Prathyusha made her under-16 debut for Karnataka in 2011 at the age of 13. In the next season, she played for Karnataka under-19. A couple of years later, she made her senior team debut.
"When I started playing, it was just for fun, enjoying the game, playing with the boys in the club, so that's when I joined women's cricket. I didn't have an idea that I'll become a cricketer. It was just that I was enjoying the game, and I just wanted to play."
Despite making her state debut, she did not get to play much in her first couple of seasons. That was when she switched from medium-pacer to a leg-spinner - a change that immediately paid dividends. In the 2015-16 season, Prathyusha took 11 wickets and followed it up with 14 in the next. 
For Prathyusha, the change to leg-spin, however, was not because of the lack of opportunities. "It was more about the impact I was able to make for the team, whether I am a medium pacer or leg-spinner. When I was a medium pacer, I wasn't able to do it. I became a leggie, got those crucial wickets and helped the team. And that's when I started becoming a regular player in the team."
After her first season as a leg-spinner, she played her first Challenger Trophy. By her own admission, that tournament win with India Blue in January 2018 is one of the high points of her career so far. Defending 207 against India Green, Prathyusha took four for 23, running through the lower middle-order.
Recalling the spell, she says, "I didn't get any wickets in my first spell. Smriti (Mandhana) brought me back again, and it was only in my second spell, I got my first wicket. Then, I bundled them out very quickly."
In the 2019-20 season, too, just before the BCCI called off the domestic tournaments due to the pandemic, Prathyusha played a crucial role in getting Karnataka through to the knockouts. She took six for 23 against Baroda going into the final stages of the tournament. Unfortunately, their campaign was cut short because of the COVID-19 pandemic.
"I had not gotten many wickets in my first few matches. It was only in that match, I got into a rhythm and took wickets. We didn't expect the call (to come back). In January itself, we heard about the coronavirus, which had just entered India. In March, we just got a call to come back, and we just had one day, and we came back."
During the pandemic, along with the other Karnataka players, Prathyusha was doing fitness training through online sessions organised by the state association, followed by net sessions at her home in the evening. As one enters her house, there is a practice net with a bowling machine where she practices every day. Until the lockdown was over, she had to be satisfied with those sessions. 
She returned to cricket in the Sheela Sridhar Rangaswamy Memorial Tournament in September, in which she took eight wickets at an average of 12.38 in five 30-over matches. In the Inter-Academy T20 Tournament organised by Falcons Sports Club in December, she took seven wickets in as many matches. 
In the Falcons Golden Jubilee Tournament, she was captaining for the first time since the age-group tournaments she played for Karnataka. "I have never led with Indian stars in my team. Most of them are understanding when you tell them something. It becomes easier because they are all experienced, bringing in a lot of experience to the ground and also help me out in pressure situations like the match," she says.
She made the most of the time with the experienced campaigners trying to pick a trick or two from their arsenal. "I had a conversation with Radha the other day. She was bowling extremely well. I was just asking her where she keeps the ball, what are the right areas to bowl and other things."
Almost a year ago, when Prathyusha was in a training camp at the National Cricket Academy in Bengaluru, she had a chance to meet the former India spinner Narendra Hirwani, who had a chat with her and suggested a few changes in her action. Since then, she has worked tirelessly to incorporate those changes, and it has started bearing fruit. 
Prathyusha's unwavering dedication to the game is one of the traits that has kept her going over the years. Krishna recalls an incident when she was not selected for the under-16 team once. Coming back from the Karnataka State Cricket Association, he tried to cheer her by diverting the topic and asking her if they should go for a movie. 
"She said, 'No, no, daddy, let's go to the ground.' That afternoon she went to the ground and practised. We never had to say anything about practice or cricket. With education, we have to keep telling her. In fact, as soon as she heard about the India selection, I thought she will relax now as the moment has come. But she immediately went down to the nets and practised for an hour, and then only she came up."
Over the past decade, Prathyusha has played more as a bowling allrounder for Karnataka and the other teams she has represented. However, she feels otherwise. "I enjoy batting more than my bowling. Because, you know, the numbers speak that I am more of a bowler as I have taken more wickets. But I enjoy batting more and consider myself a batting allrounder."
When asked during the Falcons T20 Tournament about her short-term goals, she said, "In one year, I want to play for the country. I don't think there's a better time. The next one year, I have to give my best to have a chance."
ALSO READ: Luus to lead South Africa against India; van Niekerk, Tryon, Klaas miss out due to injuries
The first step towards debut is the national call-up, which has happened almost within a month. While Prathyusha has not been briefed about her role in the squad yet, the 22-year-old is understandably elated about being a part of it.
"Sharing the dressing room with some legends of this sport will truly be overwhelming; a great opportunity to learn so many things. I'm eagerly looking forward to this. If I get an opportunity, I will definitely look to give in my best for the team."
It is not clear whether she will make her debut for India in the upcoming South Africa series. But, with age on her side, one can say with a certain confidence that the day might come sooner than later.
https://open.spotify.com/episode/2GayqmQB4J1NjgbtM9oKJW