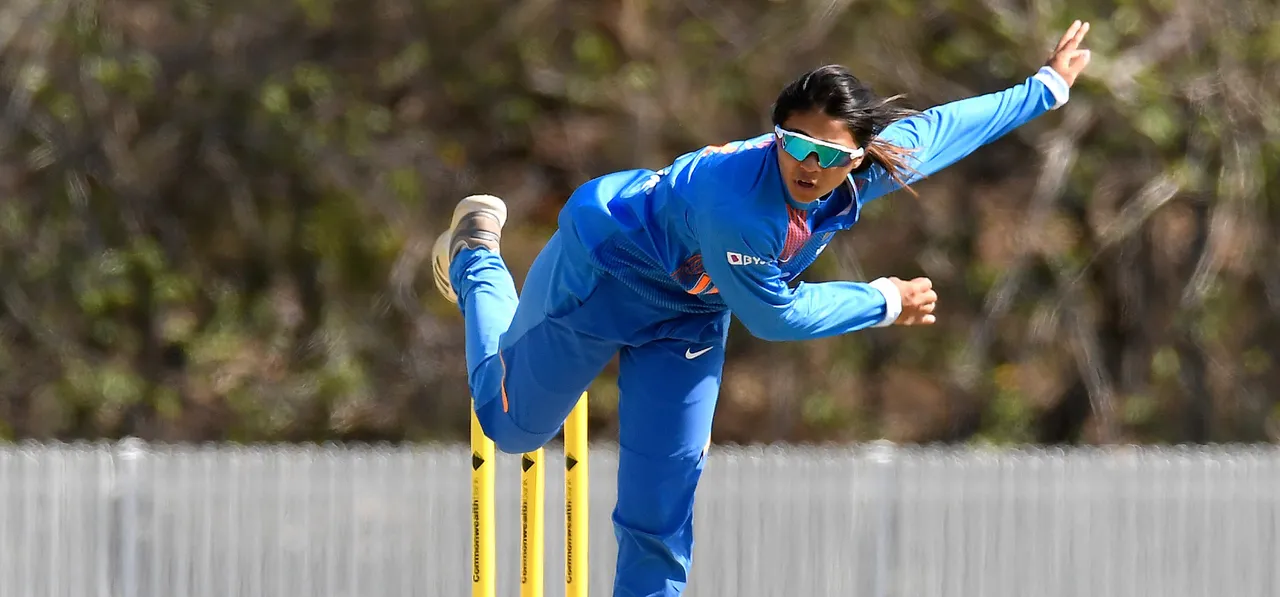 The last time Devika Vaidya played competitive cricket was during the Women's T20 Challenger Trophy in January. She was playing under India's T20I skipper Harmanpreet Kaur for India A. After that was penned in to lead the India A in a quadrangular series involving Bangladesh and Thailand but eventually, did not play in the tournament. Since the pandemic broke out, Vaidya has been staying with her family in Pune. However, she will be returning to action in the Women's T20 Challenge for Velocity, the team she represented last year.
After spending close to six months away from the game, Vaidya says that she is excited to return to the field. "I am really eager to go on to the ground because, in Pune, the situation was so bad that we were not able to go on the ground daily to practise. So, I'm really looking forward to start at least gym sessions or practice," Vaidya tells
Women's CricZone
.
During the lockdown, Vaidya, one of the most restless young players in the circuit, focussed her energy on her fitness regime. "The gyms were not open. But, I managed to get some dumbbells and other equipment from the gym before things were shut completely. With that, I was like in touch with some of my trainers and
training a lot," she says.

ALSO READ: Repent not, repeat not: the Devika Vaidya way

While the lockdown affected every athlete differently, for Vaidya, the time she had with her family has helped her to work on the temperament. Though she felt uncomfortable in the initial days, the allrounder believes that the family's support has been crucial over the past few months. "I used to stay with my parents, and during the lockdown, I had to shift with my grandparents. My cousins were there, so all of a sudden, I was among nine people. Because of them, I was able to settle into a different environment and come out of my comfort zone."

Vaidya is currently spending her time in quarantine and will continue to be part of a bio-secure bubble until the tournament ends on November 9. On the changeover from spending time with family to quarantine, Vaidya feels that it is a new experience for her.

"As long as we are learning new things and adapting to them, it is fine. I enjoy different things, new things in life. I keep moving around, doing my workouts; I study, play music, see some dance videos and learn from them. I keep on doing something constantly. I cannot sit idle."

The 23-year-old has been keeping an eye on the ongoing men's IPL to make sure that she has an idea of the grounds and pitches when they get to play. "We also discussed among our team members. While we cannot meet each other, we have Zoom meetings where we discuss the weather conditions, and wickets," she says.

ALSO READ: Arundhati Reddy's 'Mission Undroppable'

The young leg-spinner believes that adapting to the humid conditions in UAE will be a key factor. "We are playing in Sharjah. So, the wicket seems a bit slow. We have a certain amount of days before we go into the tournament. Before that, we will try to adjust according to the situation and the wickets."

For Vaidya, the goal is to get back into the rhythm and win matches for the team. She feels that more than the matches, it is the practice sessions that will be crucial to help players get back into their routines. Velocity will be missing the services of the West Indies allrounder, Hayley Mathews, this year. Nevertheless, Vaidya says that the team combination will be finalised once they start practising together as a squad.

Vaidya played only one match in the previous edition of Women's T20 Challenge where they fell short against the Supernovas in the final. She bowled impressively, taking the wicket of Priya Punia, giving away 24 runs in her four overs.

This year, however, the youngster might have a bigger role to play, and hopefully she can achieve her goal of winning the tournament.