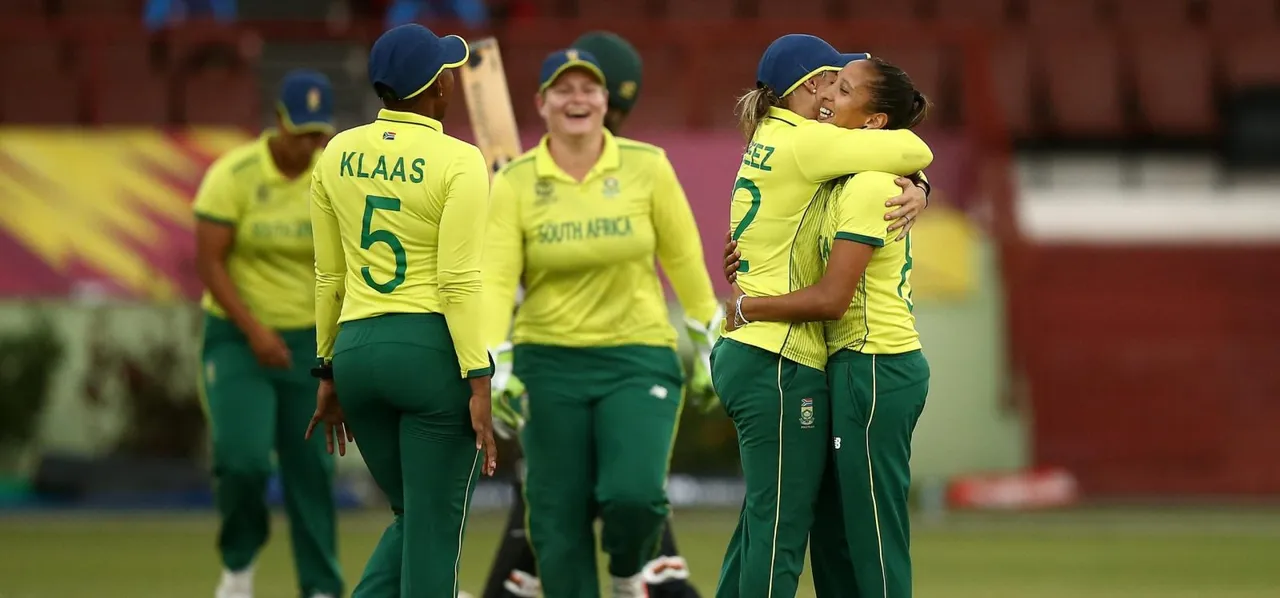 In 2016, I watched as South Africa struggled through the World Twenty20 in India. While the bowlers brought their 'A' game to the tournament, it was the batting unit that let them down. Mignon du Preez, then captain of South Africa, sat through the press conferences dejected, unable to explain why her batters were struggling so.
"We have the best bowling line-up in the world, and a very exciting batting group as well," she had said back then. "We, as batters, need to find a way to back up our bowlers, because, at the moment, we are letting them down… I can't ask any more of them. They are doing an outstanding job."
Two years later, Dane van Niekerk was similarly lost for words, as her batters crumbled under the pressure, and South Africa crashed out of yet another T20 World Cup.
"I don't know… I don't have answers at the moment," van Niekerk said at the post-match presentation after her team suffered a seven-wicket loss to England. "We really have to go sit down and see what's going on and where we are going wrong at the moment. We have the firepower, we have got the talent, but at the end of the day you can have all that, but you need to perform at World Cups against quality teams like England."
South Africa came into the 2018 World T20with very high hopes. After a wonderful World Cup campaign in England last year, and promising results in the months to follow, they were one of the teams to beat. They had arguably the best new ball pairing in the world in Marizanne Kapp and Shabnim Ismail, two of the fiercest strikers of the ball in Lizelle Lee and Chloe Tryon, and a hard-hitting, leg-spin-bowling, tactically aware, ultra passionate captain, van Niekerk, leading from the front. They seemed to have all bases covered.
This was no longer a team that was content with competing and being 'dark horses'. With the talent in their squad, they wanted to be real contenders, and having toured the Caribbean barely a month before the mega event, they had a "massive advantage."
"It is more than realistic to go there and say that we are going there to win the tournament," the South African skipper had said ahead of the World T20. "I guess it is just that we have to rock up and with the added advantage hopefully we can use that and bring that Cup home."
South Africa's troubles, however, surfaced a little before the tournament even began. Raisibe Ntozahke, the offspinner, was suspended by the ICC for an illegal bowling action, and Saarah Smith, suffered an injury during a practice session. The duo were replaced by Moseline Daniels and Yolanie Fourie.
As if that were not enough, South Africa suffered another blow when Trisha Chetty, the wicket-keeper batter, was ruled out of the tournament and replaced by 19-year-old Faye Tunncliffe.
Earlier this year, when South Africa faced India in a five-match T20I series at home, they ran the visitors quite close and seemed to have found a good mix to their batting line-up with Lee and van Neikerk at the top of the order, Chetty, SuneLuus and du Preez coming in after, and Tryon, Kapp and Nadine de Klerk shoring up the lower-middle order.
Lee and van Niekerk are South Africa's third-most successful T20I opening partnership with 431 runs in 13 innings behind Chetty and van Niekerk (709 runs in 21 innings), and Chetty and Shandre Fritz (489 runs in 15 innings). They average 35.91 (the best among pairs who have opened in more than five innings) and have shared two century and one half-century partnership, including a highest of 163.
The absence of Chetty really messed with the balance of the South African line-up. While Tunncliffe may have been an adequate replacement behind the stumps, it was Chetty'scontributions with the bat, which were really missed. Her absence, meant South Africa always seemed a batter short and were forced to stick with Laura Wolvaardt at the top of the order— someone not ideally suited to the shortest format.
With six frontline bowlers (two of whom were genuineallrounders) and a pure wicketkeeper, the team's batting seemed a tad shallow which meant van Niekerk was forced to move down to strengthen the middle order. Wolvaardt's tepid approach at the top put extra pressure on Lee who seemed to be stifling her natural free-flowing style— an approach that got her into trouble. The batters failed to rotate the strike, often swinging between the extremes— either blocking out an over, or swinging for the stands. Consistently poor returns in the Power Play meant South Africa were always playing catch up through the innings. Promoted to No.3, Kapp tried hard to inject some momentum into the innings, but her lack of real power held her back. The South African skipper, too, had a poor tournament with the bat— her terrible luck mirrored that of the teams.
"When it rains, it pours," she said matter-of-factly about her run-out, and the team's slice of luck, at the non-striker's end against England.
Potentially, van Neikerk could have pushed herself up the order to join Lee, as they had done against India. With du Preez, Kapp, Luus and Tryon in the middle order, they certainly would look a little light on the batting, but as Australia and England have shown— once you get ahead in the first six overs, it's easy to ride with the momentum.
Hurt by injury, but more so, their inability to score any runs, South Africa have crashed out of this World T20 much earlier than they would have liked.
"There is nothing wrong with the team's talent," said van Neikerk. "We need to change the mindset of the team and we really need to obviously get the winning habit. At the moment it's almost losing is becoming a habit— that we have to change. We have a really good side and I am not worried about what we have within the side, it's just that we need to use it."
Once they return home, South Africa will have to go back to the drawing board, figure out what it is they want to achieve and what they need to do to get there. Things can turn around quite quickly in this game, and as India have shown recently, sometimes disappointments can be the making of a team.