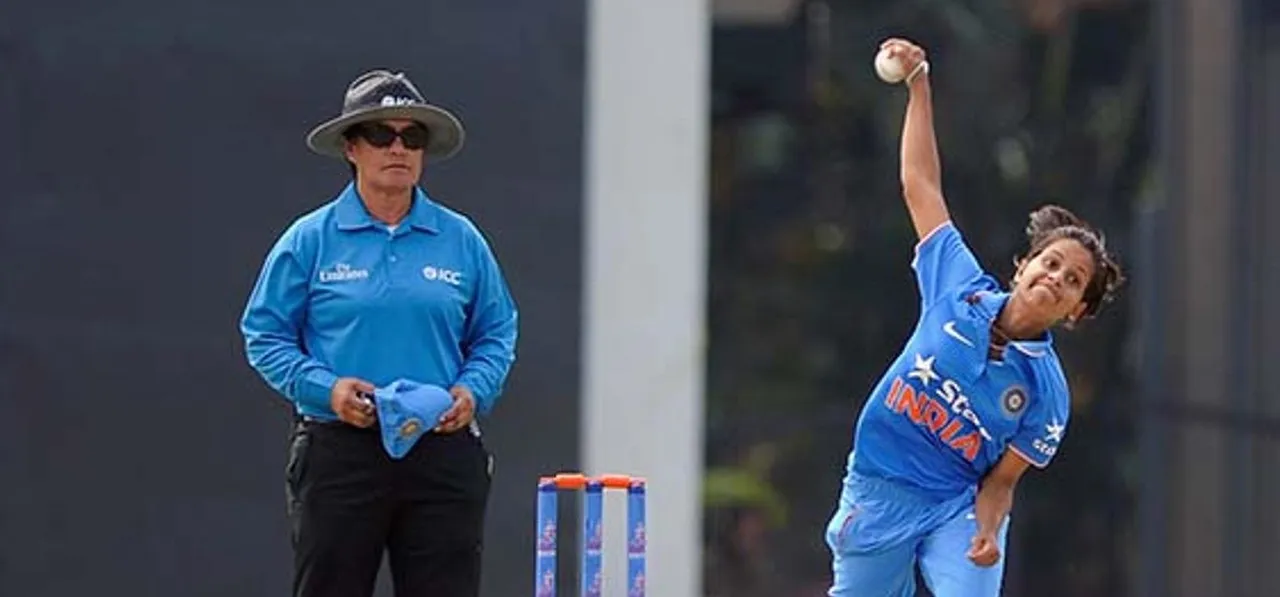 Quarterfinal 1 – Railways vs Team Uttarakhand at Just Cricket Ground, Bangalore
Poonam Yadav jumped by 11 spots to become the third-highest wicket-taker of the inter-state 50-over competition as Railways beat Uttarakhand comprehensively on their way to be the first semifinalists. She is now only one of the three bowlers with 20 or more wickets in the competition.
Poonam finished with figures of 6-2-8-5 – her second five-wicket haul of the competition – as Uttarakhand were dismissed for 62 in 37.5 overs. They are the fourth team in the competition to fail to touch the 100-run mark against a strong Railways bowling unit.
Opting to bat first, Uttarkhand lost Megha Saini in the seventh over when Arundhati Reddy trapped her in front of the wicket. Madhwal and Kanchan Parihar batted out 15.3 overs, but could add only 11 runs before Poonam struck for the first time. She had Madhwal caught behind for 14 – the highest score in the innings.
Parihar also fell to Poonam soon after that, and then it was a freefall. A total of nine batters were dismissed for single-digit scores, exposing the gap between the domestic giants and a rookie unit.
Poonam got good support from Ekta Bisht, the senior left-arm spinner who finished with readings of 8-5-4-2. Rajeshwari Gayakwad was equally parsimonious with 7.5-6-3-1.
With not much to chase, Railways opted for a new opening pair of Mona Meshram and Sneh Rana, and the duo did not disappoint. Their unbroken first-wicket stand of 64 included eight fours and a six as they ushered victory in 8.2 overs. Both of them ended with a strike-rate above 100.
Railways will play the first semifinal against the winner of the Bengal-Baroda match at M. Chinnaswamy Stadium on December 29.
Team Uttarkahand 62 in 37.5 overs (Poonam Yadav 5-8, Ekta Bisht 2-4) lost to Railways 64/0 in 8.2 overs (Mona Meshram 37*) by ten wickets.
Quarterfinal 2 – Andhra Pradesh vs Odisha at M Chinnaswamy Stadium, Bangalore
CH Jhansi Lakshmi's patient 75 off 108 balls as opener and a disciplined bowling effort formed the backbone of Andhra's thrilling three-wicket win over Odisha in the second quarterfinal.
Chasing a below-par score of 161, Andhra built through a third-wicket stand of 44 between Lakshmi and E Padmaja before Sushree Pradhan, who had top-scored for Odisha with 46 from No.7, broke the partnership in the 26th over.
With Padmaja gone, the onus became double on Lakshmi to hold the batting together even as there was a mini-collapse at the other end. Four wickets fell in a space of 45 runs, as Andhra were reduced to 126 for 6 in 35.3 overs. Soon Lakshmi fell to Priyanka Priyadarshini, Odisha's best bowler with figures of 10-3-17-2.
The equation boiled down to Andhra needing 24 runs off 10.1 overs with three wickets in hand. It was anyone's game, but the eighth-wicket pair of K Anjali Sarvani (11 not out) and K Jyothi (12 not out) got Andhra home with 46.5 overs. They went about their partnership in a non-fussed manner, focussing on rotating the strike and not trying to hit a single boundary.
Odisha would have rued for not utilising a chance to bat Andhra out of the game after opting to take first strike.
Except for the second-wicket stand of 54 between Madhuri Meheta and Sarita Meher, there was hardly any intent from the top order. Even that stand was too slow in nature, meaning Andhra were always in control.
One wicket led to four and Odisha became 81 for 5 after Padmaja bowled Meheta in the 32nd over.
Sushree found good company in Priyanka initially, and then she and Reemalaxmi Ekka accelerated towards the end as Odisha added 35 in the last six overs. They would have hoped to touch 170 at least, but lost three wickets including that of Sushree in the final over bowled by G Chandra Lekha. She finished with 2 for 16.
Of the seven bowlers used by Andhra, five of them got a wicket at least.
Andhra will take on the winner of Mumbai-Himachal Pradesh match at Just Cricket Ground on December 29.
Odisha 160 in 50 overs (Madhuri Meheta 42, Sarita Meher 27, Sushree Pradhan 46; K Jyothi 2-31, G Chandra Lekha 2-16) lost to Andhra 161/7 (CH Jhansi Lakshmi 75; Priyanka Priyadarshini 2-17, S Pradhan 2-28) by three wickets.