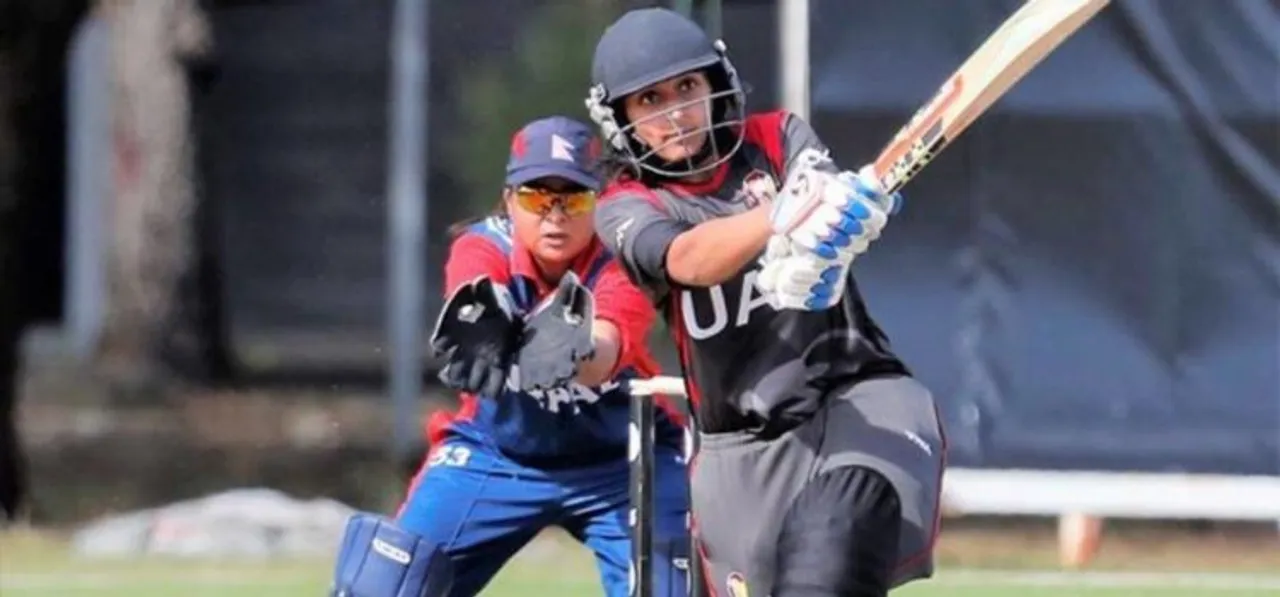 Esha Oza, UAE cricketer, is hopeful of women's cricket getting the same level of engagement as the men's game in the future.
"Playing in Mumbai has opened my eyes to the growth of the women's game in India. We used to have only four teams in the UAE, but in India there are 36 teams playing against each other," Oza wrote in a column for 
aroundthewicket.com.
"With increased number of teams, there is also increased competition. I hope that one day, women's cricket will reach the same level of engagement as the men's game. In the 2020 T20 World Cup final, 86000 people turned up to see the event. I hope that one day we get this level of involvement in every single match."
Oza, who has played 16 T20Is for UAE, believes cricket in the UAE has grown over the years. "In 2007, when the game of cricket was first introduced in the UAE, there were only a handful of girls who would participate. The national team was then selected from the girls who participated in the school tournaments. There was not much competition. However, the game has developed remarkably over the years. Now we have over 300 girls participating in the sport."
ALSO READ: Humaira Tasneem: From backyard cricket to UAE skipper
"I started learning cricket in 2013 and within a year, I made my debut for UAE. This was the year we won the Gulf Cup Championships. It was the turning point for women's cricket in the Gulf. In the last three years, we have made it to the global qualifiers, which is a big achievement for the girls. From playing with countries part of the Gulf Cricket Council and East Asian countries, we got to play against more established teams across the globe," she wrote.
Oza, who was part of the ICC Development Squad that played few matches in England, talked about the opportunity she got to rub shoulders with the likes of Ellyse Perry and Sachin Tendulkar.
"During one of the pre-season camps, Sydney Sixers and Sydney Thunder WBBL teams set up a camp in Abu Dhabi. The week before their practice match, we had the opportunity to train with them. Unfortunately, some of the players were injured and a few of us were asked to fill in the rest of the spots. I got to be in the Sydney Sixers squad, which was captained by Perry. She handled things very differently on and off the field. She was relaxed and didn't pressurise anyone. I was asked to bowl by her, and also took a wicket. Perry was incredibly supportive and very encouraging. I guess along with greatness, comes great humility," said the 21-year-old.
https://open.spotify.com/episode/3wIV5plfHhXuX9kotfATXW
"Another wonderful interaction I had was with Sachin Tendulkar. I got a "once in a lifetime" opportunity to train with him in Mumbai. I am currently playing for Mumbai in the Under-23's and senior women's tournaments. He came and bowled to me in the nets and provided some advice on my batting. He also told me the areas that I am doing well. There was a series coming up and he was participating in the tournament. I was sitting on the side, watching him bat and he asked me to bowl to him. I bowled for about half an hour. Furthermore, in an interview with
ESPNCricinfo
, he even mentioned my name, which was amazing."