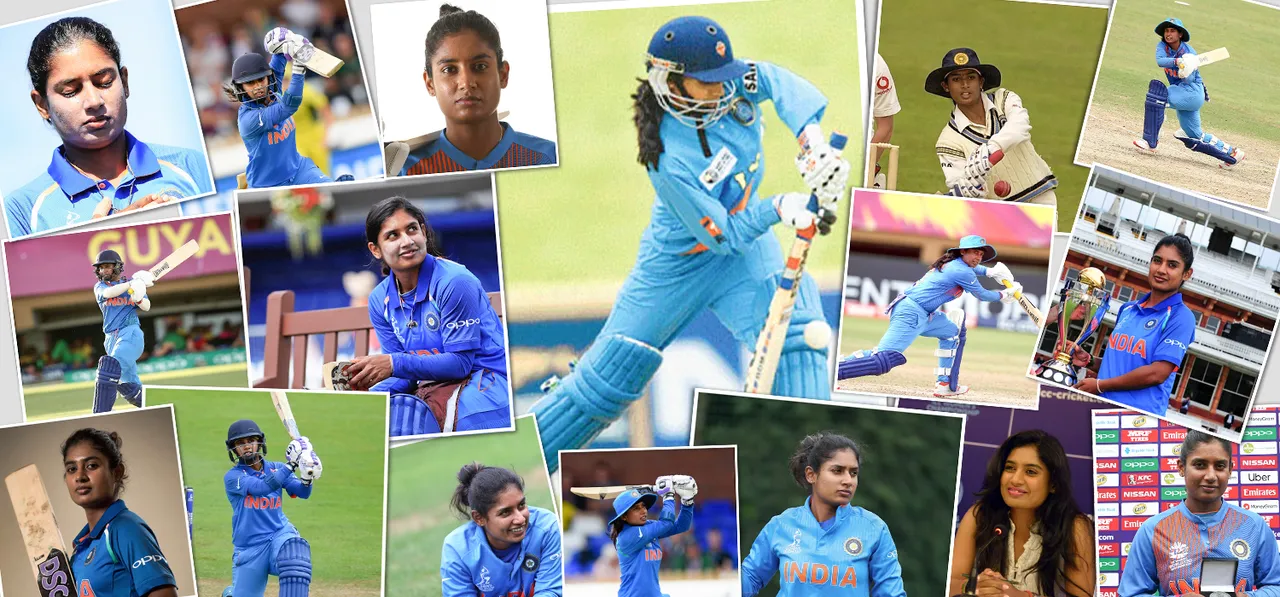 2020 has been a year of nostalgia and reminiscing. Confined to our homes, deprived of live sport or new forms of entertainment for a large part of the year, we dove into old photo albums, re-watched old matches, and tried to constantly rekindle past memories.Through one of my many cleaning sprees this year, I found an old picture that caused me to drop what I was doing and take a trip down memory lane, connecting the dots that brought me to where I am. So, before we flip the calendar to 2021 and prepare for all the excitement that is coming our way, I'm taking the opportunity to be nostalgic one final time this year... 
The year is 2001. I am all of 10 years old. I walk into my room and excitedly glance at the blank walls. I have just received my first poster – it's one of Rahul Dravid. I eye a patch in the middle of the biggest, blankest wall of the room, climb on to my study table and put up the poster. I take a step back and survey my handy work.
Slightly crooked
, I think to myself,
but this will do!
Fast forward a few years and my room is covered with posters of sweaty men in the heat of battle. They are all exceptional athletes who have achieved sensational feats.
Like most Indian children I grew up hearing stories of successful cricketers from across the world. If my grandfather wasn't describing the incredible accomplishments of Sunil Gavaskar, he was praising the wrists of ML Jaisimha and Mohammed Azharuddin. He told me of the guile of Bishan Singh Bedi, the incredible reflexes of Eknath Solkar and the athleticism and skill of Kapil Dev and Mohinder Amarnath. I listened transfixed as my father narrated stories of Michael Holding and Dennis Lillee, Clive Lloyd and his invincible West Indians, Allan Border and his steely resolve, and Ian Botham's belligerence. They were tales I fell in love with.
Occasionally, as an afterthought, I heard of the exploits of Shantha Rangaswamy, Shubhangi Kulkarni and Purnima Rau, and while their accomplishments were certainly impressive, I couldn't quite picture them in my head.
Who were these women? Why hadn't I seen them?
ALSO READ: 'I thought I would be that one series wonder'
This was my childhood – filled with stories of extraordinary cricketers and with posters of many more wonderful players whom I watched on television. They were all I wanted to be. I knew nothing else, because I saw nothing else.
Then, one day in April 2005, my life completely turned around.
The Women's World Cup was underway in South Africa, and while I had been tracking India's progress via scorecards, there had been no images in the media until the semi-final…
It was a small picture in a national daily – an Indian captain playing a forward defensive shot. It had been taken from the square boundary, so it magnified the batter's exemplary technique – bat and pad close together, weight forward, head over the ball, and the ball thudding perfectly into the middle of the bat before it hit the turf from whence it came. Above the picture, ran a headline 'Mithali helps India dethrone Kiwis'. Below it, was a caption, 'captain's knock'; and underneath that a 100-word brief explaining that India had reached the World Cup final on the back of the skipper's unbeaten 91.
There was little celebration around what was an incredible achievement. An unfancied team, with a new captain, coming together to oust the defending champions and make their maiden World Cup final. It deserved a huge celebration. But instead, all they got was a tiny picture and a negligible number of words.
But that tiny picture would change my life….
***
As a kid, all I wanted was to play for the Australian men's team. When I played 'Test matches' in my room or with my father, I pictured myself lining up alongside the likes of Ricky Ponting, Adam Gilchrist, Brett Lee and Glenn McGrath. How could anyone beat that team?
It wasn't until 2005 that that dream receded, and I had the chance to start with a blank slate and fashion a new dream.
Let's face it, women's cricket didn't get much coverage in the early 2000s. You were lucky if you saw even a 100-word brief about a women's match or tournament in the country. But that picture of Raj triggered something in me – I became obsessed. I dug for stories, scores and any information I could find on the Indian women's team. I absentmindedly doodled the names of Mithali Raj, Rumeli Dhar, Jhulan Goswami and Amita Sharma in my notebooks, and wrote my own match reports and stories whenever I could.
That picture – my first visual of a female cricketer – opened up a world of possibilities for me. I could finally see what I wanted to be.
***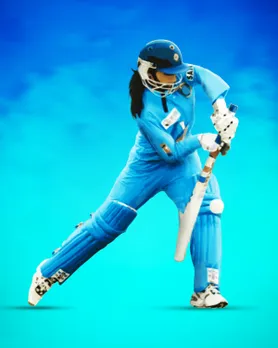 Mithali Raj's picture perfect forward defence. © Women's CricZone/ Ayan Mukherjee
I bet you're wondering why I am so obsessed with this picture. First a whole
Twitter thread
, and now an entire article about it?
I mean, it doesn't seem that special. It doesn't capture a significant moment in Raj's career; it is not a trademark stroke (read: the cover drive); and neither is it a particularly striking photograph. But this picture, to me, is quintessential Raj.
I have had the honour of bowling to Mithali 
di
on many occasions over the last decade. I have watched her play for even longer. And through this period, whenever she has batted, the forward defence has always made an appearance.
Like most batters, Raj hates to get out. But what makes it different is that she hates to get out anywhere – in the nets, in the streets, (probably even if she's playing with little kids), EVERYWHERE. So, when a bowler delivers what she deems to be a 'good ball' it is always met with respect. The forward defence is on display, and it's always picture perfect – bat next to the pad, weight forward, high elbow, allowing the ball to come to her. It's perfect batting. It's perfect Raj – solid, reliable and in control of the proceedings. It's everything you see in that picture and more!
***
"I think Mithali changed the face of Indian cricket," Nooshin Al Khadeer, former India off-spinner and a close friend of Raj, tells
Women's CricZone
. "We had big names of Shantha Rangaswamy in early '80s, but then there was absolutely nothing. We did have some great players in between, but the kind of impact which Mithali had, it was she alone who stood up to make them understand that there's women's cricket with the kind of records she achieved having started off at an early age. So, today I would say that she hasn't been just a stepping stone, she has been the ladder for the kids who are taking up this game now."
While Al Khadeer's statement might seem a tad hyperbolic, it is not far from the truth. Ask around the domestic circuit and many players will admit to the current India ODI captain being one of their first role models. She became someone they all aspired to be. She showed a generation of young girls (and women) that they could be the best in the world.
ALSO WATCH: Who was Mithali Raj's latest international wicket?! | HowSTAT?!
Throughout her international career, Raj's achievements with the bat meant she forced her way into the consciousness of a nation and a media that had no time for her or her team. Through the sheer weight of runs and results, she kept women's cricket in the news. Between 2005 and 2017 – when the country woke up to the ability of the women's team – Raj (alongside Goswami) was the flagbearer of Indian cricket. She took it upon herself to inspire her teammates to push themselves against the very best in the world. It took a while, but by the time the country was ready to open its arms to women's cricket, her team was ready too, and they duly took the world by storm. The skipper had made the path for the others easier – she had done her job.
Raj's contributions to Indian cricket can be quite easily assessed quantitatively – number of games played, number of runs scored, number of matches won, and number of trophies gained – but doing so would be reductive, and a disservice to her true legacy.
As a kid growing up, dreaming of one day playing international cricket, for me, she was the be all and end all of Indian cricket. It was through her that I was introduced to a world where Dhar, Karen Rolton, Cathryn Fitzpatrick, Isa Guha and so many others could become my heroes… a world where it was possible for women to succeed at cricket, and be the very best at what they did.
While there were many before and there will be many after her, there is little doubt that Mithali Raj was the first superstar of the women's game in India. She was more than just a name on a scoresheet, there was a face to go with it as well. The flowing cover drives, the trademark floppy hat, the look to the heavens before she took guard, the casual glance around the field, and the unflappable temperament were there for all to see. She gave us all the opportunity to rewrite our dreams of wanting to be Tendulkars, Kumbles, Srinaths and Dravids; we could be so much more than the men whose faces dominated the walls and the front pages… We could begin with a clean slate.
Mithali Raj didn't just change the face of Indian cricket, she became the face of it!
***
The walls in my room are now empty. There are no more posters, but there is one picture, hidden away on the inside of my bookshelf… the same picture of that Indian captain playing a forward defence, forcing the ball into the ground. While she is no longer the only face of the women's game in India – replaced by a younger generation of players – Raj is still the bar that young cricketers want to reach – the runs, the longevity, the numerous records, and of course, for tragics like me, that picture-perfect forward defence.