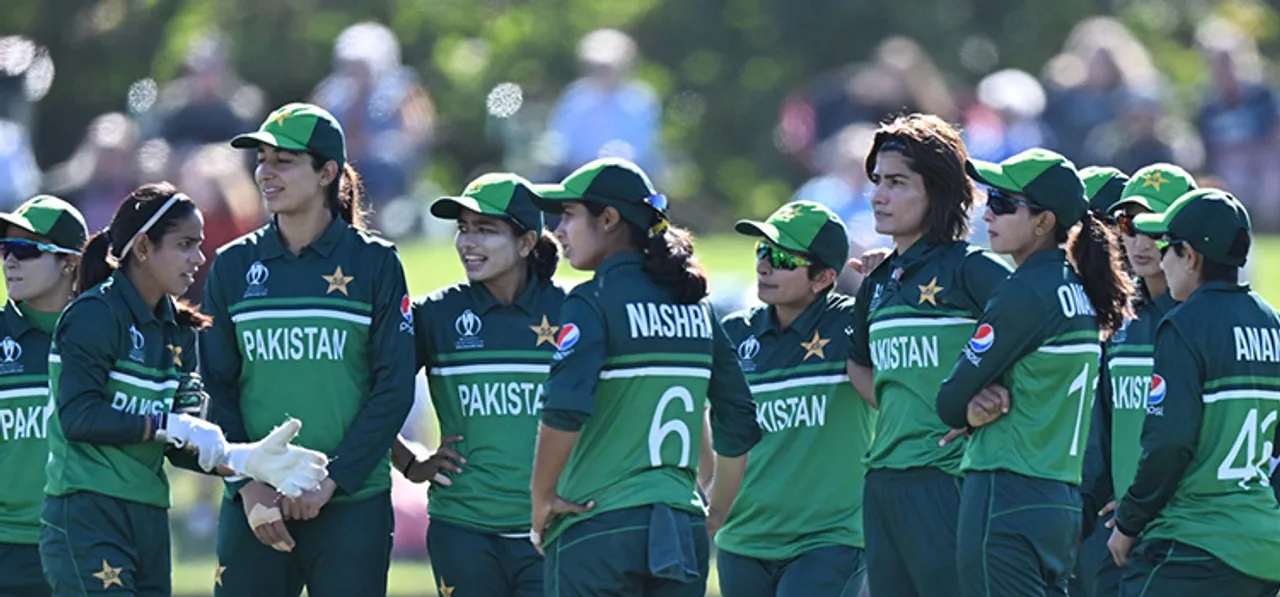 On February 8, 2022, a month before they were to face India in their opening game of the World Cup, the Pakistan Cricket Board's (PCB) Twitter handle shared a small video. All the members of the World Cup squad were dressed in traditional white kurtas and proudly donning the green blazer with PCB's emblem on it. In the video, the team is asking their fans to get behind them in the ICC tournament. Set in the background of rousing music, this video has more than 30 thousand views on Twitter alone. And the man behind this video, the Pakistan team's media manager,
Ahsan Iftikhar Nagi, deserves big credit.
"The idea was to let the people know that the World Cup is coming up and the Pakistan team is going to play. So, people can get behind the team," Nagi told Women's CricZone. "I wrote the script and it was all about asking the fans to support them."
https://twitter.com/TheRealPCB/status/1491075588970676228
Nagi believes PCB understood that they needed to have an active connection with the fans and took active steps toward being lively on Social Media. "It's not only on the women's side but across the board, whether it's men's cricket, U19 cricket, we have seen the transformation in how we promote and project the initiatives. 2-3 years ago, we decided to be more active on social media and the digital front and connect with our fans. The mantra behind all of our campaigns is that the game is about the fans."
ALSO READ: 
I want to be the player who finishes matches for Pakistan: Aliya Riaz
These fan engagements were at their peak during the Pakistan men's Test series against Australia, which was simultaneously being played at home. Amongst the quirky and hilarious banners that were on display throughout the series, one banner caught a lot of attention. During the second Test match in Karachi, a fan, Alvina Ahmed, held up the poster which read, 'Let Bismah Maroof know she is my inspiration.' 
https://twitter.com/maroof_bismah/status/1502913178686173192
Nagi said he immediately forwarded the image of that poster to Pakistan's captain, who was returning to international cricket after maternity leave. "I forwarded it to Bismah
as soon as I saw it. It feels good (to see those posters). As a PCB media manager, this is what my job is. It's a nod to what PCB's digital media department or media department has been doing for so long. It has been a response to the goal we set for ourselves and we are hitting those," he said. 
Ahmed later told the 'Pakistan Cricket Podcast' about why she decided to carry that poster to the National Stadium. "I decided to carry that poster because she actually is my inspiration," she told host
Samee Siddiqui. "
From the day I saw the video about her returning to training, I have been in awe of her. She is breaking a lot of stereotypes. Becoming a mother and still returning to the field, shows her level of commitment. In our society, women are forced to choose between family and career. She has shown that you do not have to choose between these two things," Ahmed added. This was one of the prime examples of how a team's social media visibility can lead to more fan engagement.
ALSO READ: Want to capitalise on every opportunity that comes my way in the World Cup: Nida Dar
During the World Cup in New Zealand, the social media handles also released player stories like that of Sidra Ameen, who became the first Pakistani player to score a century in the World Cup, and Ghulam Fatima, who marked her return to international cricket after four years. Nagi believes the social media team aimed to make players more visible throughout the tournament. 
"(Those player videos) were there to help (fans) relate to the player. My idea for those videos was to show people that this is the product of hard work. This is a product of not giving up. Sidra's story is something many girls and women in the subcontinent can relate to. To come from a humble background and pursue your dream of playing for Pakistan. Those struggles are relatable. My idea was to showcase them," he explained. 
https://twitter.com/TheRealPCB/status/1505137009525993475
In 2020, Pakistan appointed David Hemp as the head coach of the team. Hemp, who represented Bermuda during his playing days, also had a coaching stint with the Melbourne Stars in the Women's Big Bash League, a tournament that itself has grown leaps and bounds with media attention across the world. Nagi expressed his gratitude to the coach, who has been supportive of his work. 
"I want to mention David as well, he has been a great support. I think he understands the need to promote these players, so people can watch them, listen to them, and relate to them. He has been very accommodating. Even during my first tour of South Africa, or in West Indies, he was very supportive but it would not have been possible without the board and their support," he added.
Whether it was an image of Indian players playing with Maroof's daughter, Fatima, after the match, or the image of young pacer Fatima Sana's chat with New Zealand men's fast bowler Trent Boult, Nagi, and his team kept PCB's social media handles buzzing with content from the World Cup. Despite Pakistan Super League, Australia's multi-format tour of Pakistan, and some political instability running simultaneously with the ICC tournament, he believes PCB is hitting its goals to create an appetite for women's cricket.
https://twitter.com/TheRealPCB/status/1501439906698072064
"As a media manager of the Pakistan side, it was very important for me to create that appetite. You don't know what brand or what products you want, but that's where a good marketer comes in. That is sort of my role with this team because I was there to help these players connect with the fans. If a young girl cannot connect with Bismah Maroof, Diana Baig, Aliya Riaz, and Nida Dar, then she will not be inspired to take up the sport. So, it is very important to show them how these players are as a person," he explained. 
With PCB recently announcing the busy international schedule for the 2022-23 season, we will see more of such stories, images, and videos from Nagi. The PCB has given the template for what an active social media team can achieve, we just have to see what's in store next.