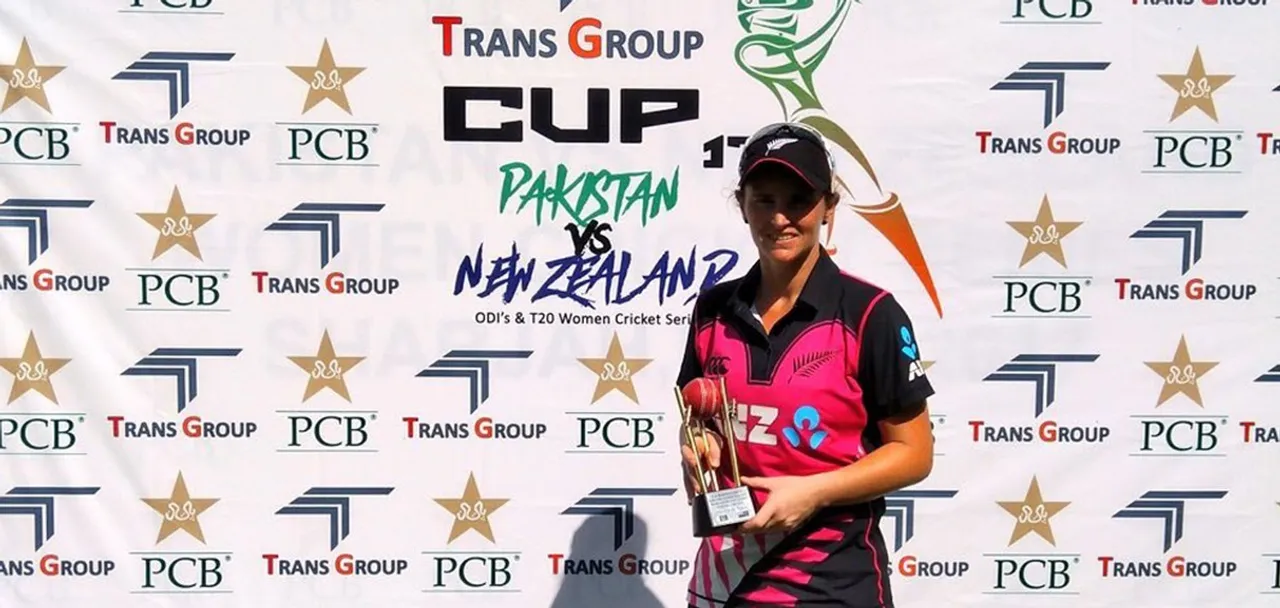 Pakistan Women
won the toss and opt to bowl first. 
Pakistan
XI
: Ayesha Jafar, Sana Mir, Javeria Khan, Sadia Yousuf, Bismah Maroof (c), Aiman Anwer, Nahida Khan, Anam Amin, Iram Javed, Sidra Nawaz (wk) and Sidra Ameen 
New Zealand
XI:
Suzie Bates (c), Sophie Devine, Thamsyn Newton, Sam Curtis, Amy Satterthwaite, Katey Martin (wk), Leigh Kasperek, Lea Tahuhu, Katie Perkins, Anna Peterson and Amelia Kerr. 
Umpires:
Khalid Mahmood(PAK) & Asif Yaqoob(PAK) Reserve Umpire: Rashid Riaz(PAK) Match Referee: Mohammad Javed(PAK) 
Being forced to bat first the White Ferns got off to the
worst start
from just the second ball of the match when skipper Suzie Bates was lbw as a loud appeal from bowler Aiman Anwer and wicket-keeper Sidra Nawaz convinced the umpire to give her out. 
Katie Perkins joined Sophie Devine. Both the batswomen played wonderful innings and raining fours and sixes. These two cracked the crackers until the tenth over when
Sadia Yousuf
's turning delivery found the edge, and
Sophie Devine
41(29)
was caught by Javeria Khan; New Zealand was two down for 69 runs. Just after seven balls
Katie Perkins
26(31)
was stumped by Sidra Nawaz on Javeria Khan's handsome delivery. 
Katey Martin
46(27)
and Amy Satterthwaite kept the run-rate constant and a 44-run partnership in 33 balls between them gave a good total. Amy Satterthwaite 17(18) played a lose shot towards Sana Mir from the bowling of Sadia Yousuf and lost her wicket. New Zealand women reached 117/4 in 16 overs. 
The last 24 balls were a bit dramatic as New Zealand lost 4 wickets for 30 runs. The final score on the board was 147/8 after 20 overs. The New Zealand side was fully confident that this total was enough. While Pakistan got a very valuable wicket so early but after that couldn't find anything extra that create any trouble for the White Ferns;
Aiman Anwer
became the most economical (4-0- 18-1); while Sadia Yousuf was excellent with the ball (4-0- 30-3). Sana Mir and Javeria Khan got one each. 
2nd Innings:
Having 148 on the board with the required rate of 7.40 Pakistan needed some explosive batting or a big partnership. Opener Nahida Khan and Ayesha Jafar tried their best, and went about their task very beautifully, and played some overs carefully and then hit fours when needed. 
In the seventh over
Nahida Khan
,
34(25)
was run out; just four balls later Ayesha Jafar 9(18) was caught by Suzie Bates from the bowling of Sophie Devine. At that point, Pakistan was two down for 47 in 7.3 overs. Skipper Bismah Maroof and slow orthodox bowler Javeria 
Khan took the innings to the fifteenth over when Bismah Maroof 25(22) was caught by Katey Martin from pace sensation Lea Tahuhu's ball. 
Iram Javed came in and after facing just three balls and scoring only run was clean bowled by Thamsyn Newton. It was
Javeria Khan
27(29)
who returned to the pavilion in the next over after a direct throw from Anna Peterson. 
Half of the Pakistan team were out with the score on just 101 runs in 16.1 overs. From there Pakistan women needed 47 runs in 23 deliveries. Sana Mir and Sidra Ameen the two new batswomen were at the crease at that point and they had only one option to hit every ball for six, but nothing worked, and Sana Mir 1(1) was dramatically run out from a throw from Amelia Kerr and Leigh Kasperek took the bails from the stumps. 
15 balls and 40 runs needed was a hard task to achieve. Both Sidra Ameen and Nawaz appeared helpless and singles and twos were not enough from the last balls of the innings. Sidra Nawaz 9(8) was caught by Katie Perkins from Thamsyn Newton's ball. Sidra Ameen 17(15) remained unbeaten while Sadia Yousuf, Aiman Anwer, and Anam Amin didn't bat. In the end, Pakistan fell 15 runs short. Only Anna Peterson was relatively expensive; Thamsyn Newton got two (3-0- 22-2); Sophie Devine (3-0- 17-1) and Lea Tahuhu was economical (4-0- 19-1) while rest of the bowlers remained empty-handed. 
Match Facts:
-
New Zealand
women
registered the victory by 15 runs and
lead the 4-match series 1-0.
There were 22 fours and 3 sixes.
-
Katey Martin
became
Player of the Match
for 46 runs on 27 balls with
170 plus strike-rate
.
-
Katey Martin
recorded her highest score in T20I; her last best was 29(40) against India women in 2011. -It was Saida Yousuf's third 3-wicket haul and fourth best bowling figures.