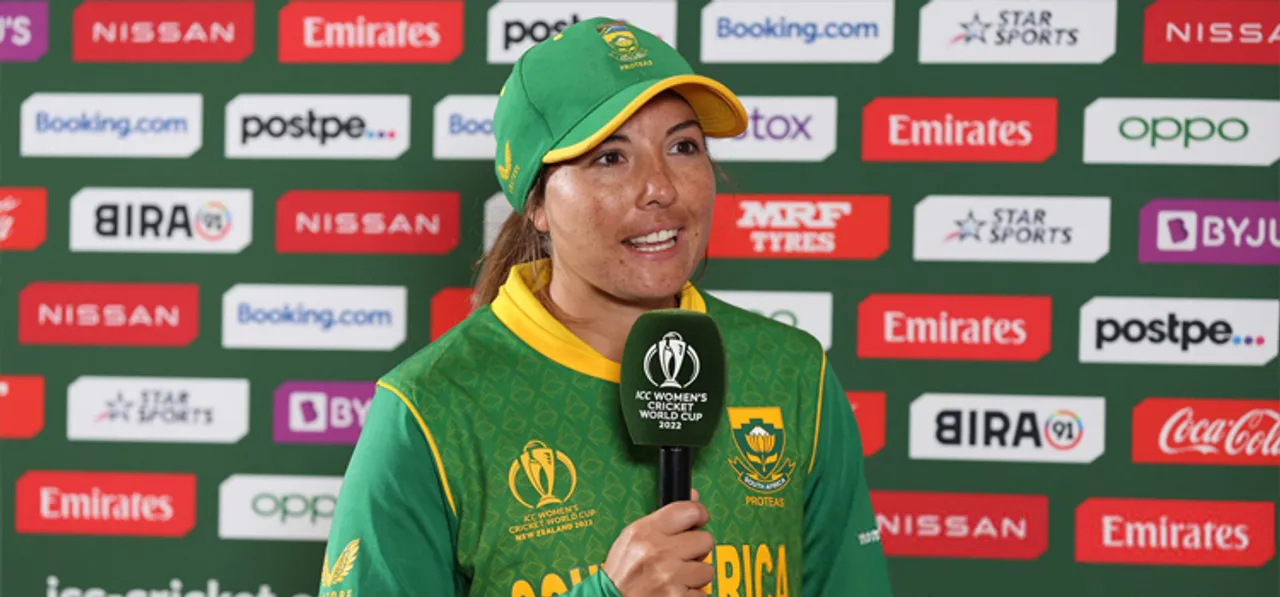 With it being a home World Cup, we're very excited.  We're going to have all our family and friends at every game, so that's also very exciting.
The aim for every team in the World Cup is obviously to win that trophy. In the past we've come so close every time; we've made the semi-finals and then having to go through that loss. So hopefully this year is our year, where we can actually get through the semi-finals, get into that final and hopefully keep the trophy in South Africa. That would be amazing.
The preparations have been very good. We've played our league games in the Tri-Series against India and the West Indies, and that's been going very well.
We are used to the conditions, obviously being a home World Cup as well, we know what to expect from every ground we're going to be playing on. Hopefully we can use that to our advantage.
We're a very well-balanced team. This year we have a good balance of experienced players as well as new youngsters coming through. That makes it very exciting for us.
Our bowling attack has always been our strong suit, but I think we have a very powerful batting lineup as well. That's something I look forward to seeing come to the fore in this World Cup.
We have our standouts. We have Marizanne Kapp in the team, she's always a very good T20 player. Laura Wolvaardt up the order as well. Chloe Tryon is very powerful as well, and also Shabnim Ismail, our pocket rocket.
And then we have some youngsters coming through. Nadine de Clark, someone I think is a very underrated cricketer, but is very good, and Nonkululeko Mlaba, she's a very good bowler and also someone that I think is very underrated.
When it comes to memories from past T20 World Cups, I don't know if it's very memorable, but our semi-final against Australia at the previous T20 World Cup. We came so close and for our team to come so close to a team like Australia, it just showed the growth that we've had over the last couple of years.
It's really exciting to see where we are going to be this year in the World Cup.  
South Africa is a great venue. We have a great crowd coming in. We have a good vibe as well around the country.
Playing at two coastal venues, it's going to be low and slow. but the groundsmen might surprise us, you never know what they will give us. Paarl is going to be very hot, and it might also be slow. With the SA20 on all the pitches at the moment, they are a bit worn and torn, so it's going to be interesting to see how they play.
A successful tournament at this year's World Cup would be massive. I don't think I can explain the magnitude of what a tournament victory could do for our country and women's cricket, and just women's sport in general.
The only way to do that is by winning a trophy, but if that's what it takes, then we're up for the challenge to inspire the next generation to pick up the bat and the ball and for people to take women's sport and women's cricket seriously.
The women's game has transformed a lot over the years. It has grown so much and it's very exciting with all the leagues coming up and the Women's IPL (Women's Premier League) starting soon.
T20 International cricket is also always fun, it brings in the crowd and I'm hoping for this World Cup the crowds will be coming in their numbers. I know our PE (Gqeberha) game is already sold out, so that's very exciting.

Column written by South Africa skipper Sune Luus for the ICC ahead of the Women's T20 World Cup 2023, supplied by ICC Media Zone.