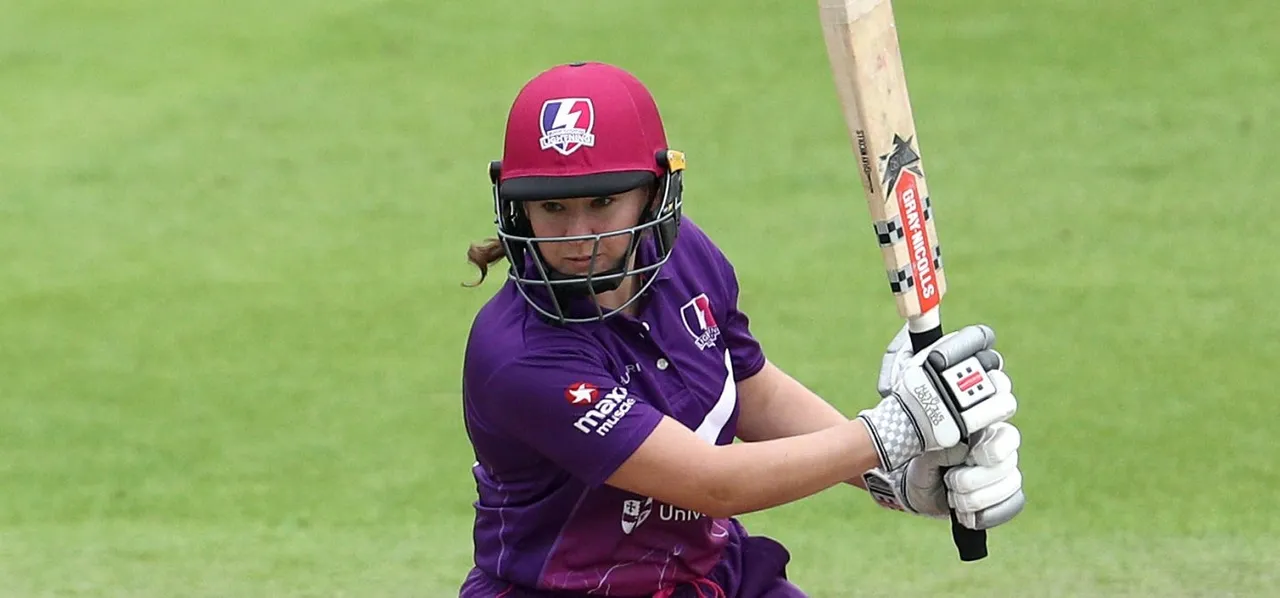 Lightning skipper Kathryn Bryce likes to be in the thick of the action. A top-order batter and opening bowler, she's seldom out of the game. It's no surprise then, that it has informed her approach to captaincy since she took over the reins of the Scotland national side two years ago, aged just 21.

In the second match of this summer's Rachael Heyhoe-Flint Trophy, Bryce took five wickets and hit an unbeaten half-century that almost saw her side home.

"I just enjoy being part of things and being able to make an impact," she tells Women's CricZone. "That's probably how I like to lead as well as captain from the front, by example, and through my performances, rather than saying too much."

Bryce is already one of the most experienced members of the new-look Lightning regional side which has registered three defeats so far. All three games though have seen close finishes and Bryce sees signs of encouragement.

"They've (the players) probably not been part of the high-level environment before and to see how they've grown over the last month being part of this team is really exciting."

"Probably straight after the games it's definitely the disappointment of getting so close but not quite getting over the line. But it's really promising having those performances from a number of different people and really valuable going forward."

ALSO READ: I only ever played because I love the game: Beth Morgan looks back at a remarkable career

Last weekend, former England star Jenny Gunn hit an unbeaten half-century to steer Northern Diamonds to a narrow two-wicket victory over Lightning. It was the kind of performance under pressure which Bryce believes her players can learn from.

"Jenny's a great person to have around a squad. Just the experience that she brings, having played for England for a number of years, it was just the calm head that Diamonds needed to calm it down. She batted really well to get them over the line."

"There's no doubt that we've got the talent and the ability to do it in our squad which is really exciting. It's just the experience of playing at this next level. Quite a few people in the squad haven't really been through that before, so seeing how these experienced players in different teams perform is really invaluable."

Bryce's own path into the game came through the girls' team at George Watson's College in Edinburgh. She later became the first girl to play in the boys' 1st XI. After that, it was not long before she caught the eye of the Scotland selectors and made her senior debut in 2011, aged just 13, in a Women's County Championship match.

She recalls the sudden call-up for that match which she believes has stood in her good stead since.

"Scotland were playing in Stirling nearby and one of the girls broke her thumb in the game before and they had a double header. So, I just got the call, asking if I could come along and play. So, that's how I made my debut for Scotland. It's probably a big learning experience being able to play at that level at such a young age."


Kathryn Bryce made her debut for Scotland at only 13. © ICC

She played regularly for her country throughout the decade, featuring in the ICC Women's World T20 Qualifier 2015-16 in Thailand, as well as captaining the Under-17s for four years.

ALSO READ: Sophie Luff: Juggling roles, absorbing pressure, and doing it all with a smile

Her most notable performance during this time was a remarkable innings of 173* for Scotland Under-17s. It came in an unbroken stand of 336 with her younger sister Sarah - not the first time the pair would combine to thwart opposition bowlers. As well as playing together at Lightning, the sisters have batted regularly for Scotland and posted two century stands in T20Is. Theirs is a partnership built on a mix of mutual understanding and sibling rivalry.

"That was probably the big step in not just putting in good performances but putting in great performances at Under-17 level which definitely, I think, caught a few people's eye and showed that we had what it took hopefully to play and transfer that into the women's game," she says.

"We've played with each other for a number of years now, so we're really comfortable when we're out batting together in the middle, but we also try and challenge each other and try and beat each other at the same time, make it a bit competitive. But also, when we're struggling, we know each other so well, so it's easy to know what to say and to help each other through that. It's probably why it's worked out so well in the past, when we've had those big partnerships. We know each other's games so well. So, the running between the wickets and things like that, most of the time, it's pretty good!"

Bryce assumed the Scotland captaincy in 2018 when the ICC granted full T20 international status to all its members. She admits to having a few nerves but was able to call on her predecessor for advice as well as draw on her own already considerable experience.

"There were a few nerves going around, but I was lucky that Abbi Aitken <-Drummond> who was the captain before me was still part of the squad. She was so helpful on the pitch, just being there if I needed anything to help out."

"And I think I just took it in my stride and tried to enjoy doing it. The experience I'd had captaining at Under-17s, I kind of knew what it was like, having to think all the time and help everyone else out really helped and was beneficial."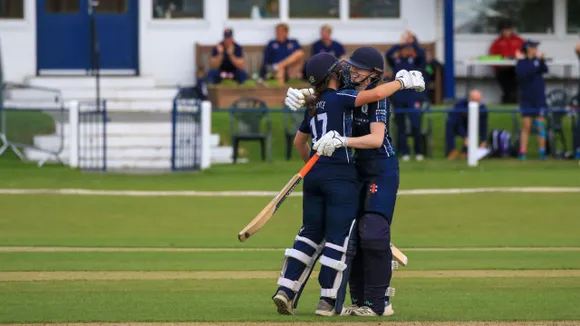 Kathryn and Sarah Bryce have shared several match-winning partnerships for Scotland at the international stage. © ICC

She gained further experience through being selected as part of the ICC Associate Rookie Program, spending time training with the Melbourne Stars during the 2016-17 Women's Big Bash League season. There, she had the opportunity to learn from some of best Australian internationals, including skipper Meg Lanning.

She sums up her time in Australia: "Just to be part of such an amazing team and such a great competition out there, training alongside them for a couple of weeks and learning as much as possible from them. Then coming back to England and being part of Super League teams going forward knowing what it took to play that professional level was wonderful."

ALSO READ: Equality, inclusion, diversity: Sue Strachan focuses on 'cricket for all'

Bryce first moved south to England in 2017 to attend university at Loughborough where Warwickshire captain Marie Kelly was also studying. She joined Kelly at the Division One county for three seasons and credits Loughborough for their support in helping her balance her studies with playing high-level sport.

The advent of regional retainer contracts has now opened up the option of pursuing a career in domestic cricket.

"That's always the dream - being able to play cricket professionally and make a career out of it. So now that's a possibility to be able to do that, which is really great. Hopefully, it will just continue to grow with women's cricket."

A few years ago fellow Scot Kirstie Gordon switched nationalities to play for England. While Bryce admits that it's something she has given some thought to, she is hopeful that the growing professionalism of the game in England may mean players do not have to make that choice in future.

"I think it's difficult at the moment to kind of know what you'd do when you're put in that situation," she says. "It's always been slightly in the back of my mind, but I think now when you're able to play professional cricket, and it's not at the international level for England or Australia, it makes it more of a possibility to be able to play regional cricket, but also be able to play for Scotland at the same time."

Like most nations, the pandemic means the immediate future is uncertain for Scotland who have not had the opportunity to build on the progress made under Bryce's captaincy.

"We lost quite a few senior players a few years ago, so the last couple of years have been rebuilding and getting us back up and bringing those youngsters in and getting them exposed to top-level global cricket," she explains.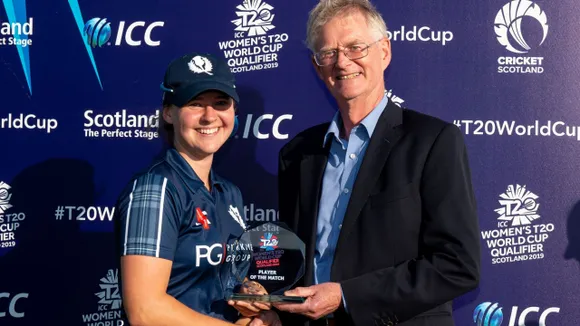 Kathryn Bryce receives a player of the match award. © ICC

"Unfortunately, we've not been able to play much this summer. It's a bit more difficult to know when we'll be able to get away and play some international fixtures. But it was looking really promising in 2018 when T20 international status gave a bit of a boost to the willingness of other teams to play more international cricket, which is really exciting."

"So hopefully, the next couple of years we'll have some more international series and playing that next level cricket just helps the team be exposed to that and grow. Hopefully, that will then feed down into the regional setup and Scotland Under-17s and then over the next few years, we'll see some young stars coming through."

ALSO READ: Of second comings and bravery - Sindhu Sriharsha's unconventional path to the top

Bryce is encouraged by some of the emerging Scottish youngsters who toured England last weekend with the A team. She highlights off-spinner Katherine Fraser who last year became the youngest female cricketer to represent Scotland in a T20I aged just 14 years and 81 days.

As well as overseeing the remainder of Lightning's campaign this month, the allrounder is also preparing for her final year at university. It has meant little time for music, her other passion in life. She was very involved in music throughout her school career, gaining Grade 8 in both violin and clarinet, playing in multiple orchestras and singing in choirs.

"I probably haven't played as much music as I'd want to in the last few years being away at uni, but I definitely enjoyed doing both growing up through school - playing in the orchestra and things like that. It's great to have something quite different and away from cricket, but I still enjoy playing when I'm back home."

For now, her attentions shifts to Friday's clash against Central Sparks at Worcester. Quite unsurprisingly, she has a positive message for her players.

"We've just got to try and take the momentum of the good stages of play that we've had and take the confidence from how close we've got in the last three games, and hopefully just find that extra 10 per cent that gets us over the line. If we keep playing good cricket, then hopefully the results will come."

https://open.spotify.com/episode/6Pdbvtu2ldOE4s1Yx9KJLb