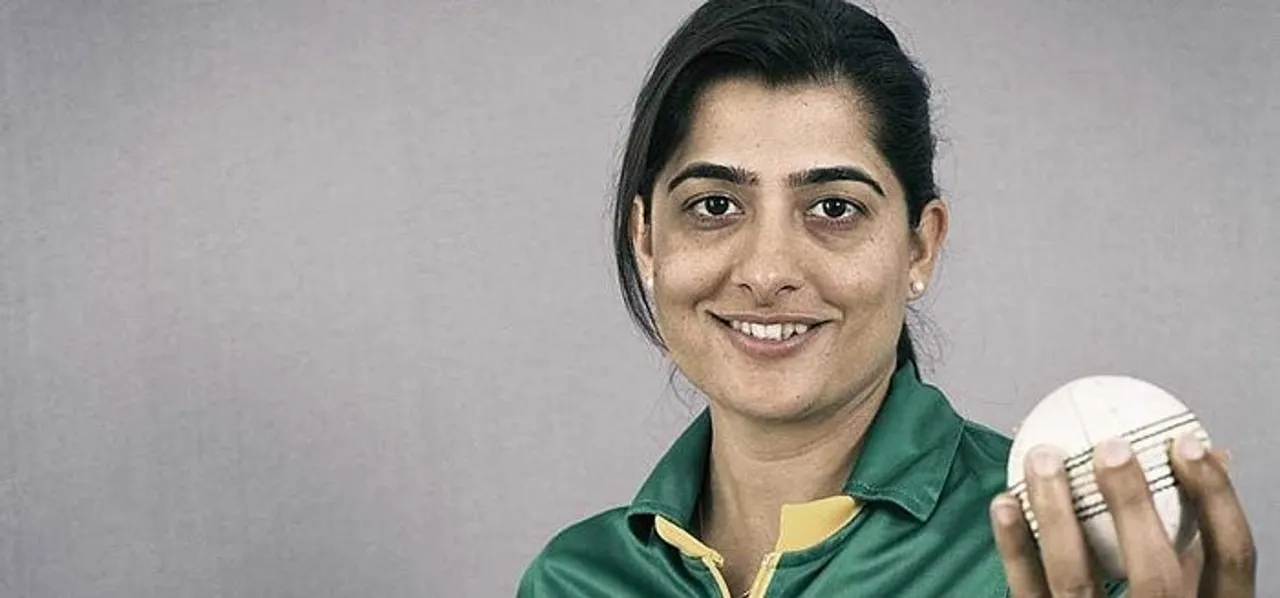 April 25, 2020 was supposed to be a regular day in lockdown. Unhealthily stare at the laptop for close to 12-14 hours, comb the world for any news of women's cricket, try to write something remotely good or meaningful, and head off to bed with the knowledge that the next day would be no different.
The sporting world was meant to be asleep. But Sana Mir made sure to wake it up with a
big old jolt.
I remember the exact time I saw it. I was just settling in after a long-ish lunch break, when I refreshed the Twitter tab to check if anything was happening. It was 2:08 PM. What I saw made me do a double take. Sana Mir's photograph and a tweet from the Pakistan Cricket Board. "This can't be true," I thought to myself as I tried to focus on the text in front of me. My heart was racing as my eyes frantically searched for the dreaded 'R-word', taking a few seconds to find it…
R-E-T-I-R-E-M-E-N-T
There are moments when you can literally feel your heart sink. Your chest feels heavy, your breath is short and your heart seems to be dropping inside you – almost as if pulled by the force of gravity… It makes you feel somewhat hollow.
The announcement of Mir's retirement left me feeling just like that. Another player from the pre-2006 batch drops off the radar. It felt like a part of my childhood (okay, teenage years) was being stripped away.
***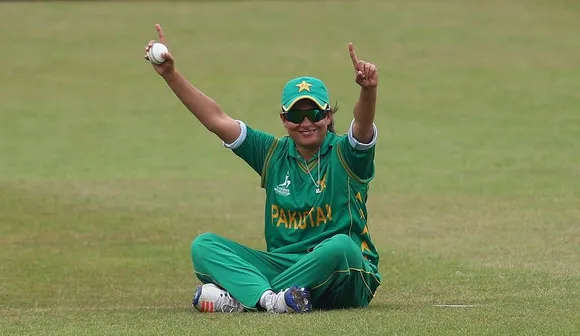 Sana Mir celebrates a spectacular catch in the 2017 ICC Women's World Cup. © Getty Images
For the longest time Mir has been someone I have wanted to meet. She is well spoken, forthright, honest, humble, compassionate, approachable and of course, a gun cricketer.
ALSO READ: What Sana Mir means to a young girl in Pakistan
Although I closely followed Mir's career since 2009, the real fascination for me, began in 2016 during the ICC Women's World Twenty20 in India. Fresh off a thrilling win over the hosts, Pakistan were playing Bangladesh in Delhi. They were expected to steamroll Jahanara Alam's side. It was meant to be a walk in the park.
Pakistan had been asked to bowl first and Asmavia Iqbal, their frontline seamer, took the ball. She was having some trouble controlling her booming inswingers, bowling a couple of wides in her first over, a couple more in her second, and also conceding a couple of boundaries by over correcting. She was clearly a little shaken.
After another wide + boundary combination, Mir, standing at mid-wicket, jogged over to Iqbal and put an arm around her. She calmly said a few words before purposefully placing the ball in Iqbal's hands and patting her on the back. It was time to deliver…
As someone who – until then – was more used to seeing faces of disgruntled captains when a bowler wasn't doing well, Mir's actions were refreshing.
Iqbal charged in rejuvenated the next delivery and duly rearranged the batters' stumps. It was like a dream sequence. The ball swerved between Salma Khatun's bat-pad gap and crashed into the woodwork.
The camera moved from an ecstatic Iqbal to a quietly pleased Mir at mid-wicket. She stood there, arms wide open, with a huge smile on her face as Iqbal enveloped her in a warm embrace. The joy on her face was boundless.
It is a moment I replay in my mind whenever I see someone struggling. It is that kind of compassion that set Mir apart from the rest. She cared deeply for her team and her players and backed them to the hilt. It was how she instilled within the Pakistan team a sense of confidence and belief that they could challenge the very best. After all, they had a skipper who would run through a brick wall for them.
https://twitter.com/SidraAmin31/status/1255067914157375488?s=20
On the field, Mir was the ultimate competitor. Every delivery was bowled with purpose, every ball played with an intent to score, and every effort in the field was as whole-hearted as the newest member of the team. Never did she give her opponents an inch. But when it was over, she was – according to most of her colleagues – one of the nicest and most approachable players on the women's circuit.
ALSO READ: Tributes pour in for Sana Mir
There are several pictures of Mir sitting in press conferences next to her teammates, looking at them with so much pride and affection. That was the Mir I fell in love with. She believed in her team, and results – good or bad – didn't shake that faith.
But it is not Mir's achievements on the field that I want to write about. Of course, she is Pakistan's most celebrated and decorated player, leading them to victory twice in the Asian Games, becoming the
No.1 ODI bowler
in the world, becoming the only Pakistan bowler to crack the 150-wicket mark in ODIs, one of only six players to score over 2000 runs and take over 200 wickets in ODIs… Mir's on-field accomplishments are beyond compare. She was a trailblazer, and it will be impossible for Pakistan to fill the gaping hole she has left for a while at least.
To me though, Sana Mir was so much more than the numbers on the field. She was a larger than life personality who had several strings to her bow – she was an activist, a mentor, a leader, and most importantly an incredible human being. In many ways she was the perfect role model.
While first and foremost an athlete, Mir has also used her platform to address social issues. She was the first Asian female athlete who I heard/ saw speak openly about so many different things from mental health, to body shaming, to climate change, all the way to women's and children's issues.
In an orthodox country like Pakistan, where women are more often indoors – working out of an office or home – Mir's rise to superstardom (as an athlete) came against the tide. But what was most notable about her journey, was that it was not one of rebellion or resistance. Instead, it came through understanding, acceptance and a strong determination and desire to bring people together.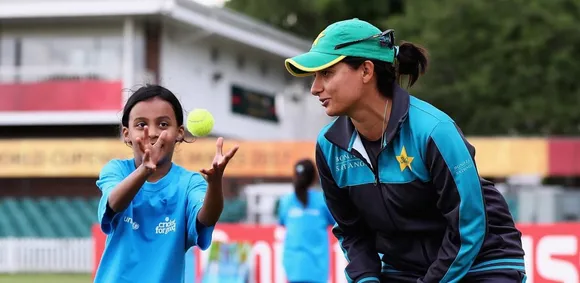 Sana Mir always had one eye on the bigger picture. © Getty Images
When building a fiercely competitive Pakistan team, Mir did not forget or try to change the innate culture of the country. When she took over as leader, she understood the need to win the trust, first, of the players' families and then the general public. The aim was to prove to them that the women were playing "for Pakistan, not against it." In a country with a "minimal sporting culture", Mir made sure that her team continued to live and breathe by the values of the country, thereby earning the respect and admiration of a nation.
ALSO READ: Sana Mir: the athlete, the person and the champion
While inspiring a generation of young girls in Pakistan to dream, Mir became proof that it is possible to reach the top with an eye on the bigger picture.
When she reached the World no.1 spot, she spoke about the impact it could have on women's sport in Pakistan and in Asia. Women and girls should no longer be seen as second-class citizens, she said. With investment, women too can reach great heights. She saw the achievement not as something for herself, but a chance to create more opportunities for Pakistani girls.
In a
piece for Women's CricZone
,
Maryam Mallick underlined the impact Mir had on young girls in Pakistan. I can safely say, across the border, too, Sana Mir had a similar impact. While we have had several champions take and dominate the field of play, it was Mir who used her platform as a public figurehead best.
Over the last three days I have attempted to collect my thoughts to try and explain what Sana Mir means to me. Honestly, it has been a case of trying to hold sand. The harder I try, the more the words seem to slip away. While I continue to grapple with reality – isolation/ lockdown doesn't help – and struggle to find the right words, I should probably end with this:
"Thank you so much, Sana Mir! You have been an inspiration in more ways than one. Through your incredible feats on the field and wonderful acts off it, you have continually proven what a champion you are. You taught me that empathy and compassion are an important part of being a successful leader, and that it's important to always have one eye on the big picture. Even if we are competing against one another in different walks of life, at the end of the day we are working together to make this world a better place. You are so much more than a legendary cricketer, Sana… You are my real life hero!"