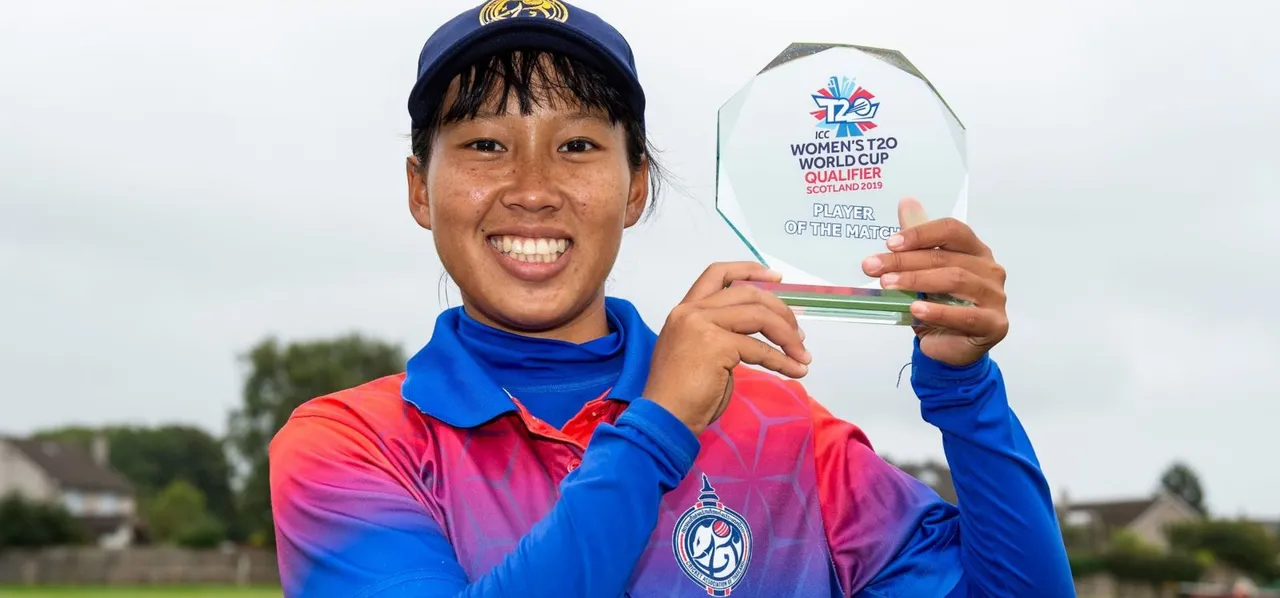 As Nattaya Boochatham tapped a full toss from Ravina Oa to mid-wicket and scampered through for a single, to seal a comfortable eight-wicket win for Thailand over Papua New Guinea, her teammates came rushing on to the field. Suleeporn Laomi and Naruemol Chaiwai— the architects of the win— were the first to reach Boochatham. As the rest of the team encompassed the left-hander, Sornnarin Tippoch walked on slowly, basking in the moment. Both she and Boochatham had been part of Thailand's first ever match where they were thrashed by Nepal... 12 years later the pair were at the centre of their team's greatest achievement!
Thailand completed an eight wicket victory over PNG to book their spot at the #T20WorldCup in 🇦🇺 ! Look how much it meant to them 👇 #THAvPNG pic.twitter.com/KiEzFsn5hm

— T20 World Cup (@T20WorldCup) September 5, 2019
Thailand's win over PNG in the second semi-final at the Forfashire Cricket Club in Dundee on Thursday (September 5) sealed their place first, in the final of the ICC Women's T20 World Cup Qualifier 2019, but second (and more importantly), in the ICC Women's T20 World Cup 2020 in Australia.
Going in to the semi-final, Thailand were favourites. They were the form team, and lived up to those expectations in the group stage. However, knock out games can be strange. Not always does the more 'fancied team' make it through. Pressure affects people in ways we don't understand. Maybe Thailand would be affected too?
Come Thursday, though, the Asian champions, it appeared, felt no pressure. Having been sent in to field on a used wicket, Tippoch's team went about their business as usual. Chanida Sutthiruang— as has been her habit all through the tournament— picked up an early wicket before Laomi made her presence felt in the field with a run out. Before they knew it, PNG had slipped to 19 for 2 within the power play and looked like a deer in the headlights.
Thailand were up and about in the field. Diving, sliding, sending in powerful throws from the deep and bowling incredibly tight lines. They built up dot ball pressure, forcing PNG to take risks.
In contrast to their opposition, Oa's team, looked lost out of their depth. The batters were bereft of ideas and didn't know how to handle the swing of Sutthiruang or guile of Laomi, who finished with incredible figures of 4-1-5-1.
Sibona Jimmy (13), Kaia Arua (16 not out) and Veru Frank (10) were the only batters to manage double digit scores, but there was little damage the PNG batters could do as they crawled their way to 67/7 in 20 overs. They played out as many as 64 dot balls through the course of their innings.
Thailand's chase did not begin positively, but the pair of Nattakan Chantam and Chaiwai made sure to soak up the pressure. Like old pros, they gave the first few overs to PNG, slowly creeping to 13 off four overs, before trying to pick up the pace. The pair shared a patient 31-run stand before Chantam played all over a full toss from Arua to walk back for 18.
Chaiwai then took charge of the innings. Starved of the strike in the first two overs, the right-hander played some delightful shots on her way to 32. She was particularly strong off the back foot, punching powerfully while also using the sweep to good effect. Chaiwai laid the base for a Thailand victory before she too was dismissed with only four runs to win. Trying to slap a full delivery from Oa over the top, Chaiwai only managed to bunt it to mid-off. The late strike, however, did little to change the course of the game, as Nannapat Koncharoenkai (16 not out) and Boochatham polished off the target.
Lets Party !!!

pic.twitter.com/ehrn1AIU9c — Cricket Thailand (@ThailandCricket) September 5, 2019
Through the chase there was little to suggest Thailand felt any nerves. With the slowness of their start, one would have expected an inexperienced team to try and hit their way out of it. Instead, Chaiwai simply chose to rotate the strike. Towards the end, when victory looked inevitable, the batters knocked the ball around and appeared to want to finish it in singles and twos. It was an approach the belied the experience of the team. Not once did they make it seem like they were playing in their first semi-final...
... Only when the win was sealed and the tears were visible did one realise that Thailand had created history. They are on their way to Australia!
Brief Scores:  Papua New Guinea 67/7 in 20 overs (Chanida Sutthiruang 2-15) lost to Thailand 68/2 in 17.3 overs (Naruemol Chaiwai 32) by eight wickets. PoM: Suleeporn Laomi.