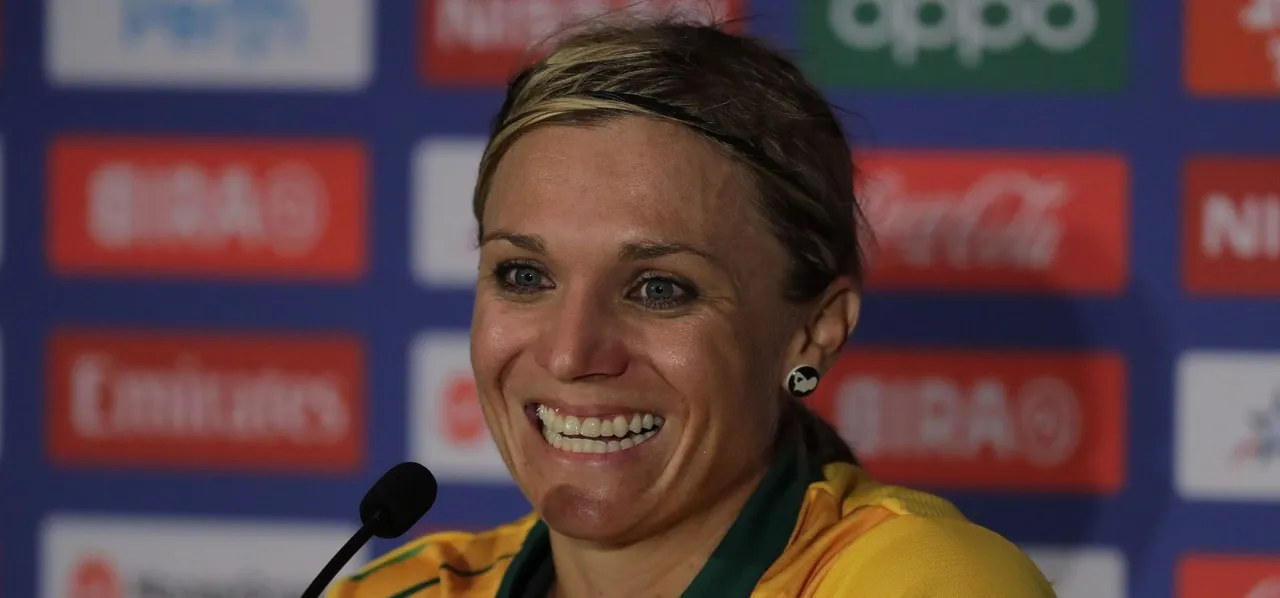 The Boundary Cafe, sitting two levels below the press box at the WACA, was all smell and not much sound on Sunday evening. As you walked past, the  beer batter-fried fish tempted you, as did the golden fries sitting snug in their display cases. Fish and chips, the most English of experiences, as England began their World Cup campaign against South Africa, a team that they had never lost to in ICC tournaments. 
By the end of the night, there were no English smells left, but plenty of sound. South African sound. If you sat in the cafe, you could hear it from above. A clutch of about 40 South Africans belting out the 'Shosholoza' anthem. One woman leading, the chorus responding. The song began when South Africa's chase needed inspiration. And it continued well into the night, as Mignon du Preez answered the call. 
ALSO READ: Kapp, van Niekerk, Khaka hand South Africa tense win
Du Preez walked to the crease in the 17th over, when South Africa had just lost their third wicket, and their second set batter. Marizanne Kapp (38 off 33 balls) and Dane van Neikerk (46 off 51) had put together an 86-run partnership, bringing South Africa within 34 runs of victory after their bowlers had done well to restrict England to just 123. 
The trouble was, those 34 runs had to come off 24 balls, which became 33 off the last three overs. Giving du Preez company was Chloe Tryon, who had walked in at No. 4. 
Now two years ago, you would have read so far, and decided that it had to be Tryon to score those runs. Du Preez would have to run hard and give her the strike, maybe find the odd four. Tryon did just that; her first six brought the equation from 15 off 9 to nine off eight. Easy peasy. 
But then Tryon was bowled by the brilliant Sophie Ecclestone. Eight off the last six needed. And du Preez on strike. 
***
The game is Mignon du Preez's 100th T20I.  Before the warm ups, the team got together in a huddle, and like a cap presentation on debut, du Preez was presented her match shirt. It made her South Africa's first cricketer, male or female, to cross the 100 mark. 
It also meant that the 30-year-old has been playing for a long time. Since 2007, to be exact, when she made her debut at the age of 17. She has captained South Africa in all three formats, led them to their best ever performance in T20 World Cups in 2014, and been a part of their heart-breaking semi-final loss to England in the 2017 World Cup. With the bat, and as a leader in the team, she had done it all. Except, that is, hit a lot of sixes. 
ALSO READ: South Africa - now or never
For the first eleven years of her career, du Preez hit only eleven sixes in T20Is. A six every 134 balls. Her role in the team was the anchor, the one who'd up and down the wicket, found the gap or chipped over the infield for four, and provided stability for the power players to bat around her. 
How things have changed. 
***
Du Preez has been a regular on the two-stop Women's T20 League circuit, playing in England's Super League as well as Australia's Big Bash League. As an observer, I was sometimes surprised that she was recalled as an overseas player, especially over the likes of Tryon, whom she could never match in the big-hitting department. 
But as I followed the scorelines this year, I noticed a difference. Du Preez has hit 14 sixes in the Super League over three seasons. 12 of those came in 2019. In the WBBL, she has hit 13 over four seasons. Six of those came in 2019. 
ALSO READ: Shabnim Ismail: Super fast, but not so furious
In internationals, since the end of the Women's World T20 2018, du Preez has hit nine sixes in about a year, after eleven in the eleven years prior. That's a six every 20 balls. That's close to Tryon, who hits a six every 16 balls. 
When in India last year, du Preez told me the change was down to a slight technical adjustment, and a not so slight mental adjustment. By specifically training for range hitting, and targeting preferred areas rather than preferred shots, du Preez had shown that the old dog can learn a few new tricks. 
***
"I just had to breathe. Take some time. And I just needed to tell myself, I know I'm good enough. It's my game."
This is what du Preez said to herself as she took strike for the final over. England had used their knowledge of the WACA pitch - their coach and four of their XI players have been Scorchers - to target the hard lengths through the game. Now, Katherine Brunt backed herself to go full, with deep square leg, deep mid wicket, long on and long off on the fence. 
Two singles off the first two balls. Du Preez on strike, seven needed off four. Brunt ran in, but ran past the bowling crease, choosing not to run out the non-striker, who had stolen out of her ground.
She should have. It might have put more pressure on du Preez the next ball. As du Preez backed towards leg, maybe looking to hit over cover, Brunt followed her, but missed the yorker in the process. Length ball. Outside leg. And du Preez swung. 
"There was a time when I thought it actually just went up, and I kind of held my breath for a while," she said of the moment, all smiles in the post-match press conference. She had the room chuckling as she enacted what she felt, the desire to blow out some air and push the ball over the rope. 
She can save her breath. The ball landed beyond the advertising boards. The hard work she had put in for the last year had gotten the job done.