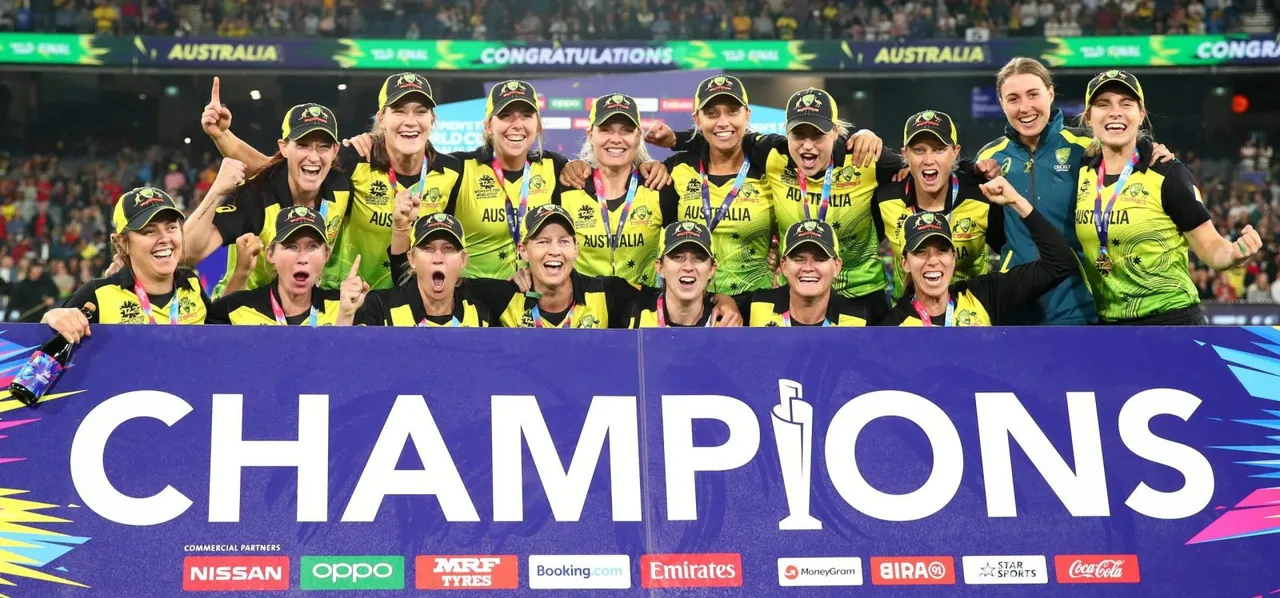 Over the last few years, Megan Schutt has moulded herself into one of the most accurate, intelligent and consistent bowlers on the world stage, often at the top of the ICC bowlers' rankings. In the recent ICC Women's T20 World Cup 2020 at home, she proved her mettle once again, leading Australia's charge with the ball. Whilst injuries rocked their boat ahead of, and during, the host's campaign, Schutt – one of their senior-most bowlers – stood up to be counted. The right-arm seamer finished with a total of 13 wickets – joint-highest in a single edition of the tournament – at a scarcely-believable strike rate of 9.7, fittingly taking the last wicket in the final to seal Australia's 85-run win.
A couple of weeks on from what was she describes as a "surreal", "unfathomable" and "hugely emotional" experience – playing (and winning) in front of a record-breaking crowd of 86,174 – Schutt sits down with Women's CricZone to look back at a tournament that has seemingly changed the face of the women's game.
Excerpts:
You were both hosts and defending champions – the expectations on you doing well were huge. How did that sit with the team coming into the World Cup?
It sat really well. One thing we were really good with was just talking about it. We knew that was going to be the case: a home World Cup was obviously going to be added media and added pressure and a little bit more criticism, but what we spoke about was how cool it was to be that important that people were talking about us so much and wanting to criticise our game. It was a bit of a change for us.
ALSO READ: Schutting her way to the top
You arrived at Sydney for your opener against India and saw a slow pitch at the Showgrounds and a crowd with more fans supporting your opposition. Was that a bit of a shock to the system? And after losing that, suddenly the tournament looked very different.
It was definitely 70-30 India's way in terms of the fans! That was honestly, until the final, the loudest game of cricket I have ever played in. Even though it was 13,000 (people) it felt like 40,000 – it was crazy; it is amazing, the atmosphere Indian fans bring.
We kind of knew that we were going to get a shitty wicket, we knew it was going to be slow and it was going to suit spin. So that was the most disappointing part of the loss: we knew it was going to come and we failed to adapt. We always talk about that being our main team value, being able to adapt, not complaining about a situation and just getting on with it, and I don't think we were quick enough to adapt to their spin, which was disappointing. We were going to have to play some really good cricket from there to win the World Cup. It was a good kick up the arse, actually. It made every other game coming up even more important with a lot of extra pressure on us.
So you moved to the WACA for Sri Lanka and snuck over the line, but it's another unconvincing performance, especially with the bat when collapsing to 10 for 3.  Was that a bit of an aftershock from what happened in Sydney? What was the vibe like between games?
For me, I was actually really calm. I got spanked around against India but I knew as a bowling unit we were doing our job. After bowling first we kept them to what was a pretty modest total at the WACA so I was quietly confident. But as it turned out, I had this moment where I was like 'holy s**t, are we about to be kicked out of our home World Cup second round in?' There were two really calm heads (in the middle), but I knew if we lost one more wicket, well, god only knows what would have happened. So, I went up and sat in the box with the coaches because I didn't want to be on the bench where the camera could focus on my emotions.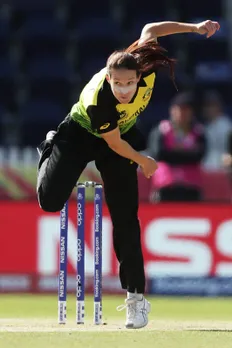 With Meg Lanning and Rachael Haynes together, you had that calm and experience. But there was a real and present danger that it was two wickets away from it being all over?
100 per cent. Those two out there would have known that and that's why they are the captain and vice-captain. But for them, they might have spoken about the threat of Prabodhani at the time who was getting some good movement. So, it was just about facing her out and trying to get the runs off the others. But at the same time, it wasn't as easy to make the runs off the others as we assumed and we got there in the end, but holy s**t it was a real pressure moment. And once we won, I knew we had to find another 25 per cent if we were any chance of finals.
And then you found that in Canberra against Bangladesh, where it felt like a reset button was hit. Meg won the toss and batted. How important was that in getting back on track?
The batters got together as a collective (unit) and knew they had to flick a switch and had the chance to do it against Bangladesh. There was a little element of the unknown as we had never played them before, but it was really commanding from Meg to bat first. It was the opportunity to just go out there with freedom knowing we hadn't batted well in the last two games and this was the opportunity to play freely and fearlessly, which is what we had been talking about as one of our values. That's what I think it was: 'screw it, go out and play your game.' It was a turning point for the batters to say, 'yeah, this is how we can bat.'
ALSO READ: For Australia, left is always right
That's where your big run of wickets began as well, taking two in the power play and three overall. As the senior seamer in the team, did that free you up a little bit too?
I felt relaxed from the Sri Lanka game. Against India I had zero swing and I failed to adapt to that and paid the price. I just needed a game after that where I could do what I do best and I got that at the WACA and that brought some confidence back. Coming into the Bangladesh game we had almost 200 on the board... After that, I was feeling great.
After the Bangladesh win, a lot of attention turned to Ellyse Perry's mounting injuries at the same time that you were heading into a must-win game against New Zealand?
We knew that was a quarter-final coming in and the great part was it was against a really quality opposition that we knew really well. There was the added pressure of it being a home World Cup and all that jazz, but we just needed to win against a team we know inside out. For some reason, it made it really cool. I mean, I was nervous as s**t and most of the team was, but we knew if we could just click and find that extra 10-15 per cent that had us winning without playing to our best, we knew that we were going to be able to beat New Zealand. That was the best bit: after India, we were still winning without playing our best cricket.
It was a clinical win in the end, far more commanding than the final margin suggested on a slow track. Georgia Wareham took full advantage of that – she's a real big game player?
For sure. We all knew what she was capable of, but I'm not sure she was confident herself. She made jokes prior, as we all had, about being 'Devined' – being smacked by Soph. She punished her in the Big Bash as she did everyone, so I wouldn't go off that. But we thought she was a great match up who was going to suit the pitch and as soon as we saw how it was playing after batting first, something clicked for Wolf. For her to play against someone and bowl so well to someone who had smoked her before was really special as a teammate to watch – the pure joy and excitement with the importance of the wicket of Devine and Suze (Suzie Bates) – it was really cool.
But after all that hard work, you go to Sydney and see the horrible rain forecast. What was it like waking up that morning and knowing you had no control over the situation?
I was adamant our tournament was over. I thought, well, that's one hell of a way to exit a World Cup. I was looking out my window, it had been raining all day and there wasn't an inch of sunshine, so I thought, 'that is it.' I was following Twitter and saw England had been called off and thought, 'cool, we're going to be in the same boat in two hours.'
When we showed up the ground looked like a lake. I did some media interviews and was trying to stay positive there pretending to have some hope, but I didn't have any. It wasn't until following the weather band and we saw this little gap. We were like, okay, if we can put some pressure on the ground staff and umpires to just warm-up and start, that's all we have to do: get on." When we batted first I was unsure of that total, I didn't know if it was going to be enough. But once we got back out there to bowl, it was really an amazing match.
ALSO READ: Beth Mooney keen to keep getting better
You and Jess Jonassen are thrown the ball first in the semi-final with South Africa needing just 98 in 13 overs. Did you know, though, that you were just nine minutes away from the game getting called off anyway as the rain fell at the innings break?
No, I didn't know until after the game that we were only nine minutes from being kicked out of the World Cup! We went out there trying to put pressure on them to get back on so I wasn't paying attention to the clock – Meg might have been – I was just doing run-throughs to be ready to go asap. But once I had the ball in hand I thought there was going to be a little bit of swing and that's what I really just wanted to achieve. With a bit of movement, I knew we could defend that total. I was pretty stoked to get Dane (van Niekerk). That was the plan too: I just wanted to bowl as straight as I could because I know she's a heavy leg-side player, but I thought with her technique and a moving ball it was more to my advantage than hers. So, I was just absolutely thrilled the plan worked. The high we were on all on was incredible. Just the relief of reaching that World Cup final was there for sure, what everyone wanted. And then as soon as the game ended it bucketed down for four hours. It was just fate that we got on!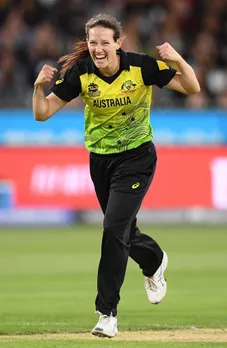 I mentioned Ellyse Perry before, in addition to the rain, it was such a big part of the build-up to the finals stage for you considering she has played in every single T20 global game Australia have participated in since the tournament began. How did the bowling group handle that?
It is pretty amazing that she had never missed a game! We knew as pace bowlers – me Nic (Nicola Carey) and DK (Delissa Kimmince) – what we had to do. We knew there was just that added bit of pressure on the pace cartel. But we were thinking as much as it sucked, we knew she would be sticking around with the team, which was really cool. I'm glad that CA (Cricket Australia) let her hang around because that was pretty important for all of us to have her there with us. To see that emotion from her too – I've never seen Pez cry. To see her with happy tears in her eyes it was a phenomenal moment and something I'll always remember. It just showed how much it all means to her.
So, after all the bumps along the way, you got the finish you were craving at a packed MCG. Just what is it like to play in front of 86,000? How special was it before the game realising this with Katy Perry playing, and then the national anthems?
It was just incredible. Unfathomable is the best word. I had seen the ticket sales and it had kind of clicked but not completely. It was not until we drove to the ground and I saw people queuing that I was like 'holy s**t, they are here for us.' And there was another moment when the ground announcer asked who was going for India and it was a huge roar then he asked who was going for Australia and it was twice as loud. It was the other way around to Sydney in the first game against India. That was a really magical moment, standing there as a group watching Katy Perry sing before the game even started. It was surreal. From there, during the game, we were just so happy.
ALSO READ: The 'Gameplan' behind Australia's dominance
How did Meg and Matthew Mott create a climate where you'd be laughing and enjoying it beforehand rather than feeling the burden of expectation on such a big stage?
I don't think we needed to talk about it all that much because we had spent the last year talking about it! We had those discussions about the added pressure. I feel like once it came to the game, we wanted to enjoy it. We had it covered from every angle. And now we wanted to enjoy it. When they said they wanted to fill the 'G I didn't believe they would do it but I was wrong and I was never happier in my life to be wrong!
And we know what happens next: Alyssa and Beth had a day out. Then you got the huge breakthrough in the first over with the ball. How rewarding was that especially, pulling your length back to Shafali Verma after the previous outing against her?
That wicket was bloody awesome. We were just so thrilled the plan worked. We had no intention of taking the foot off the pedal after making a good score but, we knew if we got through their top four they were no chance of winning and we had a real sense of being right on our plans early on. I did a few interviews beforehand and said that I wasn't the best match-up against Smriti (Mandhana) and Shafali so it was cool having a new plan and getting the big wicket, putting a huge dent in how they were going to chase those runs.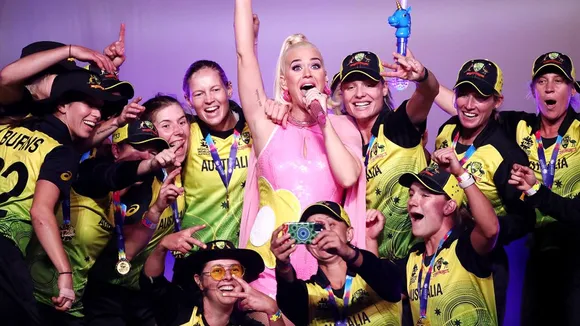 You ended up with four wickets and Jess Jonassen three. There was a sense that Australia's senior bowlers really had delivered. Did you get a chance to talk about that afterwards?
Nah! I think you don't need to say that with us. It is already in our minds in that sense – I know when the ball gets thrown to JJ, I am backing her 100 per cent and I like to think that it is the same in reverse. So, that's the beauty of our core group: we have been together for so long, we know each other's game's inside out. I remember saying that to Meg before, after getting smacked for 16 from my first over against India, she still threw the ball back to me for my four overs. She backs me and has the confidence of a captain who knows what I do well.
Not long after you held up the trophy, the team were all on stage singing with Katy Perry. Try and put into words for me how that moment felt up there?
You can't! It was just amazing. The words were the looks on our faces. I said to my wife Jess, 'that's the pinnacle, I can retire now; nothing is going to beat that night. I'm sorry babe: that beats the wedding'. I just won a World Cup in front of 86,000 people then danced on the stage with Katy Perry. As soon as she was confirmed for the final we were talking about getting on stage with her if we won and we were like 'holy s**t, that just happened'. And for her to be so welcoming, and after we just played our best game of the tournament, there is nothing that could have made that night better.