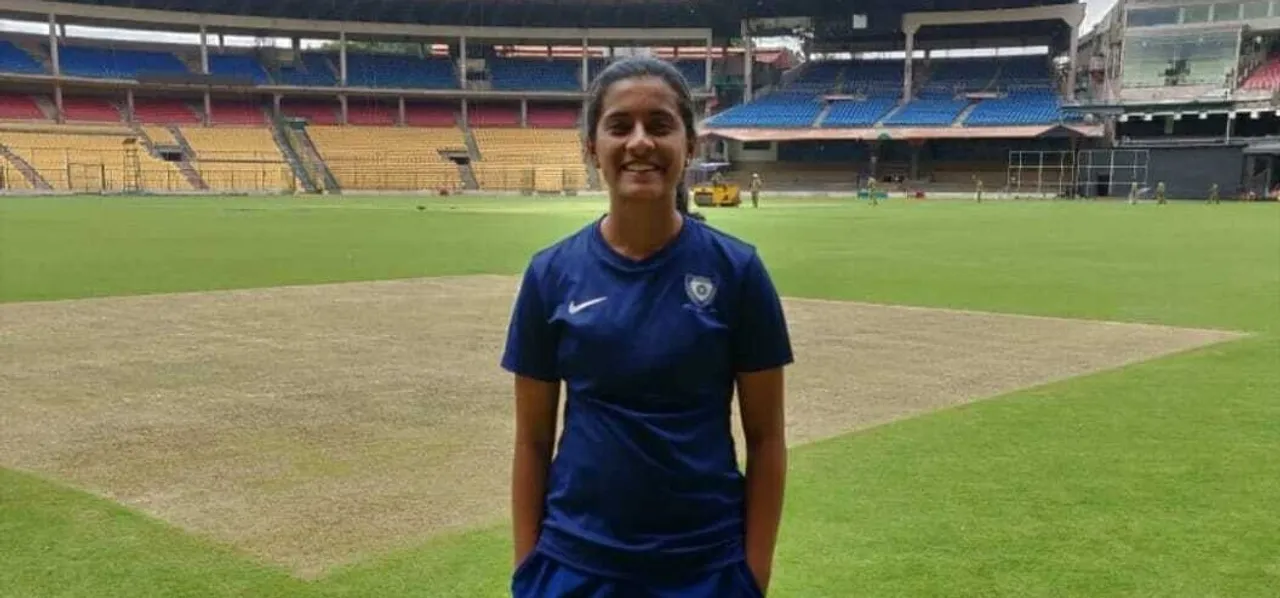 Just before the tournament started
Murali Anagha told Women's CricZone
, "I want to learn as much as possible seeing them, being around them." 14 quarantine days – seven in Mumbai and the same in Dubai – and another 12 days comprising training and four games, the 16-year-old teen is coming back with lots of memories and, mostly importantly, cricketing lessons.
"Disappointed a bit. Definitely would have loved to make it to the finals. Will do well next year," Anagha told this website. The Karnataka spinner was a part of the Velocity squad captained by Mithali Raj.
The purple brigade started their campaign with a
stunning victory over Supernovas
before being
humiliated by Trailblazers
in their next. However, with Harmanpreet Kaur-led Supernovas clinching a
two-run win over Trailblazers
in the last league game of the tournament, Velocity's hopes of making it to the final went up in smoke.
ALSO READ: Seasoned players will find a way out, says Velocity skipper Mithali Raj
With the side boasting the likes of international stars Ekta Bisht, Leigh Kasperek and many more experienced minds, it was tough for Anagha to break into the playing XI. Somewhere in the back of mind, she knew it. She had a goal and she fulfilled it.
"I got to learn a lot of things - how to deal with pressure while chasing, I got bowling tips," she said. "One of them was the situation while we were chasing against Supernovas. We needed to score 50 runs in five overs to win that match."
"Sush
di
(Sushma Verma) and Sune (Luus) kept their calm and made sure that the team won. After that match, we had a meeting that how to keep yourself calm and how to approach a situation like that. I got a lot of tips from Ekta
di
 - how and what to bowl according to situations, how to vary the line and length and speed of the ball, etc," added the left-arm spinner.
ALSO READ: Lessons from Leigh & Luus: Sushree Dibyadarshini gears up for Women's T20 Challenge
The tournament saw the majority of the slow bowlers getting a lot of success. Three of those were left-arm spinners – Bisht, Radha Yadav and Rajeshwari Gayakwad. While Anagha spent plenty of time learning all she could from Bisht, she made sure to pick the brains of some of the other senior bowlers as well.
"Since Raja
di
(Rajeshwari Gayakwad) is from Karnataka, I have spoken to her before coming into the tournament. She told me a lot of things, and one of them is how to maintain the same rhythm when a batter hits you for a six. The most important things is line and length," Anagha said. "From Sophie (Ecclestone) I learnt the faster ones."
Besides learning, Anagha also made some new friends in Shafali Verma and Danielle Wyatt. Wherever Verma and Wyatt went, the youngster followed. "They are the only ones who I am close to," she laughed. Asked what her new friends told her, she said, "Not taking pressure is one of the most important things."
So what's next for the Karnataka teen, "As of now go practice and improve my skills," Anagha concluded.