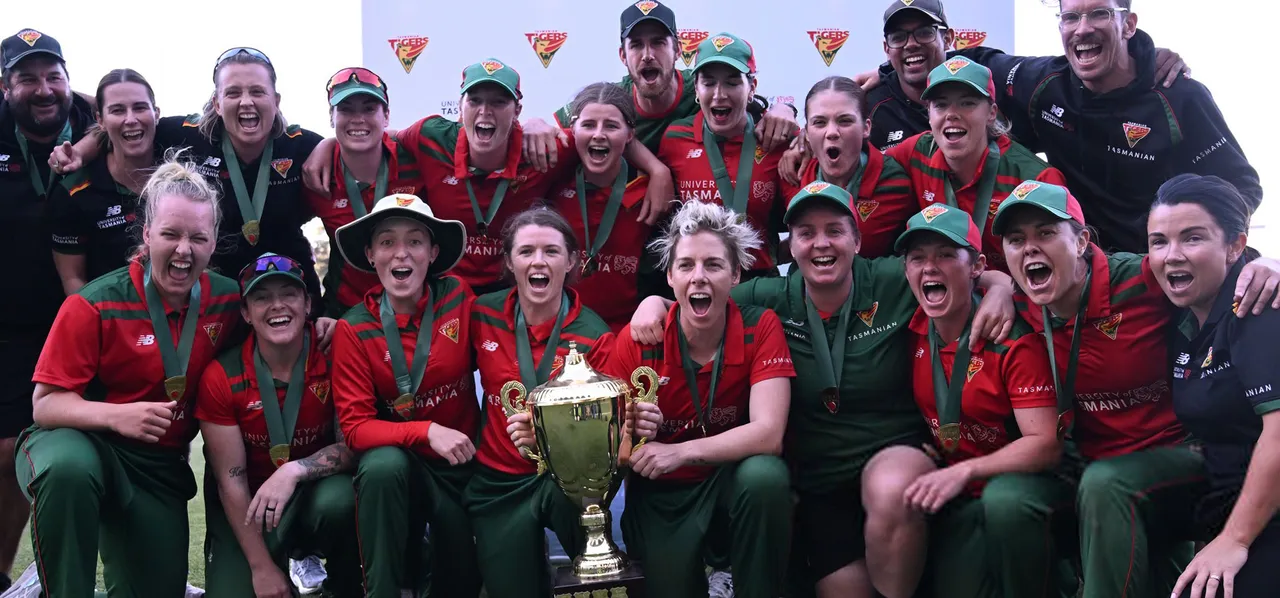 All the seven teams in the Australia's domestic one day competition, Women's National Cricket League (WNCL), have announced their contracted list of players  for the 2023-24 season. All the centrally contracted Cricket Australia (CA) players are part fo the various squads. Some of the ICC U19 World Cup 2023 stars have also found a place in the teams. 
Here's a look at all the squads.
Tasmanian Tigers
Squad: Nicola Carey, Julia Cavanough, Heather Graham, Beth Lane, Lizelle Lee, Emma Manix-Geeves, Sasha Moloney, Tabatha Saville, Clare Scott, Hayley Silver-Holmes, Amy Smith, Lauren Smith, Naomi Stalenberg, Molly Strano, Rachel Trenaman, Elyse Villani, Callie Wilson
Australia contracted players: Heather Graham
South Australia Scorpions
Squad: Jemma Barsby, Sam Betts, Darcie Brown, Emma de Broughe, Josie Dooley, Paris Hall, Eleanor Larosa, Tahlia McGrath,  Anesu Mushangwe, Courtney Neale, Annie O'Neil, Bridget Patterson, Madeline Penna, Kate Peterson, Megan Schutt, Courtney Webb, Amanda-Jade Wellington, Ella Wilson
Australia contracted players: Darcie Brown, Tahlia McGrath, Megan Schutt
Queensland Fire
Squad: Bonnie Berry, Zoe Cooke, Sianna Ginger, Lucy Hamilton, Grace Harris, Laura Harris, Mikayla Hinkley, Kira Holmes, Ellie Johnston, Ruth Johnston, Jess Jonassen, Charli Knott, Grace Parsons, Georgia Redmayne, Courtney Sippel, Georgia Voll
Australia contracted players: Grace Harris,, Jess Jonassen
Victoria
Squad: Sam Bates, Sophie Day, Nicole Faltum, Tess Flintoff, Poppy Gardner, Kim Garth*, Ella Hayward, Olivia Henry, Milly Illingworth, Meg Lanning, Rhys McKenna, Sophie Molineux, Jasmine Nevins, Rhiann O'Donnell, Ellyse Perry, Georgia Prestwidge, Sophie Reid, Annabel Sutherland, Tayla Vlaeminck, Georgia Wareham
Australia contracted players: Kim Garth, Meg Lanning, Ellyse Perry, Annabel Sutherland, Tayla Vlaeminck
Western Australia
Squad: Chloe Ainsworth, Charis Bekker, Zoe Britcliffe, Matilda Carmichael, Piepa Cleary, Maddy Darke, Ashley Day, Amy Edgar, Lisa Griffith, Alana King, Lilly Mills, Beth Mooney, Taneale Peschel, Chloe Piparo, Poppy Stockwell, Georgia Wyllie
Australia contracted players: Alana King, Beth Mooney
New South Wales Breakers
Squad: Georgia Adams, Jade Allen, Maitlan Brown, Erin Burns, Stella Campbell, Lauren Cheatle, Sarah Coyte, Hanna Darlington, Ashleigh Gardner, Alyssa Healy, Saskia Horley, Ebony Hoskin, Sammy-Jo Johnson, Anika Learoyd, Phoebe Litchfield, Isabella Malgioglio, Claire Moore, Tahlia Wilson
Australia contracted players: Ashleigh Gardner, Alyssa Healy, Phoebe Litchfield
ACT Meteors
Squad: Katie Mack (c), Alisha Bates, Paris Bowdler, Kayla Burton, Rebecca Carter, Grace Dignam, Holly Ferling, Angie Genford, Amy Hunter, Carly Leeson, Grace Lyons, Olivia Porter, Chloe Rafferty, Jannatul Sumona, Gabrielle Sutcliffe, Annie Wikman
WNCL is the premier one day tournament in the Australia domestic season and Tasmania Tigers are the defending champions.