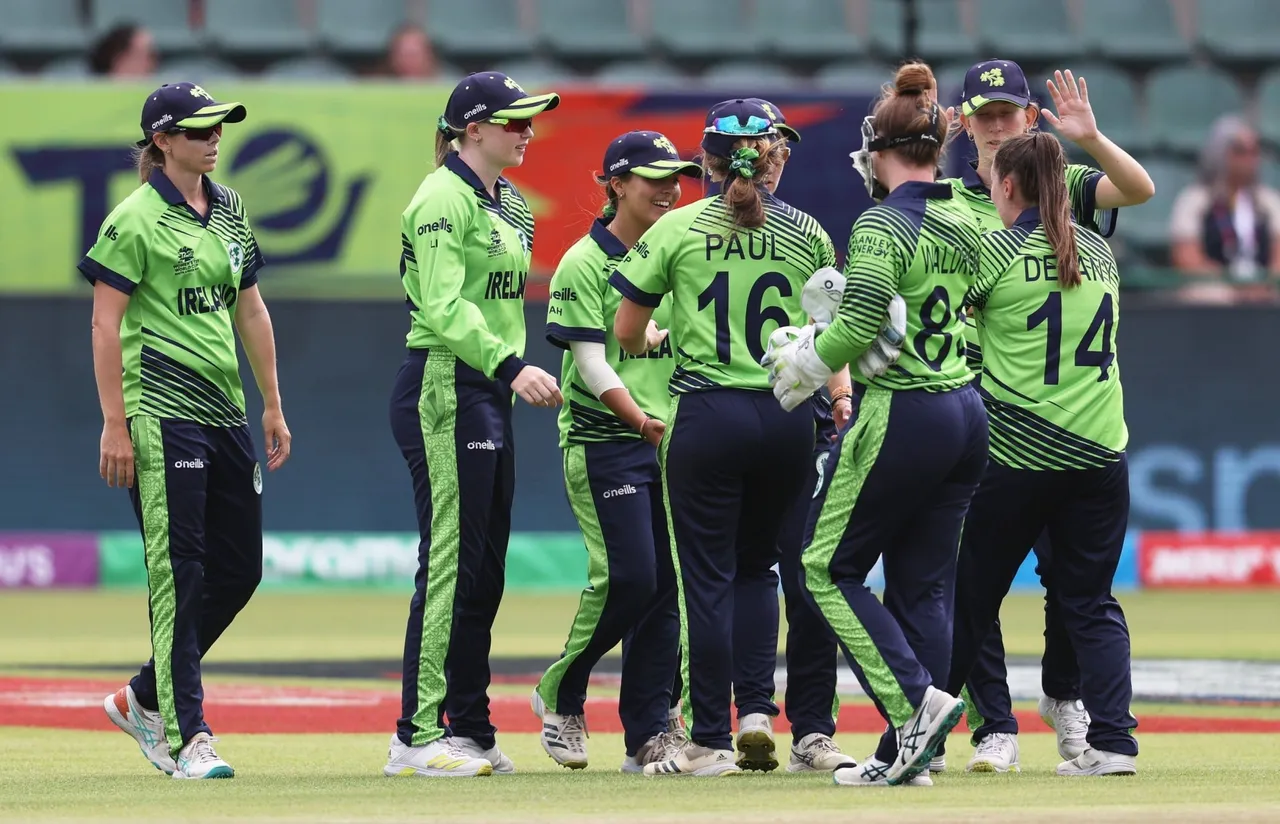 Cricket Ireland has announced squad led by Laura Delany for Ireland's tour of West Indies on Thursday (June 8).
Pacer Jane Maguire and Shauna Kavanagh are missing from the side due to injuries, while Ava Canning has returned from the long injury layoff she had. Rebecca Stokell, who missed out on the T20 WOrld Cup 2023, due to injury is also back. 16-year-old Aimee Maguire is the new face in the 15-member team.
Ireland will play three ODIs and three T20Is during the tour that's scheduled to start on June 26. The ODIs will be part of the ICC Women's Championship for the 2022-25 cycle. Both Ireland and the hosts West Indies had a tough time in the championship so far.
Ireland have lost all the six matches they have played, while Windies have a solitary win to show for their efforts from the same number of games. They will be looking to garner some points and move up the championship table.
"We're really excited to go to the Caribbean and play in this multi-format series against West Indies. It's our first cricket since the T20 World Cup in February, so it's been quite a big break for the group," Ed Joyce, head coach of Ireland, said.
"A tour abroad in the middle of our summer is unusual, but it's a great place to tour. I've been fortunate to have gone there as a player a few times and, you know, they love their cricket. I was there for the Men's World Cup in 2007, and it was great fun. It should be a brilliant tour for everyone, especially for our young group.
Ireland and West Indies faced each other in the T20 World Cup 2023 in South Africa and the latter managed to sneak home in a last over thriller.
There are three changes from the squad that played in the global event with the unavailabilty of Jane and Kavanagh. Canning will take up the pace bowling role from Jane, while Jane's younger sister Aimee has earned her maiden call up to the senior side after being part of the inaugural ICC Women's World Cup in South Africa. With Stokell coming back, Rachel Delaney has missed out on a place in the 15.

"In terms of team selection, Aimee Maguire has come into the squad for her first tour. She's a really exciting young left-arm spinner – it's a role we are really trying to strengthen. The rest of the group have played and toured before, and despite the average age of the squad is still less than 24, there's still plenty of experience within the group," Joyce added. "Unfortunately, Jane Maguire and Shauna Kavanagh miss the tour through injury – both big losses – but, we're all looking forward to going away in a few weeks. We've had some good weather recently, some really good training, along with some competitive Super Series action. We had some good practise games against some boys teams as well. We'll be well prepared to give a good account of ourselves out there. We've got a really exciting young team that's improving all the time, and if we play well we can get those elusive wins."
"If we play well, we're going to be really competitive, and we're really hoping to get our first win in the ICC Women's Championship. We've found that format of the game really tough, which is understandable considering we don't play very much of it. But, we definitely have the tools to win out there. It's just about whether we can put it all together on the day."
Ireland squad: Laura Delany (c), Ava Canning, Georgina Dempsey, Amy Hunter, Arlene Kelly, Gaby Lewis, Louise Little, Sophie MacMahon, Aimee Maguire, Cara Murray, Leah Paul, Orla Prendergast, Eimear Richardson, Rebecca Stokell, Mary Waldron.
FIXTURES:
26 June: 1st ODI (St Lucia; starts 10am local time) 
28 June: Ireland Women v West Indies Women – 2nd ODI (St Lucia; starts 10am local time)
1 July: Ireland Women v West Indies Women – 3rd ODI (St Lucia; starts 3pm local time; D/N)
4 July: Ireland Women v West Indies Women – 1st T20I (St Lucia; starts 5pm local time; D/N)
6 July: Ireland Women v West Indies Women – 2nd T20I (St Lucia; starts 5pm local time; D/N)
8 July: Ireland Women v West Indies Women – 3rd T20I (St Lucia; starts 5pm local time; D/N)