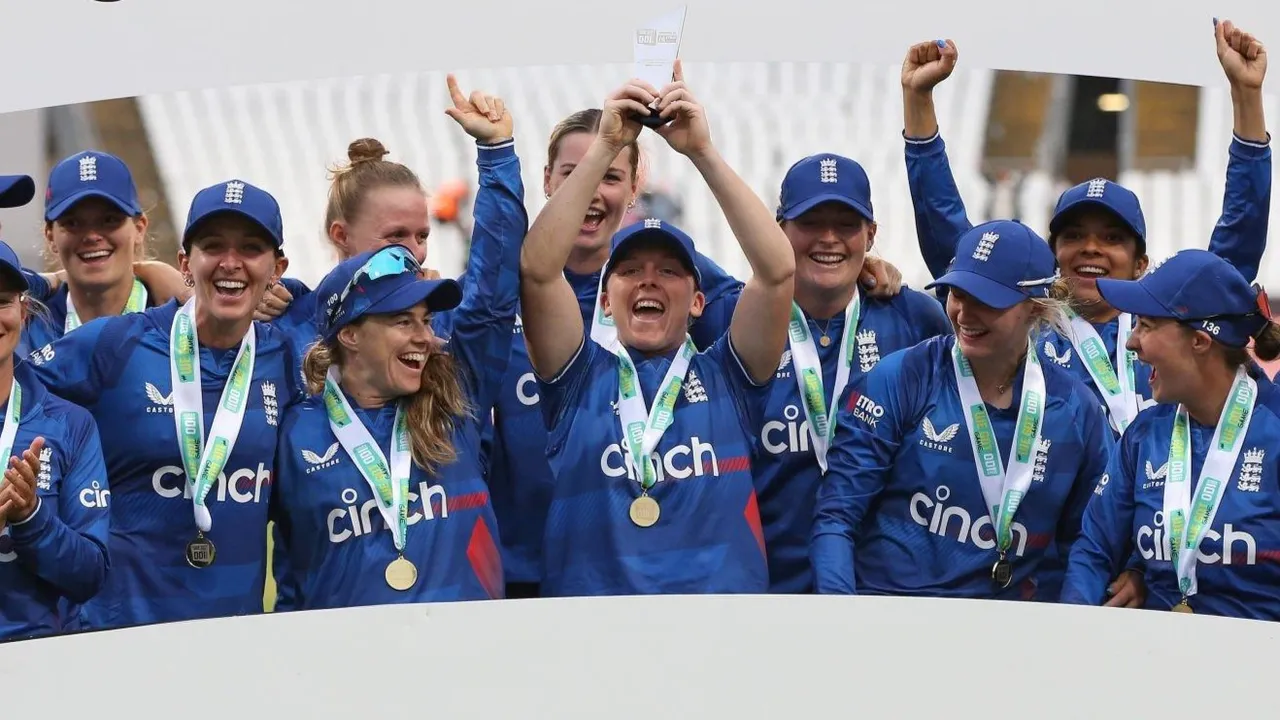 England women cricketers will receive the same international match fees as their male counterparts, England and Wales Cricket Board (ECB) announced on Wednesday (August 30). The monumental step comes after the Independent Commission for Equity in Cricket (ICEC) report pointed out the gap in pay and recommended an immediate increase in salaries.
The much-needed transformation comes on the heels of a highly successful Women's Ashes series, which not only showcased remarkable on-field performances but also witnessed a historic surge in attendance. 
The new policy will take effect immediately, starting with the upcoming white-ball series against Sri Lanka, which is set to commence on August 31.
Heather Knight, England Captain, welcomed the decision, saying, "It's really important that we continue to drive the women's game forward, and it's fantastic to see equal match fees for players in the game." 
She also mentioned that the direction of travel for the women's game has always been the most important thing, creating a sustainable product that people want to watch and play. "I'm sure this will make cricket an increasingly attractive sport to girls and young women as we continue to grow the game," Knight added.
💬 Another really good step forward

Heather Knight speaks on ECB's announcement of equal match fees to women and men cricketers 🏴󠁧󠁢󠁥󠁮󠁧󠁿 pic.twitter.com/GOkBItRAld

— Women's CricZone (@WomensCricZone) August 31, 2023
The Women's Ashes series was an enormous success, setting attendance records for women's matches at Edgbaston, the Oval, and Lord's, as well as recording the first-ever sold-out women's ODI series. Overall, ticket sales increased by more than 200% from 2019. 
The investment in women's cricket follows salary increases for domestic players this year and more than doubled salaries for women's players in The Hundred last year. With increased earning opportunities in competitions worldwide, cricket currently offers some of the best earning opportunities among female team sports. 
Richard Gould, the ECB Chief Executive Officer, stated, "This tournament demonstrated how women's cricket is continuing to grow at pace in this country, with record attendances and TV viewing. Growing the women's and girls' game is a key priority for us, and in recent years we have considerably increased investment both in building a domestic women's structure to produce the players of the future and in increasing player rewards."
"We are currently considering all the recommendations made by the Independent Commission for Equity in Cricket, but equalizing match fees is one immediate step we are pleased to make now. We all want cricket to be the team sport of choice for female athletes, and with the investments we are making - and increasingly lucrative opportunities around the world - we are seeing cricketers become some of the highest-earning female athletes in UK team sports. However, we know there is still much further to go as we ultimately strive for equality across the game," Gould added.
England will play three T20Is and three ODIs against Sri Lanka. The T20I series matches are set to take place on August 31, September 2nd, and September 6, followed by the ODI series beginning on September 9. 
ECB's decision to pay equal match fees is a significant step towards achieving gender parity in the sport as they join New Zealand, India, and South Africa in offering equal match fees.