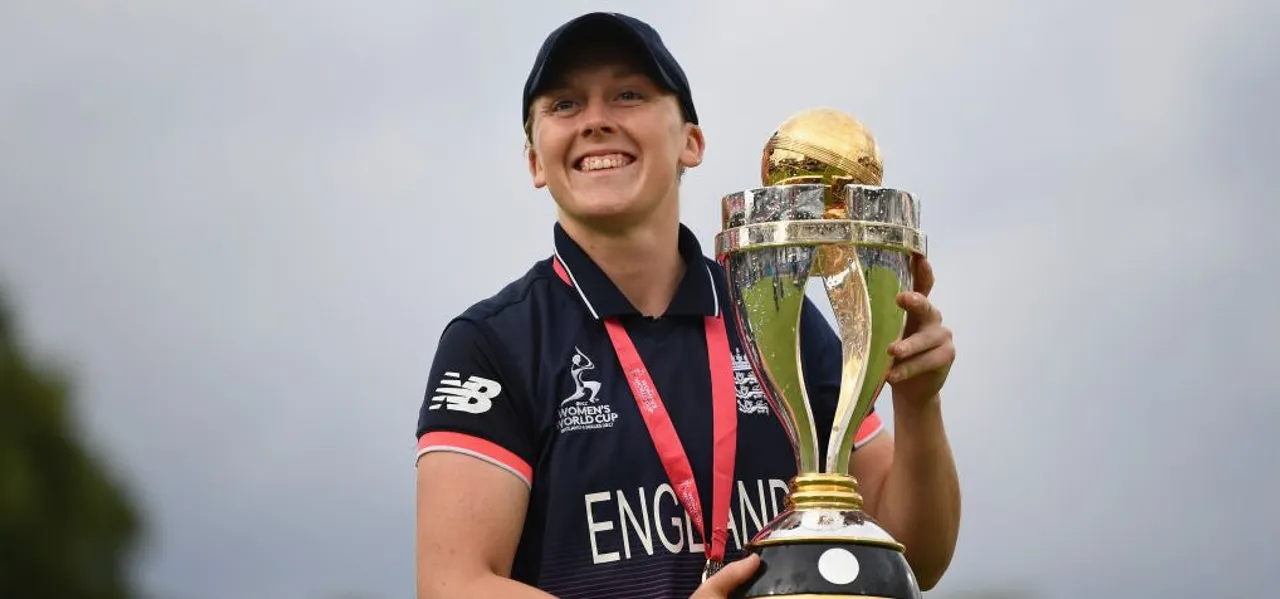 England are all set to travel to New Zealand
for a series comprising of three ODIs and three T20Is
starting on February 23. Skipper Heather Knight expressed her happiness in getting to tour and said the series is going to be important in the context of the 2022 ODI World Cup set to be in New Zealand.
"The chance to get used to New Zealand conditions and expose our girls who never played in New Zealand, it's going to be vital for us to get that experience of New Zealand conditions a year out from that World Cup," Knight said during a virtual media interaction on Thursday (January 14).
"We had quite a lot of uncertainty, as everyone did during the peak of the pandemic from March, so to know what you've got coming up as a cricket player is brilliant. I think ECB have been outstanding in supporting the women's game, to get us back playing and to have that full schedule coming up. It is really great and we count ourselves as a team is so lucky because it is not the case for everyone around the world.
"Some boards have been brilliant in making sure that women's cricket is on and there's a series going on between South Africa and Pakistan, which is great to see. As a player, you want a strong global game and COVID potentially affected that a little bit. You hope it won't, but it's really important that we get that cricket on. It's great to look forward and think what tours we have coming up and how to plan for what's going to be a huge next year of global competitions."
ALSO READ: New Zealand to host Australia in limited-overs series starting March end
The 30-year-old Knight said New Zealand is going to be a tough opposition at their home and it will be great challenge to test themselves in those conditions.
"They're a good team, I think it's fair to say they've probably under-performed in ICC global competitions over the last few years, but they've got a real group of world class performers," she said.
"Sophie Devine, had another brilliant big bash. They've got Amelia Kerr, who's improving all the time. And it's good to see Amy Satterthwaite back as well. She is obviously someone who I played with and been good friends with. For her to come back after having a baby, it's great to see. There are still a quality side, they probably haven't had a huge amount of depth previously. In the home condition, they are going to be a strong side, it's a really good test to see where we are at against them."
England's World Cup winning skipper believes they have evolved as an ODI side from the defeat they had against Australia at home in 2019 and will use the tour to work out the best combination going forward.
"We probably saw a few changes, following the the Ashes series in England where we we weren't very good. We. made a few changes in terms of how we want to approach things and how we want to do things as an ODI side. I think we'll have to reassess that obviously under new coach and look to really nail that down next year how we want to do things," Knight said.
"We've got really good core of players in the ODI team. They're going to be the core of the team next year. So it's just sort of tinkering and working out what is the best XI and how exactly we're going to go about when it came to ODI cricket."
Natasha Farrant, who played for England at the age of 17, is making a comeback in the series in the absence of injured Anya Shrubsole and Knight believes the left-arm seamer has evolved as a player and person as well.
"We've had a few injuries, Anya and Katie George, unfortunately, have been ruled out of tour. We thought we wanted some seam cover. We wanted someone who can bring the ball back in to the batters because that's what Anya and Katie do. Tash performed really well towards the back end of the Rachael Heyhoe-Flint Trophy, and she's definitely still been on our radar, even though she's lost the central contract," Knight said.
"I think the fact that Tash has been training so hard and also the fact that those domestic contracts are in place has meant she's been training when she potentially wouldn't have done in previous years. I feel like she's matured a lot in the last couple of years, when she's actually been away from the side. It feels like she got a little bit more perspective on what she wants because she's got a contract when she was 17 and that's all she's known. I think she's really developed not just as a cricketer, but as the individual over the last two years."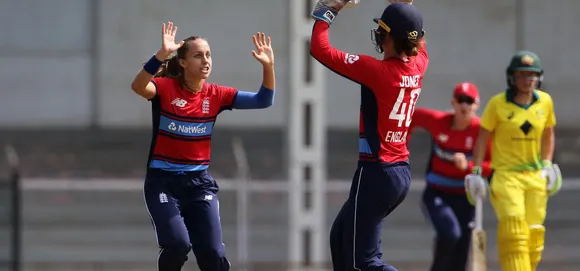 Natasha Farrant (l) celebrating with Amy Jones. © ECB
Young pacer Issy Wong will travel with the side to New Zealand as part of ECB's development plan. Wong has been impressive during the Rachael Heyhoe-Flint Trophy tournament.
"It's mainly for development. We see Issy around the squad how she reacts and give her a chance to work with Tim McDonald, our fast-bowling coach as well. We've identified in Issy, someone who has real potential to play for England in the future. That's why we're bringing her along to exposure to different conditions and to give her different experiences."
"Obviously, if there are injuries, there's no possibility of flying anyone out. If we have a real crisis, I guess she's there to be used. But the main reason for her to come, is to stay around the squad and for her development and to hopefully see how she gets better being around the girls and around the coaches," Knight concluded.