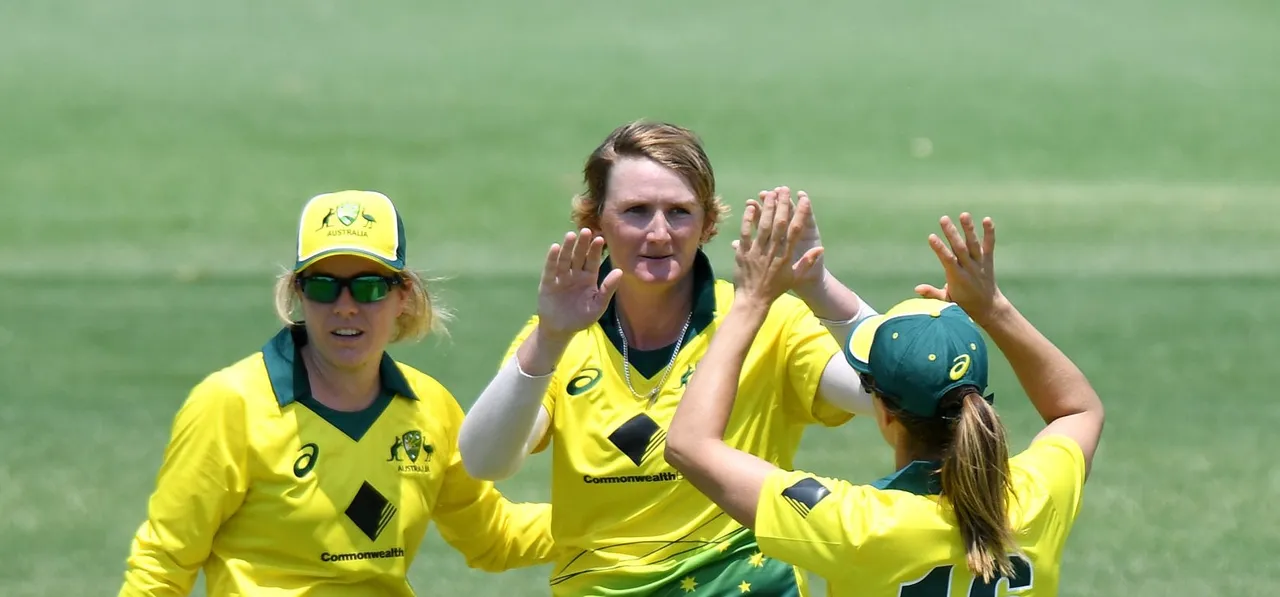 Sammy-Jo Johnson, Australia A and Brisbane Heat pace bowling allrounder, says she is happy to realise her childhood dream of playing for New South Wales (NSW) and hopes to pursue the goal of representing Australia. The allrounder made the decision to
return to her home state
of New South Wales for the 2020-21 season of the Women's National Cricket League after playing for Queensland for nine years.
"I was talking to Midge (Alyssa Healy), saying it's weird because as a high school kid, all I wanted to do was play for the Breakers," she told
cricket.com.au.
"Growing up, that was my goal. So, to have to go away to Queensland and then come back, it's like a ticking a box, I am able to achieve something I wanted to do as a kid. It's funny how it works out."
Johnson, who was part of the Brisbane Heat side that won back-to-back WBBL championships, said she decided to look for an opportunity in New South Wales side when her partner received a job offer in Sydney. "Brian got offered the job and we umm'ed and uhh'ed, but he has never really had too many opportunities in terms of his career before, he has just done whatever he can do where I have been," she said.
"We moved from Lismore to Brisbane so I could keep playing cricket and we were running (a cleaning) business there together for five years, but we closed it down at the end of last year because it was getting too hectic with cricket. It was too good of an opportunity to turn down, so we thought, 'let's give it a crack'."
ALSO READ: Sammy-Jo Johnson makes the move to NWS for 2020-21 WNCL
With the retirement of Rene Farrell and Sarah Aley from the domestic circuit an opportunity opened up for Johnson to lead what is now quite an inexperienced NSW bowling attack consisting of the promising trio of Stella Campbell, Hayley Silver-Holmes and Hannah Darlington.
"It has worked out hand-in-hand with Rene Farrell and Sarah Aley retiring from NSW at the same time, because they needed someone to slide into that senior bowling role. The Breakers have got a really young group, so it opens avenues to me to be a really senior leader and show my leadership skills with the ball."
Johnson, who played for Australia A against India A and England Academy last year, feels NSW can help her chase the dream of playing international cricket.
ALSO READ: Excited by the opportunity to don the blue: Johnson
"New South Wales know how to churn out Australian cricketers and winners in the WNCL, so hopefully if I am in the right team at the right place at the right time, it can lead to me pulling on that Australian shirt."
While acknowledging the strength of the current Australian squad, the allrounder said that she hopes to put up performances that cannot be ignored in order to earn a place in the team.
"Australia have got such a good team, it's hard to crack regardless of what stats you have got or what skillset you offer, it's such a consistently good side it's hard for anyone to break in, but I can keep my foot in the door and there is no reason I can't," she added.
"I have just got to give them no excuse not to pick me. I am 27, 28 this year, I think I have started to mature and understand my game a lot more and I have gotten a bit more consistent. With a one-day World Cup next year, that's one I would love to play a part in."