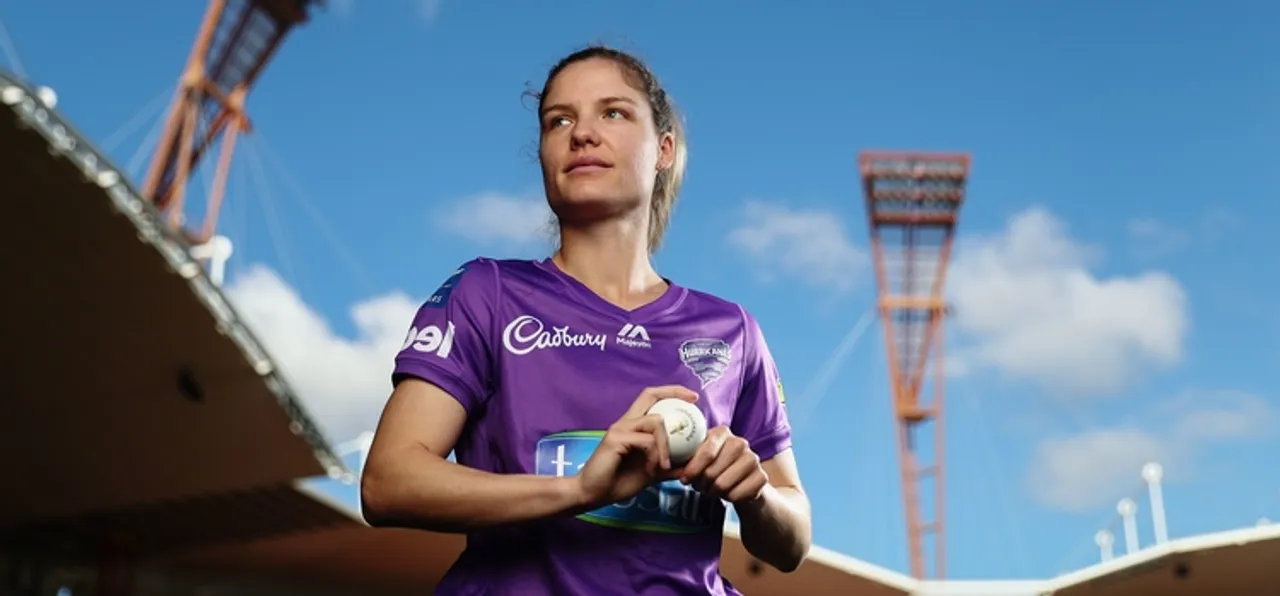 Hobart Hurricanes star Nicola Carey said the side are determined to do well in the sixth edition of the Women's Big Bash League after a disappointing season last year.
Speaking ahead of the season's launch, Carey said that that the team management took a look at the squad's shortcoming last season and made sure to plug whatever holes they saw by recruiting some big names.. "Obviously, last season was a bit disappointing, and the coaches had a look at the squad and the things that we probably needed to do better and recruited accordingly," she said.
"We've recruited some big hitters - got Chloe Tryon back, got Naomi Stalenberg, as well as Rachael Priest and Hayley Matthews at the top of the order. So, I think we've added some depth to our batting order. Hopefully, we go a bit better than last season!"
Having joined the Hurricanes last season, Carey said she is excited to meet up with her mates and acquaint herself with the new players in the side, "We've, obviously, got a lot of new faces in the group so it will be great to firstly meet everyone properly and get out there as a team for our first game."
ALSO READ: Returning on the back of strong domestic performances, Belinda Vakarewa hopes to make it count
With the players set to spend the next six weeks in the WBBL village at the Sydney Olympic Park, Carey said that she was impressed with the arrangements made by Cricket Australia.
" I didn't really know what to expect walking in, but there's sort of touches with the WBBL stuff all over the hotel. The girls are loving the ping pong, and I heard there's going to be a deejay. So, I'm sure that's going to be popular with a few of the girls. It looks really cool at the moment."
The 27-year-old, who plied her trade for Sydney Thunder in the first three seasons, said that she is excited about reuniting with her Thunder teammates Rachel Priest and Stalenberg. She added that their experience and explosiveness at the top of the order will serve Hobart well after their batting line-up struggled through much of WBBL05.
"I have obviously, played a fair bit of cricket with them back at the Thunder. It's really cool that they've come down to Hobart this season, so I'm really excited. Hopefully, they get us off to some good starts at the top of the order and set us up to win a few games."
ALSO READ: Meg Lanning excited to start afresh with Melbourne Stars
On the
injuries
to sppedster Tayla Vlaeminck and leggie Maisy Gibson, Carey said that while the duo will be hard to replace, she is confident that the players within the side will step up to cover for their absence.
"Tayla has had a bit of a longer-term injury which is really disappointing. She's quite unique isn't she - there's not a lot of girls that have the pace that she posses, so she's definitely really hard to replace," she said. "And then also Maisy Gibson did her ACL not long ago which is also really unfortunate, and she was a really key bowler for us last year, so we're really going to miss her, but we've brought in a few new faces and I am sure they can get the job done," she added.
Gibson's absence, she said, would provide young Amy Smith an opportunity to showcase her skill at a higher level. "She's very young, very talented. I did a lot of training with her in the pre-season. I really liked what I saw - she's got a lot of skill and it'd be very exciting if she got a crack in this tournament. I'm sure she'd be very excited," Carey concluded.