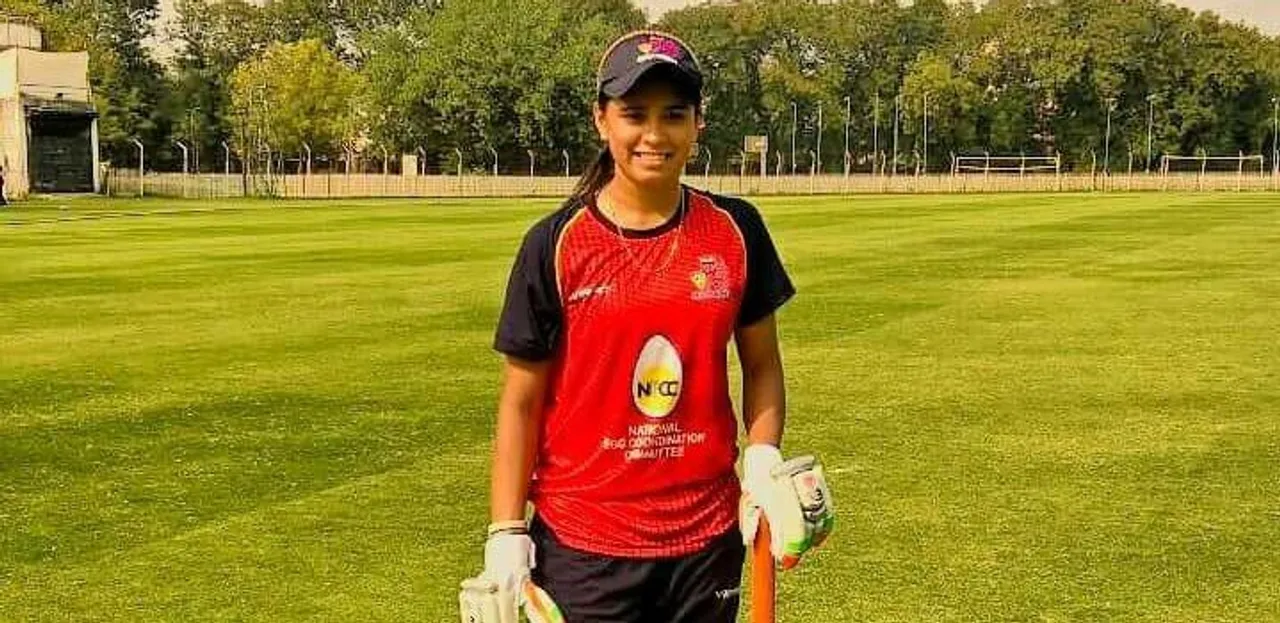 Manali Dakshini has been around in the circuit for a while. Everyone who knows her knows that she is a gritty customer who likes to take on new challenges. She showed her character with an unbeaten 49 from No.8 that helped India Blue beat India Red by one wicket in a thrilling first match of the Challenger Trophy at Devineni Venkata Ramana Praneetha Ground in Mulapadu on Thursday (January 3).
Chasing 130, Blue were in tatters after Komal Zanzad and Radhav Yadav picked up three wickets each to reduce them to 24 for 8. It, however, did not bother Dakshini and she got good support from Tanuja Kanwer. They went about their job sensibly during their ninth-wicket stand of 58 runs. Egged by the dressing room, they took time to absorb the pressure, and then started playing their strokes which put the pressure back on the fielding team. The duo did not hesitate to find the boundary when there was a loose ball on offer, and it nullified the dismal performance by the top order.
Tarannum Pathan provided the breakthrough in the 35th over when she deceived Kanwer with flight to have her caught and bowled for 19. Red now looked favourites, but Reemlaxmi Ekka came out with positive intent, not afraid of swinging her bat when the ball was within her range. She hit the only six of the match, and hit the winning runs to remain unbeaten on 29 off 43 balls. Her strike-rate of 67.44 was the best among all the three batters who made 25 or more in the match.
Ekka's approach meant that the responsibility to score the remaining 48 runs was not Dakshini's alone. The last-wicket pair complemented each other really well, and were benefitted by at least one missed run out opportunity. Their unbroken stand in 11.1 overs took Blue home with 25 balls to spare.
"There was pressure, but captain had told to stay at the wicket. We did that, and we had played the bowlers of the opposition in the past. We tried to stretch it long, and could do that," Dakshini told the broadcaster after the match. "We recognised that from one end we were able to get one run and from the other end we were able to four-five runs. They were giving at least one loose ball in search of a wicket, and we were able to convert it. We built partnership on the back of it. We had time with us."
That the onus fell on the last three batters to score most of the runs in the chase was because of Zanzad's magic with her left-arm seam in the second over of the innings.
Zanzad is not new in the circuit, having made her senior debut way back in 2006-07, but it is her 9 for 8 against Haryana in the last season's 50-over plate quarterfinal that gave her wider visibility. She is now 27 years old, and may not have played in this tournament had the national selectors not rested most of the senior players. Having got a chance, Zanzad made the most of it with three wickets in four balls that broke Blue's backbone in a chase of 130.
Dismissed for 129 in 45 overs after opting to bat, Shikha Pandey's Red looked out of the contest. The bowling unit, though, believed in itself, and Pandey led the way by trapping Punam Raut, her opposite number, in front of the wicket with an inswinger off the first ball of the second innings.
The next over from Zanzad turned the table, as she had Priya Punia, Bharati Fulmani and Tanusree Sarkar leg before wicket with three sharp inswingers.
At 4 for 4 in two overs, Blue needed a solid partnership. It did not come as wickets kept falling regularly. Radha had G Trisha caught behind and Tarannum Pathan got Sushma Verma caught. Then Radha deceived Mansi Joshi with her flight to have her stumped, and had Aditi Sharma caught at first slip to reduce Blue to 24 for 8.
Curiously, Zanzad, who bowled five overs in her first spell, was not brought into the attack again, raising eyebrows about the strategy.
Earlier in the day, Pandey's decision to bat first looked pragamatic one. Red just had to see of the early moisture before the surface became good for batting. The plan seemed to work when N Anusha and Harleen Deol were batting during their second-wicket stand of 39, but four run outs, including that of Pandey and Veda Krishnamurthy in a space of six balls, spoilt the plan.
Blue definitely bowled well, but for Red's two senior most players to be run out the way they did was more about their lack of judgement than anything else. When Pandey joined Veda in the middle, Red were 76 for 4 in 19.5 overs, and the need of the hour was caution. Both the batters have enough pedigree to get going once set, but Pandey looked to be in a hurry right from the time she arrived at the crease.
Pandey has a history of getting into a tangle while running between the wickets, with the 2017 World Cup final being the most prominent example. Here she drove to cover area and just ran with the flow even though Veda was not interested. By the time she turned back, Raut had produced a sharp throw and Verma completed the formalities behind the stumps.
All eyes were on Veda, dropped from the Indian team for the tour of New Zealand, and she started well with four fours, but the good work went wasted when she called for a non-existent single after Radha nudged a delivery to backward square leg. Veda dived but fell short against a throw from Dakshini and Verma once again completed the job.
Radha tried to ressurect the innings before Sarkar had her stumped for 23. Red lost their last four wickets for 28 runs, and it fell short in front of a spirited show from Dakshini, Kanwer and Ekka.
India Red 129 in 45 overs (Veda Krishnamurthy 27; Reemalaxmi Ekka 2-26, Tanuja Kanwer 2-20) lost to India Blue 130/9 in 45.5 overs (Manali Dakshini 49*, R Ekka 29*; Komal Zanzad 3-12, Radha Yadav 3-26, Tarannum Pathan 2-26) by one wicket.