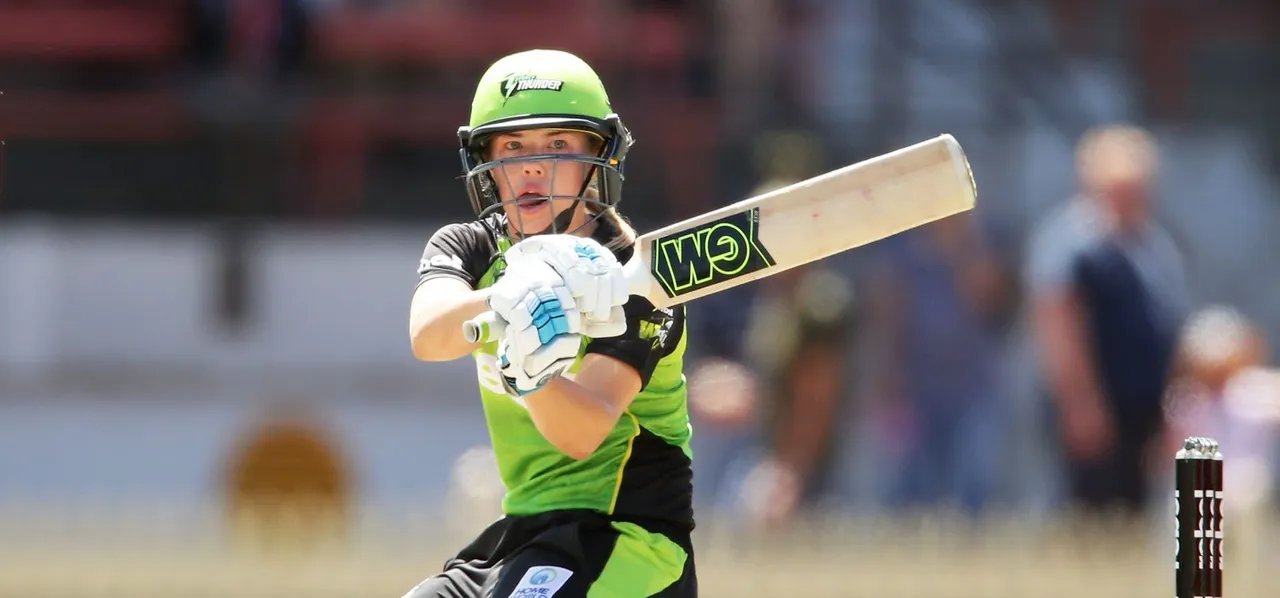 After being shocked at not being awarded a new contract by New South Wales, Naomi Stalenberg has signed a deal with Tasmania for the next season, it was announced on Wednesday (June 3).
I think there might be (a few scores to settle)," said the 26-year-old batter with a laugh.
"I will really enjoy coming up against my former teammates. There will be a bit of banter thrown about, but there's no bad blood there. This season is going to be a really bright one for me."
Stalenberg was excited about playing with a new side as well as under the leadership of Salliann Briggs, Tasmania's coach.
"I'm really looking forward to heading to Tassie to make an impact down there and I've heard a lot of great things about the coach, Salliann Briggs," she said. "She was kind enough to invite me down there, so that was pretty much the reason why and I'm looking forward to it."
"For me, I felt like I had a really good season last year with New South Wales so I'll just be embracing the new team, change in environment and drawing from what I've learned over the past seven years playing elite sport. I just want to continue to build on who I am as a player and who I am as a person and be able to make an impact within the Tasmanian team."
ALSO READ: Georgia Wareham can't wait to bowl
Stalenberg's assessment isn't misplaced. She scored 255 runs in the Women's National Cricket League, second only to Tahlia Wilson's 281 runs for New South Wales, with a best of 86. She also scored 200 runs in the Women's Big Bash League, third-most for Sydney Thunder.
She spoke highly of Briggs' leadership and said that Nicola Carey, Maisy Gibson and Belinda Vakarewa helped her get on board.
"What they really enjoyed about being in Tassie is that it's a really relaxed culture and everyone's very inviting, very warm and very collective," she said.
"They've all really enjoyed Salliann as the coach, she runs a really good program and there's a lot of supportive staff members within the program that really help everyone gel together really well."
Stalenberg said that she is excited to play at the Bellerive Oval in Hobart.
"I really enjoy batting there actually - it's one of my favourite grounds. It's always a good batting track and we've played some exciting matches there as well so I've had a lot of success and I'm looking forward to continuing that."
https://open.spotify.com/episode/1EXgWyl75DMsZs0yONKQH1
Apart from Stalenberg, Heather Graham has also
moved to Tasmania from Western Australia
. Tasmania also have added Chloe Abel to the side while delisting Katelyn Fryett, Stefanie Daffara, Erin Fazackerley and Emma Manix-Geeves for the season.
No wonder, Briggs was pleased to have experience as well as depth in the side for the season.
"Our priority for this year was to focus on adding depth to our batting line up whilst also providing further opportunities to young players who we feel add something different to our long-term success," she said.
"Both Heather and Naomi are experienced players who know how to win games of cricket, and Chloe is a skilful aggressive bowler who can bat for long periods of time, which she's displayed at national age group competitions."