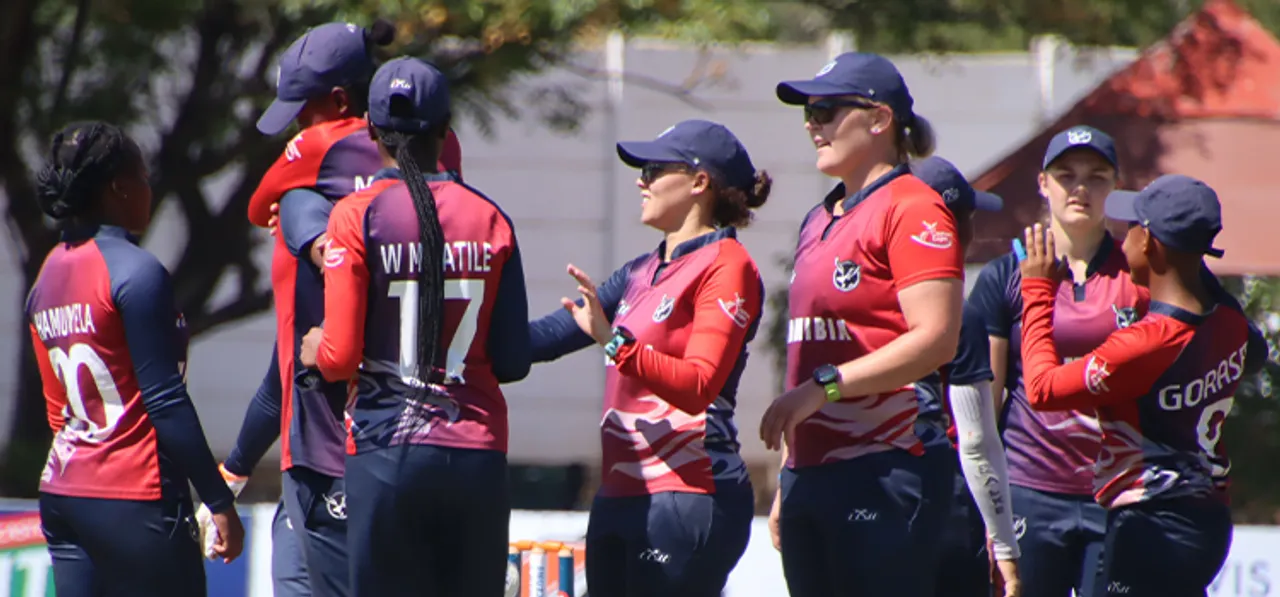 A collaborated heroic effort with the bat from the pair of Kayleen Green and Edelle van Zyl helped Namibia secure a thriller as they beat Uganda in the ninth match of the tournament by five wickets on Monday, April 25.
Having lost the
last game
against Zimbabwe while chasing a target of 157 runs, Namibia won the toss and chose to field so that their batters could be ready if asked to chase down a total in the final.
Although the game was just a dress rehearsal for Namibia before the final on Tuesday, April 26, it was an opportunity for Uganda to salvage their pride and pick up a win in the tournament.
The sequence of losing wickets in the powerplay continued for Victoria Pearls. They lost both their openers cheaply. Mohammed Jimia was the first one to depart for the side as she was clean bowled by Wilka Mwatile in an attempt to go for an ambitious hoick over mid-on. She failed to get in line of the delivery and could only hear the death rattle as soon as the delivery cannoned into the stumps.
Wicketkeeper-batter Kevin Awino also went cheaply as she was dismissed for just five runs. With the team tottering at 13 for the loss of two wickets inside the powerplay, the duo of Janet Mbabazi and Rita Musamali had no option but to dig in and they did just that. But just like the previous game, they couldn't manage to change gears at the right time.
Both batters put on a 48-run stand to help their side recover from the early jitters but consumed too many deliveries in the process. In the 16th over, when Musamali decided to put her foot on the peddle and accelerate she was undone by Dietlind Foerster at the score of 27. With only 27 balls remaining, Uganda with Mbabazi in the middle tried their best to break the shackles but could only manage 93 runs at the end.
Chasing 94 to win at an asking rate of just a little over four, Capricorn Eagles started watchfully. But they soon lost opener Jurriene Diergaardt in the fourth over as she failed to connect an attempted pull shot and the delivery dislodged her bails. Diergaardt's dismissal brought wicket-keeper batter, Yasmeen Khan, into the middle.
Yasmeen also started in a very circumspect manner as the required rate was not alarming at all. Yasmeen along with Sune Wittmann dealt in singles for a few overs. But the absence of boundaries forced Yasmeen to go for a big hit and all she managed to do was to hit it wide of long-on and was caught by Aweko, who grabbed a good diving catch.
Wittmann also fell soon after Yasmeen's dismissal as she hit an aerial pull shot to short mid-wicket.
Wittmann's dismissal reduced the Capricorn Eagles to 35/3 in 9.2 overs and the hosts were suddenly under a lot of pressure. The pressure increased a bit more as Adri van der Merwe and Mwatile also got out without making much contribution to Namibia's cause.
In the end, it all came down to the pair of Kayleen Green and Edelle van Zyl and they put up a miraculous effort to turn the tide in Namibia's favour. The duo stitched an unbeaten 41-run stand off just 24 balls to propel Capricorn Eagles to a hard fought win with one ball to spare. Namibia will now lock horns with Zimbabwe in the final on Tuesday.
Brief Scores: Uganda
93/3 in 20 overs (Janet Mbabazi 32*; Sune Wittmann 1/11) lost to
Namibia
99/5 in 19.5 overs (Kayleen Green 31* Edelle van Zyl 27*; Rita Musamali 1/12) by five wickets.
POTM:
Edelle van Zyl