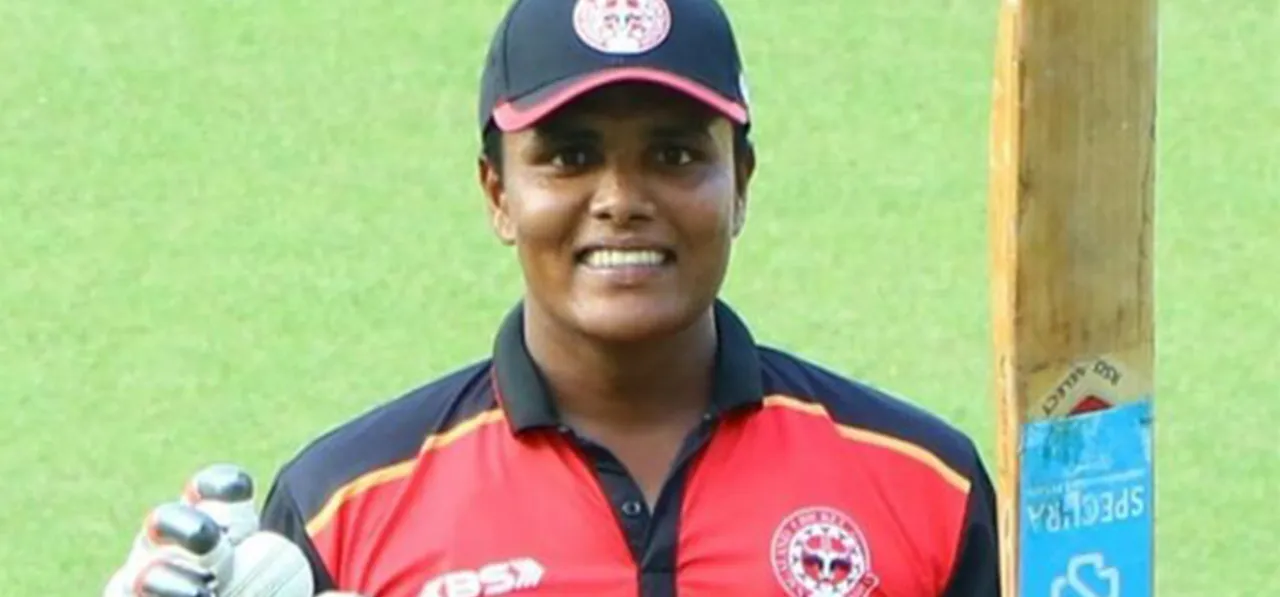 Nagaland, Manipur, and Pondicherry emerged victorious on the first day (Friday, April 15) of the Senior T20 League 2022 as they defeated Arunachal Pradesh, Sikkim, and Mizoram respectively.
Match - 1 Nagaland vs Arunachal Pradesh
The first match of the day was played between Nagaland and Arunachal Pradesh at the
ACA Stadium, Barsapara in
Guwahati. Nagaland skipper Sentilemla won the toss and elected to bat first. Nagaland got off to a jittery start as opener Alemienla was run out in the second over with just six runs on the board.
But after that it was all about the other Nagaland opener Kiran Prabhu Navgire. Navgire smashed the Arunachal bowlers and scored an unbeaten 162* runs off just 76 balls at an excellent strike-rate of 213.16. Her innings included ten fours and 16 sixes and it took Nagaland to 232 in 20 overs. She was well supported by PN Khemnar who scored an impressive half-century.
ALSO READ: Best pictures of World Cup 2022 - of celebratory runs, remembering legends and cheeky requests
Arunachal never looked like getting anywhere close to the target as they only managed to score 110 at the loss of three wickets in their 20 overs. Opener Shivi Yadav was the highest run getter for Arunachal. She scored an unbeaten 45* off 64 balls. Navgire also picked up a wicket in her solitary over. Nagaland comfortably picked up their first win of the tournament by 122 runs.
Match - 2 Sikkim vs Manipur
The second game of the day was played between Sikkim and Manipur at the 
Amingaon Cricket Ground in
Guwahati. It was cut short to 17 overs per side. The toss was won by Manipur skipper Ganga Waikhom and she decided to bat first. Both the Manipur openers in Th Loidangton Devi and wicketkeeper batter Kalpana provided the team with a solid start. Manipur lost their first wicket in the ninth over as Loidangton Devi got run out for 31. But her fellow opener Kalpana kept batting and scored a well-made 77 runs off 51 balls to take her team to 133 runs in 17 overs.
In pursuit of 134, Sikkim got off to a decent start as their opening pair put together 42 in 5.2 overs. But then it all went downhill as soon as both their openers departed. Monica was the pick of all the Manipur bowlers. She picked up a three-wicket haul and finished with three for 12 in three overs. Sikkim only managed 97 runs in 17 overs and Manipur tasted victory by 36 runs.
ALSO READ: Best Quotes World Cup 2022: Of budget constraints, holiday plans, and nutrition expertsMatch - 3 Mizoram vs Pondicherry
Mizoram took on Pondicherry in the third game at the
ACA Stadium, Barsapara in
Guwahati. Pondicherry's skipper Rozario won the toss and chose to field first. Mizoram played in a very conservative manner as they only posted 95 runs in their 20 overs. Opener Shweta was the highest run getter for the side, she scored 62 runs of 61 balls.
Pondicherry achieved the target in the 18th over of their innings and won the match by seven wickets. Opener BS Tamore guided the team to a convincing win as she scored an unbeaten 39* off 47 balls.
Brief Scores:
Nagaland 232/2 in 20 overs (Kiran Prabhu Navgire 162*; S Ligu 1/30) beat
Arunachal Pradesh
110/3 in 20 overs (Shivi Yadav 45; PN Khemnar 1/8) by 122 runs.
Manipur
133/6 in 17 overs (Kalpana 77; Pranita C 3/21) beat Sikkim
97/9 in 17 overs (Manizha Mumtaz 29; Monica 3/12) by 36 runs.
Mizoram
95/3 in 20 overs (Shewta 62; Rebecca 1/14) lost to
Pondicherry
96/3 in 17.2 overs (BS Tamore 39; Apurwa Bhardwaj 2/10) by seven wickets.